Yoruba Man Sentenced To 4 Years in Prison In The UK For Racial Violence Against Igbos.
A Yoruba man residing at Powis Terrace in Notting Hill, West London, UK, has been convicted and sentenced to four-and-a-half years in prison in the UK for allegedly sending inflammatory messages that encourage racial hatred and violence against Igbos in Nigeria.
According to reports, 45-year-old Adeyinka Shoyemi was first arrested by the UK's counter-terror police in March 2019 after the unit received tip-offs from concerned public members that he was fond of posting hateful messages which targeted particular Nigerian ethnic groups.
Popularly known as his alias Adeyinka Grandson, he was reportedly arrested at his home address back in August 2019 after the messages he posted with social media accounts under his alias were assessed by a group of the MET's Counter Terrorism Internet Referral Unit specialist officers. His posts were adjudged to be in potential breach of the law after commentaries that encouraged attacks against the Igbos in Nigeria, and a few other ethnic groups were found all over his accounts.
The officers arrested Adeyinka and seized several digital devices belonging to him after they had searched three different properties linked to him in the UK. He was then charged with 6 counts of inciting racial hatred. Still, He was released on bail on the condition that he desists from making any more abusive, insulting, or threatening social media posts targeted at any ethnic group.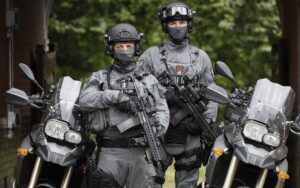 After defying all his bail conditions by making several other posts, though, he was rearrested, and 2 more count charges of inciting racial hatred were added to his already long charge sheet.
According to UK's Evening Standard reports, Adeyinka was convicted on all 8 counts of inciting racial hatred during his trial at Southwark Crown Court, London SE1, UK, on November 30, 2021, but was only recently sentenced to serve a four-and-a-half years prison term recently.
After his sentencing, the Head of the Met's Counter Terrorism Command, Commander Richard Smith, reportedly said: "Our Counter-Terrorism Internet Referral Unit – the first of its kind to be established anywhere in the world – was instrumental in identifying Shoyemi and his activity. Over the last ten years, the CTIRU has been at the forefront of getting harmful content removed from the internet and detecting and investigating potential terrorist-related activity online."
Of all the problems we already have in this blessed country Nigeria, how can it ever be sensible to add racial crimes and hatred towards ourselves? What gains or benefits can anyone ever get from being a terror and pain to his fellow human, whether they be of the same tribe, ethnic group, or not?
Let us all do better than this, please, because we can do it if we truly want to. May God continue to watch over us and deliver us from evil both without and within. Amen!