"Yemi Osinbajo Is A Monumental Betrayer!" – Says Lagos State APC Spokesperson, Joe Igbokwe.
The Vice President of the Federal Republic of Nigeria, Professor Yemi Osinbajo, has officially declared his intention to run for President in the forthcoming 2023 General Elections.
After the special video made for his declaration was released on April 11, 2022, Osinbajo has continued to receive a lot of criticism from many partisan Nigerians who claim that he is "being a Judas" to his benefactor, Asiwaju Bola Ahmed Tinubu, who had also made his presidential ambition known.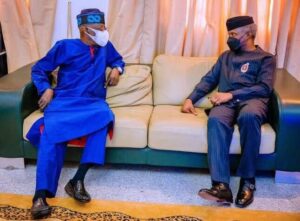 Now, both men are poised to go up against each other at their party's, All Progressives Congress (APC) primary elections, where a flag-bearer will be selected to represent the party. It will be fascinating to see the outcomes whenever it holds.
Speaking in his declaration video, Prof. Osinbajo said:
"Dear Nigerians, for the past seven years, I have served as your Vice President under a true Nigerian patriot, a servant of the nation in war and peace, and a man of integrity, President Muhammadu Buhari.
We have, together, worked through some of the most difficult times in the history of our nation. Still, we have remained focused on securing the country, providing infrastructure, and growing our economy. As stipulated by the Nigerian Constitution, our tenure will end next year.
I have served the government in several capacities in the past seven years. At the behest of the President, I have represented the country in several sensitive and high-level international engagements. I've practically been to all local governments in Nigeria. I've been in markets, factories, schools, and farms.
I've been in agricultural, mining, and oil-producing communities in the Delta, Kebbi, Enugu, Bornu, Rivers, Plateau, and all other States of the federation, listening to the diverse views and yearnings of our people. I've visited our gallant troops in the North-East and our brothers and sisters in the IDP camps.
I've felt the pain and anguish of the victims of violent conflicts, terrorist attacks, flooding, fire, and other disasters. I've been in the homes of many ordinary Nigerians in various parts of the country. I have sat with our techprenuers in Lagos, Edo, and Kaduna. I've sat with our Nollywood and Kannywood actors, our musicians from Lagos, Onitsha, Kano, and I've spoken with people who run small and large businesses.
I stood where they stood, and I sat where they sat. I know their hopes, aspirations, and fears, and I believe that those hopes and aspirations are the seeds that can make great Nigeria we all desire. I believe that the very reason why the Almighty God gave me these experiences, opportunities, and insights is that they must be put to the use of our country and its great people.
This is why I am, today, with utmost humility, formally declaring my intention to run for the office of the President of the Federal Republic of Nigeria on the platform of our great party, the All Progressives Congress (APC)."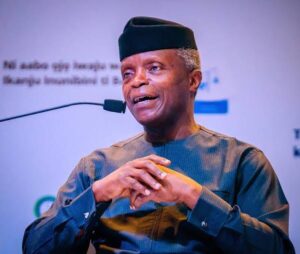 He added that if by the grace of God and the will of the people, he is given this opportunity, he believes that his administration must complete all the work that the Buhari-led administration has started. You can catch the rest of his speech on the video here.
One lesson we have learned from this developing saga so far, especially with many of the comments on social media, is that this country doesn't look like it is ready for actual change yet, and it is regrettable!
The Lagos State APC Chapter spokesperson, renowned author Joe Igbokwe tops the list of our most bizarre comments and mindsets with his reaction to Osinbajo's declaration. "Is this how we will pay Asiwaju for helping to lift us?" he asked.
But, his question leads to one of our own here, too: Is the destiny of the most populous black nation on earth now the compensation package to people's Godfathers for favors rendered that suited only a select few in their cabals?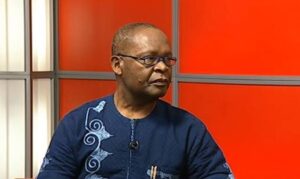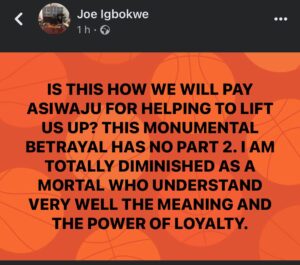 This is not about any party, person, or group; Mgbeke Media is not a political platform, and it will never be! We stand for and speak the truth without minding anyone whose ox is gored, and on this matter, our stand is clear: Let this nation, for once, be led and governed by competence and integrity!
And for the masses, we hope that none will again sell their birthrights like Esau in this coming elections; otherwise…it is well.