Joke Of The Day: Why Is Life In Nigeria Still So Hard When Our Demons Are This Polite?
I saw a video online recently, and I haven't been able to stop asking myself this question: What exactly is the reason we're still struggling and going through such hard times in Nigeria? I mean, why are things still so difficult for the average man and average families to get by?
If this is how polite and obedient the demons and evil spirits operating here in Nigeria are, why is there still any evil in our land then?! This alleged demon here reportedly confesses gently to have possessed the man since he was a child, and when commanded to leave, it thanked the preacher before departing.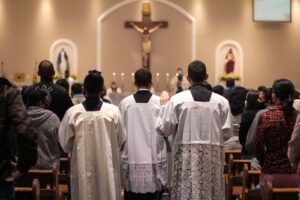 I was even waiting to see if the demon would ask for road directions as it was leaving, seeing how it had been in that man for over 5 decades now. Lol!
Nigeria, my beloved motherland! When will our people stop being so gullible? When will our people start saying "NO" to religious and political brainwashing and slavery?!
As funny as this video clip is, it also subtly reveals a sad reality about one of our country's biggest problems – religious fanatism and slavery! May God grant us true deliverance indeed in this nation. Amen!