"We Tried To Stop Him From Killing Her!" – Singer, Frank Edwards Laments Over Osinachi's Death.
More reactions and revelations continue to trail the news of the sad death of famous Nigerian gospel singer Minister Osinachi Nwachukwu, who passed away on Friday, April 8, 2022.
Another of her colleagues and good friend, multiple award-winning Nigerian gospel sensation Frank Edwards also took to social media today, Saturday, April 9, 2022, to lament over the death of the hugely gifted music minister.
Frank reportedly put up a short but also very revealing post in which he said:
"So that Unreasonable human being finally put off a shining light. I won't say much now , I'll let the former NDDC Director ( AUNTY Joy ) who did everything possible to stop this from happening talk 1st, but it still happened…we tried to stop this."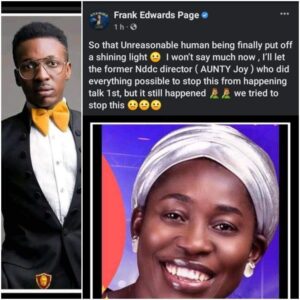 The singer put up the post with this picture of the late Osinachi, 42, and her allegedly abusive husband but has since deleted it off all his social media pages.
In a related development, Osinachi's music producer has also taken to social media to reportedly reveal a private conversation between him and the late singer. She disclosed that she would like to record some new songs without her husband knowing.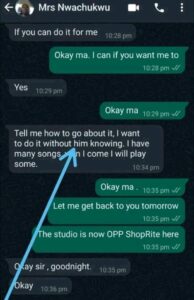 This conversation is shown in the attached screenshot and somehow lends some credence to the damning allegations and accusations against the late minister's husband. It again raises this question in our mind: If this many people knew that the man was physically abusing her, why wasn't there a much better intervention plan to save her life before it was snuffed out?
From the way she had to try and sneak around so she could get an opportunity to express and try to use her God-given talents, it is now somehow evident that she lived in terror and dread of her husband till the day she eventually passed on.
Ladies, PLEASE, stop covering for a man who lifts his hands to hit you! You may think that you are strong enough to deal with this horrible and inhumane treatment for long, but do you know when your body might just collapse like Osinachi's allegedly did because it has had enough?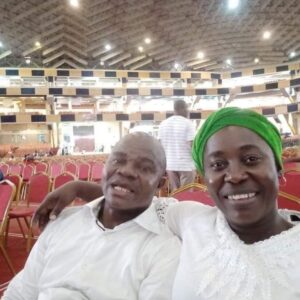 Men, PLEASE, do not raise your hands on your woman for no reason! It is barbaric, senseless, insane, and an utterly disgusting thing for you to harm the tender flower that God kept in your care to nourish. There is never any justification for such an animalistic behavior, please!
And this advice goes both ways, actually, because we know that there are also men who are stuck in physically abusive relationships too, and such is inexcusable as well. Nobody should ever have to put up with an abusive partner, so run for your dear life if you are in such a scam of a relationship before it claims your life too! Do not become another sad but avoidable domestic violence statistic.
I repeat:
"A-na eji uche eme ihe!"
May God help us all, Amen!
By: Dr. Sandra C. Duru