Vital Lessons As 16-Year-Old Nigerian Boy Secures Job With Italian Firms Without Certificates
Life has specific rules and ordinances put in place by the Creator that guides and regulates things, and one of these is that the "impossible" only exists in our minds. There is nothing we set our hearts upon to achieve that we cannot!
John Oseni, a 16-year-old web developer from Nigeria, recently proved this as he secured major deals with two Italian companies without formal certification from any College, institution, or university.
An indigene of Yewa North in Ogun State, Nigeria, John is the fourth child in his family. Born to a father who is a Professor of Biochemistry and a mother who was a civil servant, he studied in the technology department and completed his secondary school education at Command Day Secondary School, Akure, Ondo State, Nigeria.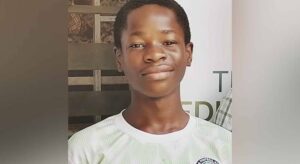 The programmer, who only turned 16 in February 2022, has reportedly worked for about 17 different startups. Still, he's now looking to set up his own company because he envisions a fully powered future by nature.
According to John: "We plan to use nature to power cars, phones, and other things. The company has not been registered, but I already have a team in the United States of America, Canada, and Nigeria working on research. My lawyer is also working on that.
I am the type of guy who doesn't have a certificate in programming. Most of the jobs I get are based on referrals. I am working for two companies in Italy. Someone recommended me to them, and before I knew it, the companies got in touch with me; I didn't know them. They made me the blockchain team lead."
John's remarkable achievements show that you are only as good and valuable as you think! Even without any formal certification, he knows what is deposited inside him as his gifting, and he has honed it to the point of profiting for himself and the world around him.
This proves that, as long as you know and can prove that you are competent, you do not need to obtain any formal certification before pursuing and conquering your dreams.
Stop putting your life on hold because you're "not qualified" yet, and go get what is yours out there now!
By: Dr. Sandra C. Duru