VIEWERS' DISCRETION ADVISED: African-American Man Walks Around Smashing Stuff Due To Drug-Induced Hysteria
First of all, this is one of the saddest things that I have had to watch anywhere in a while now.
I am a mother, and I've also been a humanitarian for over two decades, and I can assure you that this is no proper condition for any human being to find themselves in.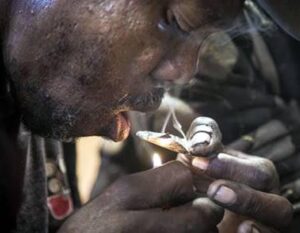 What is even sadder is the fact that this is self-inflicted torture that this middle-aged African-American man is going through, as seen here in this video.
According to medical science, he has what is known as "Excited Delirium." His body/brain is heating up; hence he's undressing and pouring liquids on himself.
This usually happens when people take a random mixture of drugs that makes them emotionally unstable as they can get very angry at the flip of a switch and become a locomotive.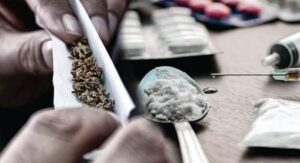 From the reports of the incident, in his case, he allegedly mixed some substances with heroin and went into this state. If he didn't get immediate medical assistance, his brain would have continued to heat up until he died.
We honestly cannot say this enough: SAY NO TO DRUGS AND STAY AWAY FROM DRUG ABUSE!
This poor man kept asking for help as he was going around smashing things and grabbing liquids to spill over his head – you could faintly make out his words as he muttered under his breath.
Drug abuse is a wicked spirit you can be free from by simply rejecting that first enticing hit or dose to "make you high" and supposedly "loosen up and forget your sorrows." Believe me, those sorrows are always waiting for you and would even be multiplied by the time your sanity returns!
Watch the video:
Say No to Drugs and Drug Abuse! Don't become a negative social media sensation and a laughing stock to your generations like this man has unfortunately done. And if you see anyone in this condition, please reach out to the paramedics | ambulance| healthcare providers, and give them help instead of condenming or blaming them. At this point, all they need is your love, support and urgent medical attention.
Ana eji uche eme ihe!
Prof. Mgbeke loves you all.
For your news, real stories, Let's Connect, and adverts, click on the link below: