An alarming but enlightening video has surfaced on the internet recently, and unsurprisingly, the clip is fast going viral.
The video's translated dialogue shows an older man, reportedly identified as the Managing Director of Bank of Agriculture, Mr. Alwan Hassan, standing in between four heavily armed masked terrorists who were about to release him. But, they were not going to let him go without passing this chilling and quite audacious message across to the Muhammadu Buhari-led Federal Government of Nigeria.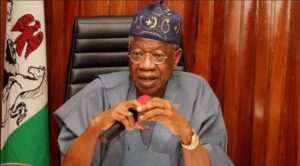 Translated from the Hausa language to English, the conversation ensued in the video below.
"BANDIT #1: We are the Bandits that attacked the Abuja-Kaduna train some time ago and seized numerous hostages. This hostage with us, because of his old age and pleas, and in the spirit of the month of Ramadan, we took pity on him. We have brought him out of the deep forest, and we'll let him go free – we'll hand him over to his relatives. But this government should know what's up. This is nothing; we just pitied the old man. We are going to give him the opportunity to speak, in case he has more things to explain. Listen to him: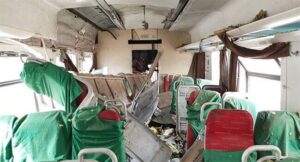 HOSTAGE: Greetings. I want to let you know that the bandits have pitied me because of my age, and they have brought me out here. I want to let you know that I have left behind numerous hostages in captivity, and they will need a lot of help to get out quickly. So I hope the government will meet the leadership of these bandits and sit and negotiate with them for the rest of the hostages to be released.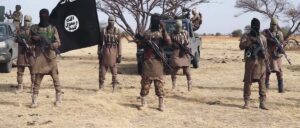 BANDIT #2: This thing we are telling you is for certain. Either you give in to our demands, or we will deal with all the hostages – to kill them off is a very small thing to us. And you know very well that it's not your money that we want because if it's money that we want, we wouldn't even have to go to this extent (bombing the train). You know exactly what we want. You better shape up and do exactly what we want."
In the statement released by the "Honorable" Minister of Information and Culture of Nigeria, Lai Mohammed, in response to news of the cowardly attack, had claimed that "no lives were lost and the Nigerian Army has rescued all the hostages."
Since the attack happened on March 28, 2022, there were unsubstantiated reports that over 168 passengers and crew members from the AK9 Abuja-Kaduna train were still unaccounted for. This recording now stands as irrefutable evidence that the government of Nigeria is not only negligent but also very deceitful and incompetent.
All we can do for now is offer prayers for the lives of those still being held in the den of these evil terrorists. We will also continue to hope that this administration, with zero regards for human life, would one day care enough to take decisive actions and rescue these helpless Nigerians. So help us, God. Amen!