VIDEO: "The PDP Must give me Right Of First Refusal For 2023 Presidential Ticket!" – Atiku Abubakar.
The former Vice President of Nigeria, Alhaji Atiku Abubakar (GCON), has declared that he "must be given right of first refusal" as his party, the People's Democratic Party (PDP), seeks a suitable candidate to unseat the ruling All Progressives Congress (APC) party in the forthcoming 2023 presidential election.
Atiku made this declaration while speaking to PDP Southwest Leaders recently, as the party prepared to hold its presidential primaries at the forthcoming party convention.
"I gathered 11 million votes in the last election, so I should be given the ticket again now that I am still strong and agile; I believe I can win APC," he declared while also imploring the delegates to give their party the best shot at winning the elections by adopting him as PDP's official presidential candidate.
However, in related developments, a group identified as the Peter Obi Support Network (POSN) reportedly sent a letter to the former Vice President, imploring him to drop his presidential ambition for 2023 and support former Anambra State Governor, Peter Obi.
You may recall that these two – Atiku and Obi – were the PDP's presidential flagbearers during the 2019 general elections, which they again lost to President Muhammadu Buhari and Prof. Yemi Osinbajo. Both are now contesting for the party's presidential ticket for 2023.
In the letter reportedly dated April 19th, 2022, and signed by the group's Media & Communications Committee members, they urged that Alhaji Atiku should please consider this option "in the interest of equity, justice, and fairness."
It reads: "We write on behalf of millions of our members across Nigeria to call on you, our Party Leader, H.E Alhaji Atiku Abubakar (GCON), to seize the moment and show again the leadership you ably demonstrated in 2019 when you rose above primordial considerations to choose Mr. Peter Obi as the PDP Vice-Presidential Candidate; an action that got the entire country 'Atikulated & Obligated.'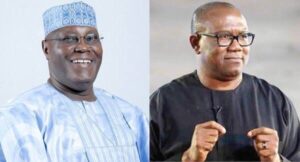 The Atiku/Obi 2019 ticket has gone down in history as Nigeria's most inspiring presidential ticket of all time, which in our view, was an unfairly denied victory.
Regardless of the foregoing, our relationship with you will last forever; and for the record, all of us in POSN were Atikulated & Obligated in 2019. Hence, for us, you are part and indeed the head of our family.
As you are aware, Nigeria had President Olusegun Obasanjo (Southwest, 1999–2007) and President Goodluck Jonathan (South-south, 2010–2015), leaving the South-East outstanding.
The All Progressives Congress has zoned its 2023 presidential ticket to the South; therefore, the PDP has no reason not to follow suit as a matter of law. To do otherwise will mean working against equity and fairness and inviting avoidable litigation and possible truncation of the PDP's participation in the 2023 presidential election, which will give the APC a 'walk-over-victory.'
Stepping down and supporting Peter Obi will not only save the PDP and Nigeria but also ensure that the Atiku/Obi ticket of 2019, which Nigerians so dearly missed, is returned to power in 2023 and ensure that their lofty manifesto is implemented for the benefit of all."
Reactions have also continued to trail Atiku's recent remarks during the Southwest Leaders meeting, and a few core issues have been highlighted in his speech during the session. Some of these points include the following:
(1) Atiku did not discuss his plans to resurrect Nigeria's damaged economy and unite her divided populace living in fear during his speech, which is quite different from Peter Obi's approach.
From his comments during the interview, he seems to have a strategy on how he'd get votes: on his own. He believes the only reason he deserves the ticket is so that he can gain votes, and that is sadly not what this country needs right now!
All his speech was practically based on was "right of first refusal" and who is "most likely to win," yet what we need as a nation at this point is "who will perform!"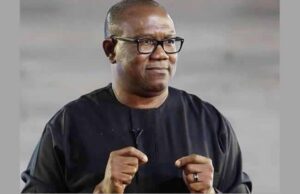 (2) Atiku bragged about getting almost 12 million votes for the PDP during the 2019 elections, but a vital point stands out: 80% of that figure were all obtained from the South!
If he refuses to follow a reportedly agreed zoning system that their main rivals, the APC, have already publicly adopted and yield to a Southern candidate, where will all those votes come from again this time around?
Another disturbing point is that this same Atiku was well defeated in his home state, Adamawa, by Buhari and the APC in 2019. This means that he does not have the Northern region of Nigeria as allies.
Would it now not be political suicide both for him and the PDP to stand against the one thing his only significant allies – the South – wants the most right now, which is a Southern president for 2023?
Again, we hope that national interest will be placed above personal ambitions and that everyone involved will opt to do what is genuinely best for the average Nigerian now and always.
By: Dr. Sandra C. Duru