VIDEO: Olowo Of Owo Confirms Capture Of Bandits Responsible For Catholic Church Terror Attack – Sues For Patience With Angry Youths
Oba Ajibade Gbadegesin Ogunoye III has confirmed the capture of the suspected Fulani terrorists that attacked and mindlessly slaughtered over 100 innocent people at the St. Francis Catholic Church, Owo, Ondo State, Nigeria, on Sunday, June 5, 2022.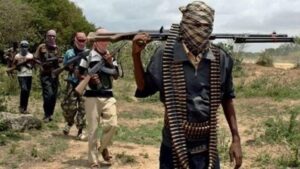 Addressing an angry mob of Owo youths who laid siege to his palace in Owo to demand that the culprits be handed over to them and not to the State Government in Akure, Ondo State, Oba Ajibade said: "I am happy seeing all of you and the way you have all turned out in your numbers today.
It shows that Owo has valiant, courageous, and vibrant youths, and this will also serve as a reminder to the rest of the world that nobody can invade Owo and go scot-free.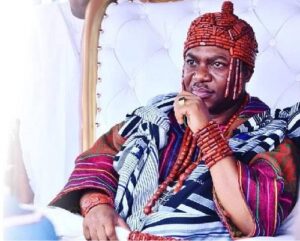 I thank you all for keeping the warrior spirit of our ancestors, but I also want to plead with you to be patient. I can confirm to you now that the criminals that attacked us have been captured and are now in our custody."
The angry youths were jubilant at the king's affirmations (see video), but many still agitated for the terrorists to be brought out and handed over to them for "justice" in their own way.
Some other youths and people are still kind of skeptical about the true identity of the allegedly captured attackers, though.
Mgbeke Media can, however, confirm that we spoke to one of the Amotekun commanders in Owo, who disclosed that they had indeed been hot on the heels of the assailants in the surrounding forests in the town and had been having a series of gun battles with them since the ugly incident happened. He, however, refused to make any further disclosures at this time.
One key lesson from this latest development is the power of a praying woman! Barely 48 hours ago, many women in Owo gathered and placed curses on the criminals to be apprehended, and here we are today.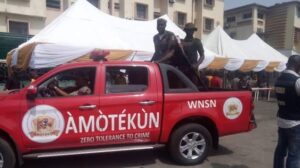 We salute these women and every other woman in the world who knows her place and authority on her knees, especially when her family is hurt or threatened!
May due justice be served in this matter, and may all involved receive the deserved punishment here on earth and God's wrath too from heaven…Amen.
For your advert placements, real stories, let's connect and other events, click on the link below: