VIDEO: Many Feared Dead, Several Others Badly Wounded As Container Crushes Cars In Lagos.
Eyewitnesses have accounted that no fewer than 12 persons were trapped and badly burnt beyond recognition after a truck conveying a 40-foot container rammed into three vehicles and fell on top of them along the LASU-Igando road, Lagos, Nigeria, last night.
According to witnesses who can be heard in the attached video of the ghastly accident, the truck was coming at high speed along the freeway before it was impeded by the vehicles that had crashed into each other before and blocked the road.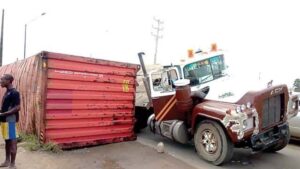 Unfortunately for everyone involved, the truck driver lost control, rammed into the vehicles, and this resulted in the container it was conveying falling off and crushing the cars with all their passengers still inside.
One of the trapped vehicles reportedly exploded a few minutes after the crash in front of Omark School by Dopson Bus stop, Akesan, Lagos State, Nigeria, at about 9:45 pm local time.
Also confirming the accident, the South-Southwest Region Public Relations Officer of the National Emergency Management Agency (NEMA), Ibrahim Farinloye, said that the container on top of a moving truck fell on three vehicles: a Toyota Sienna and two other unidentified vehicles.
"We were able to rescue three persons from the crash, and they are currently receiving treatment at a hospital close to the accident scene," Ibrahim stated.
Things could have even taken a turn for the worse but for the timely intervention of onlookers another truck reportedly conveying highly flammable materials came bearing down on the accident scene while the inferno there was still raging.
The onlookers can be seen here blocking the truck's driver and vehemently compelling him to stop after initially showing signs of resistance. Though of very low quality, the video revealed many things, especially the selflessness of all who stayed behind to prevent further calamity at the scene.
May God reward them richly and keep us all safe in these evil times. Amen!