UPDATE: "I Never Aborted Any Pregnancies. David Beats Me Brutally Till I Lost Each One!" – Ada Uburu.
In a shocking twist of events, a Nigerian lady who was recently called out by her now ex-fiancé for what he alleged were malicious lies intended to deliberately mislead the public has responded with damning evidence and another stinker!
You may recall that last week, the lady, Sandra Obi, popularly known online as Ada Uburu, had taken to social media to announce the cancellation of their wedding, citing domestic violence as the cause of her decision to walk away.
A claim and allegation that her presumed heartbroken fiancé, David Okike, issued a lengthy statement to strongly refute and also accuse her of aborting three pregnancies without his consent during their eight-year courtship, among other things.
Following that statement by David, Sandra has now come forth again to counter his rebuttal. She is also now alleging that the pregnancies she was accused of aborting were beaten out of her womb by none other than David himself.
She has also disclosed that it was the death of the late Nigerian gospel singer Osinachi Nwachukwu allegedly at the hands of an abusive husband, that sparked her courage and gave her the strength to walk away from their wedding, which had been scheduled to hold last Saturday, April 16, 2022.
In her rather lengthy statement, which also comes with attached pictures and medical report as evidence, Sandra said:
"Ma'am Osinachi Nwachukwu. You didn't die in vain. God used you and saved me, and I will always remain grateful.
I wasn't strong enough to call off the wedding at first. My intention was that I was already in this mess. If eventually we get married, and everything keeps being bad if God wishes, we will go our separate ways. That was why at some point, I started fighting for "Court marriage," which, with both the help of our church pastor and my supposed husband's immediate elder sister, he accepted to do the court marriage with me.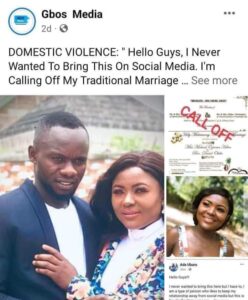 But the unfortunate coincidence happened!!!
That same day Minister Osinachi Nwachukwu's death surfaced on the internet; it was the same day my supposed husband beat me again mercilessly. It was his immediate elder sister who even pushed me into their own room and locked the door in order to protect me. I wouldn't expect them to be truthful about if their brother always beat me or not; after all, my supposed husband is their only son and brother.
After the BEATING I went to my father's house, it was there that my little sister called and was like mum said David beat you again. I didn't say anything. She went ahead and told me to check the internet that the Popular singer who sang Ekwueme was dead, and they said she was killed by her husband just the way David is beating me.
She asked me something that made me cry: Sis, do you remember our sister, your own immediate elder sister, that died? Have you ever seen her again? She still went ahead to ask me did you finish University Education to go and die?
I bluntly told her I didn't have MB, which she immediately shared with me.
My heart was shattered not just only by Minister Osinachi Nwachukwu's death but for myself seeing my death, and because of what people will say, I am trying to walk through it. So that night, I didn't sleep. I got a rethink. I decided that if my supposed husband would be the only man that would marry me on earth, it's better I remained and die single.
Already I went to Obiozara police station to seek for advice. I told them I was not here to arrest anyone, but I am so confused, and I needed advice. After narrating my story and showing my wedding IV to about 3 top police officers and they advised me to leave the village if at all I am no longer interested in marrying the said guy, that marriage is not by force.
I planned to leave the village immediately, even without telling anyone, not even friends or relatives, because I knew they would talk me into staying back.
On my supposed husband's post yesterday
He said I had scattered his marriage plans severally, but that's laughable because it was never my fault!
In Igbo land, there's what they called "FREEBORN and NOT FREE BORN" (Ohu/Amadu). According to them, He is Not a "Free Born," and they cannot give their daughter, who is a Free Born, to him for marriage without a fighter. And this whole thing delayed the approval of the marriage. It surprises me that my supposed husband always sounds as if he's not from Igbo land and knows nothing about Igbo tradition.
Anyways because of the love I have for him, I told him not to worry that I am going to marry him whether anyone supported me or not; after all, I don't believe in any form of Segregation or discrimination. I divided my family into two just to be with him. I fought everyone just because of him. I disrespected everyone just to marry him until I convinced my mother to back me up. Thanks, mum, for always being there for us, for me, and I am so sorry, mum, that I failed you.
Back to the subject matter, after all my fights and I succeeded for the marriage to hold, he turned against me.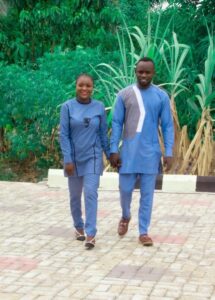 He kept beating me in any little provocation because he knew I don't have anyone to talk to. After all, at first, my family asked me not to marry him because it's against tradition. I decided to disobey everybody; all my family and friends turned their backs on me. At that point, I don't know who to talk to. All I always do is to call the Chairman of our kindred to report to him how my supposed husband has been abusing me.
Even when I took in, I will tell him to give me, even if it's a little space like a month before S*X, so that I won't miscarry, but he won't. Rather he will drag with me and end up beating me.
He practically caused all the miscarriages I went through by his BEATING and not even having common self-control. It was never an Abortion, it was miscarriages (2), and I have my EVIDENCE.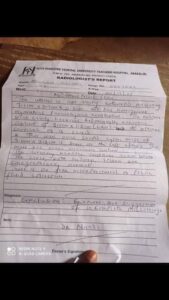 Please look into the Scan result below From Alex Ekwueme Federal Teaching Hospital Abakaliki. That was the pregnancy that I miscarried last year due to his violence and rage which he said Teaching Hospital Abakaliki aborted his baby without his consent.
If the Hospital has CCTV, it will be recorded right there because it was her eldest sister Juliana Okike who accompanied me to the hospital. Why did she accompany me and not my supposed husband? He kept giving excuses; babe, wait next week, next week that never finishes.
Women who have witnessed miscarriages will tell you how painful and heartbroken it is to know that you're carrying nothing and you're still carrying it. My good people, in my own case, my supposed husband kept delaying everything. I kept begging him that even if he doesn't want to go with me to the hospital that his eldest sister Juliana Okike is a health worker, he should send her with me, after everything he accepted.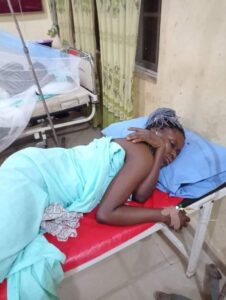 Now tell me, How did I go to the hospital without his consent and do an abortion? It was a miscarriage, and only God knows what I went through.
PS: It's better for me to Live without anyone believing my Truth than for me to die proving Nothing.
This my photo here was taken by his eldest sister Juliana Okike at the hospital with my own phone. Please, guys, be kind to my picture. I never knew we were going to sleep over in the hospital that day, so I didn't remember to go there with my wrapper.
I have made my DECISION, and THERE'S NO CHANGING IT.
Guys: my supposed wedding Day is my SURVIVAL DAY. HAPPY SURVIVAL DAY TO ME!
#SAYNOTODOMESTICVIOLENCE.
Minister Osinachi Nwachukwu Lives Forever!
ADA UBURU."
If all Sandra just narrated is true, then we think that the police at their location ought to invite David in for questioning and also set him straight. Domestic violence and such cruelty are not something we should condone in our society and homes anymore!
We would also like people to learn a vital lesson from this sad saga: No matter what your child or ward does, and no matter how badly they mess up, please do not throw them away entirely and leave them without any support at all; like this!
If Sandra had been able to get anyone to stand up for her among her people, maybe her alleged maltreatment and ordeal would not have been this bad or lasted this long.
Whatever the case may be, please don't turn your back on your children, wards, and relatives to the point of watching someone physically abuse and beat them to death! That's a level of cruelty that should never be found amongst humans. May God be merciful to us all, Amen.