UPDATE: APC Youth Leader Contestant Was Not Fatally Shot in Terrorist Attack As Widely Reported Before.
Recent information making rounds on social media has revealed that APC North-West Youth Leader Contestant Muhammed Amin Mahmud was never fatally shot as initially feared. He is currently recuperating at an undisclosed medical facility for privacy and security reasons.
You may recall the circus-like affair surrounding Mahmud's well-being earlier this week after it was initially reported that he had been fatally shot during the recent Abuja-Kaduna train terrorist attack. Later that same day, another report made rounds that he survived the shooting after taking to his Twitter page to confirm that he was still alive and not dead as initially reported.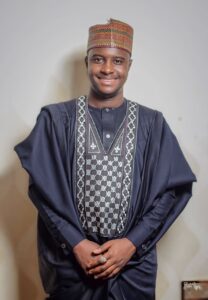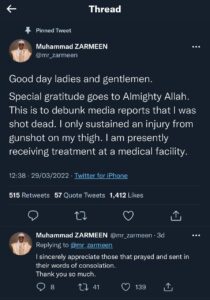 Now, Mahmud has made another post to further allay the fears of his friends and well-wishers by revealing that he was not fatally shot as the bullet hit him in his thigh and not in any vital organ area.
"Good day, ladies and gentlemen. Special gratitude goes to Almighty Allah. This is to debunk media reports that I was shot dead. I only sustained an injury from ga unshot on my thigh. I am presently receiving treatment at a medical facility. I sincerely appreciate those that prayed and sent in their words of consolation. Thank you so much," Mahmud said in his clarification tweet.
Other engaging activities are also noticeable on his timeline, indicating that the account and its owner are still alive and active. We thank God on his behalf and wish him a speedy recovery from his injuries. Amen.