UCL 2021/2022: Real Madrid Set Up Sizzling Final Rematch With Liverpool While Imparting These Vital Lessons!
Real Madrid CF showed the world why they're the most decorated football club when it comes to the UEFA Champions League and also taught everyone watching a massive lesson on the night – You do not fail because you lost…you fail because you gave up and quit!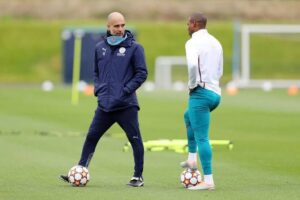 There was no rain or flurry of quick goals at the Estadio Santiago Bernabeu on May 5, 2022, as Real hosted Premier League champions Manchester City for their UEFA Champions League 2nd leg match.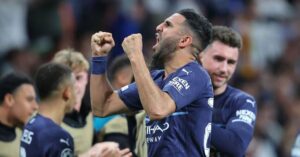 If the 1st leg in England a week ago had been blistering from the start, this 2nd leg encounter had everything but goals till Riyad Mahrez collected a sweet Bernardo Silva layoff inside the box and rifled Manchester City into a 73rd-minute lead. Oh, the visiting fans went into delirium!
Real had toiled all night to get one goal that would see the fixture drag into extra time to no avail. So, you can only imagine how the entire Santiago Bernabeu felt when they now realized that they had to get two goals instead.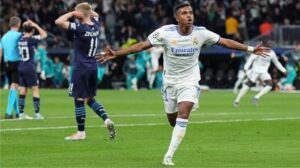 Just as Spanish heads were going down in sadness and the sky blue of City were preparing to burst onto the pitch in joyful jubilation after the final whistle, Real substitute, Brazilian attacker Rodrygo, said, "Hold my beer," and popped up with a goal in the 90th minute to level the tie at one-all on the night but 4-5 in favor of City on aggregate.
The 4th official raised the board to signify six added minutes to the 90, and it was as though Los Blancos had received a shot of something laced with sheer relentless passion.
Barely one minute after the equalizer, Real went at City like possessed men, and it more than paid off. Dani Carvajal put a sweet cross into the box, and guess who was there again – Rodrygo, and he converted with aplomb!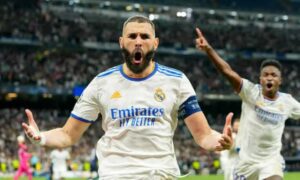 At that point, it was apparent that Real was determined to end the contest without resorting to a penalty shootout. The match went into extra time, and, following some lovely, fast, and fluid movement, Real won a penalty kick, and, of course, Karim Benzema stepped up and duly converted to put Real in the lead for the first time in the whole encounter. 3-1 it ended in favor of Los Blancos.
There were many highlights and action points in this 2nd leg encounter worth noting, but there is nothing more worthy of mention than these vital lessons we learned from it here:
(1) When asked about how he had prepared the team for the match, Real Madrid manager Carlo Ancelotti said: "The video that the players saw before the game was all the comebacks we've made this season. There were 8, and at the end, it said that we need one more."
The result was a performance that undoubtedly counts as one of the best matches ever played in the history of the competition itself, and also teaches everyone an important lesson. All things are indeed possible to them that believe!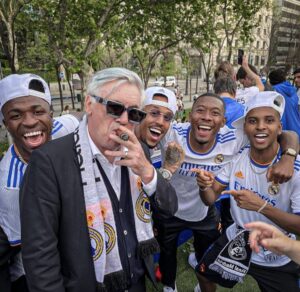 (2) Never assume that your job is done until it is over and confirmed! The act of celebrating before the end of a battle is what an Englishman likens to counting your chickens before they hatch; a very foolish move any day, any time.
Persevere and keep battling till the end because it is only then that you can truly stand and say that you gave your all, even if it doesn't work. Even with a 2-goal mountain to climb and with so little time left to do it, Real never let their heads drop or their determination waver.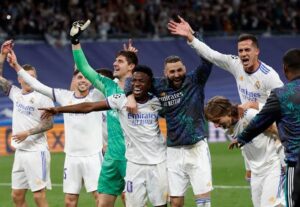 This is the stuff of champions, and we dare say that this team is worthy of every accolade it receives.
Real Madrid will play what many are now touting to be a grudge final match with another top Premier League side, Liverpool FC, at the Parc des Prince stadium in Paris, France, come May 28, 2022.
You may recall that these sides met in the UCL Final in 2018, but Los Blancos edged the Reds no thanks to an early freak injury to talisman Mo' Salah and some horrendous goalkeeping from then goalie Karius.
It promises to be an explosive battle and a finale worthy of the prestige and glamor that the UEFA Champions League is all about.
By: Dr. Sandra C. Duru