Tobi Amusan: A Story Of Relentless Passion, Zeal Which Proves Dreams Are Valid With Hard Work & Consistency!
Current Nigerian, African, and World 100m Hurdles champion Oluwatobiloba Amusan added the Commonwealth title and games record to her incredible trophy cabinet at the Commonwealth Games holding at the Alexander Stadium in Birmingham, United Kingdom.
Tobi powered to another impressive victory in 12.30 seconds, setting a new Games record in the final race, but there was more to come from the in-form track superstar.
Later in the day, the World champion was also very instrumental in powering the Nigerian 4x100m women's team to a first-ever Commonwealth Games gold in this event to wrap up an unforgettable day for the Ogun State, Nigeria native.
And, just as everything she touches of late seems to turn into record-breaking gold, the 4x100m victory, too, was a .12 seconds improvement on the team's 42.22secs African record they set at World Athletics Championships held in Oregon, USA, in July 2022.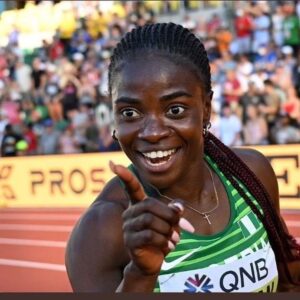 The Nigerian women's 4x100m quartet consisted of Tobi, reigning Nigerian 100m queen Grace Nwokocha, Rosemary Chukwuma, and Favour Ofili.
Taking to her official Facebook handle to celebrate her latest triumph, Tobi said: "It is my TIME and my TURN!!!
I'm glad to have defended my Commonwealth Games title with Two Games Record in the process. Never give up on yourself. Just stay focused on the Lord, on your craft, and He will never fail you. I'm a testimony of His greatness."
And indeed, Tobi is an inspiration to many people, young and old alike, who are relentless in their passion and zeal for their God-given purpose, talent, and skills.
When you put in the hard work required to hone and perfect your skills and talent, and you maintain a great attitude and positive mindset always, nothing in creation can stop you from achieving greatness, no matter how long it seems to take!
A practical example is how Tobi had been speaking her victory into the universe for years before it eventually started manifesting. All over her social media handles on Facebook and Twitter, she had been declaring these things about herself, even as she relentlessly continued developing her skills.
On November 8, 2016, Tobi posted a tweet on her Twitter handle saying: "Unknown now, but soon I will be UNFORGETTABLE…I will Persist until I SUCCEED."
After her stunning World Record victory in Oregon, the track star revealed: "I never doubted God. I believed in my Coach, my training program, and I knew it's MY TIME and MY TURN.
On the Adidas Wall of Dreams prior to the race, I wrote in faith, 'Incoming World Record holder & World Champion.' I'm glad it's now a reality!!!!"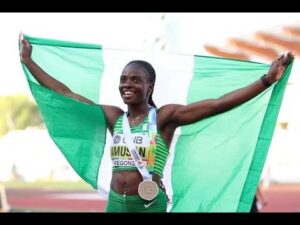 There is great power in your tongue! And, when you refuse to settle for less and continue to doggedly and diligently pursue your dreams and purpose, the sky can only ever be your starting point!
Congratulations again to the 100m Hurdles Queen…long may her reign continue; Amen!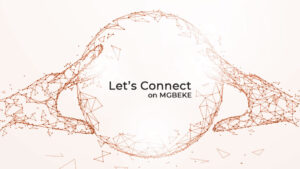 For your news, real stories, Let's Connect, and adverts, click on the link below:
https://mgbeke.media/advertise-with-us/
For your Natural Skincare Products & Supplements, click on the link below:
Do you want to support our charity work? Click on the link below: