A long time ago, someone told me one of the truest love stories.

Here's it: that the real value of your life is how well you loved and were loved in return.
Love can be sweet.
It can also be bitter.
However, what you get out of it depends on the amount of trust, affection and care that the people in its web share.
21 years ago, I met Uche Nwosu in Abuja, when I was living in Usma Close, Maitama, while shuttling between Ota, Ogun State and the Presidential Villa for assignments.
Immediately, I was smitten by his beautiful smile.
He was stunningly handsome and his eyes were just, what's the right word, 'wow'.
I grew up in the corridors of power and it has been like that ever since.
Then I later moved into Aguda Quarters in the Presidential Villa.
We had series of productive meetings, from Usma, Maitama to Comfort Royale, Garki, which is now Lamonde, to the Unity House, to Nicon Hilton Presidential Suite with our working tools and devices.
And then to my small space in WOTCLEF, CCT, PAAO, ZEST, EXCELLENCE Coy, SANCHHY, SON, PSC, AREF, ALF, SANITA, and so on.
We both met as workaholics and visionaries in our very tender years.
We formed a very unique and strong bond that has lasted for well over two decades.
We were accused of things that had never for once crossed our minds but we didn't really let it bother us because we knew and understood the true definition of love, trust, respect and loyalty.
Uche Nwosu has always been the calm type who values loyalty at all cost.
He is slow to anger and always very diplomatic in dealing with difficult situations.
Uche always has a way of making people around him comfortable, even at the expense of his own happiness.
On the other hand, I am the daring, result-oriented, focused, resilient, go-getter.
I am an exceptionally talented, intelligent, friendly, truthful, fearless and dogged individual, which was why he trusted me with the responsibilities of handling Rochas Okorocha's 2011 security, surveillance and media.
I did it without fear and the result was the total demolition of Ikedi Ohakim's strong security strategies and High Chief Bonny Ebili, who was totally humbled by me.
I flew into Imo State when Rochas Okorocha was blacklisted and all his securities withdrawn.
Eze Madumere was thrown into prison but the rest became a rude shock to his opponents upon my arrival.
The trust, unconditional love and respect I had for Uche Nwosu made me step on bigger toes just to deliver Rochas Okorocha.
I also gave him a blueprint for the community government, which had been messed up by Rochas and his sycophants.
I gave Rochas my time, supported him with everything, including money, resources, stronger networks and contacts.
But he eventually betrayed me, leaving me with debts, threats, bad name, etc.
Rochas vowed to turn Imo State into Dubai, London, America and wipe away the tears of my people.
My trust for Uche Nwosu made me to believe him, and seeing the combination of he and I in Rochas' government gave me the morale and confidence that Imo state was truly going to be rescued and restored.
But little did I know that it was going to be what I called 'Familiocrazy' government of Rochas Okorocha.
He used a lot of great minds and dumped them.
I mean, brilliant people who wouldn't have compromised their values and who had the burning desire to genuinely serve the good people of Imo state.
Senator Chris Anyanwu, Captain Omego, Dr. Sandra Duru and many others were dropped.
Uche Nwosu wasn't dropped because he had planted a beautiful seed in Rochas Okorocha's home through his first daughter: Uloma.
Uche continued on his life's journey with the Okorochas but that didn't change our beautiful relationship.
He and I are born servants of the poor masses and we share some unique qualities in common.
We are both selfless in service to humanity, delivering community development initiatives and supports. We love to see people grow and be successful.
I admire Uche Nwosu a lot, partly because we complimented. We are like the north and south pole of a magnet and whenever we had the time, we tried to improve each others weaknesses and promote each other's strengths.
I was the hard type and It took me years to work on myself, my stubbornness, my "I no go agree" mentality, my anger and unforgiving spirit, especially when I knew I was very right and an elder would ask me to apologize.
I rather paid a fine than said I was sorry.
But I didn't just run to God; I started working on those areas of my weakness.
I learnt a lot from my darling big brother, Ugwumba Uche Nwosu, how he managed the evil people, betrayals, liars, mischievous people, manipulative and very wicked people in his life.
He did so without losing his mind and focus.
Even at the greatest provocation that could make a man pull the trigger, my big brother would let out a smile.
Here is your gift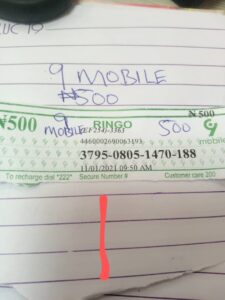 I practiced for many years to be like him.
I put myself on the line to practice daily on how to let go.
Today, I can proudly say that with my gifts, anointing, supernatural abilities and blessings – including the discipline and the entire process of letting go – have made me a good person.
I am now a successful and very independent, young, powerful woman.
Okay at this point, allow me to digress a little.
I'd not say Nwosu and I had a rosy relationship, as we argued a lot, especially about his new in-law, Rochas Okorocha.
I could not understand why he was still submissive to an in-law who practically left Imo State in ruins.
Whenever I tried to get him into a conversation about the matter, he either hung up the phone or claimed he was busy with other affairs.
In some cases, he would bar my phone line for days so I wouldn't contact him.
Uche is a good man, no doubt, but his blind loyalty is what I do not like about him.
I pray one day he is able to break free from the shackles of Rochas' spell.
But is it possible to leave a man who made you?
Is it possible to leave a man whose first daughter you are married to?
There lies the difficult situation.

Okay, back to my love story.
Today, the crack in our relationship is Rochas Okorocha.
I have made it clear to my bestfriend that the only thing that can fill that crack is truth.
We are getting older and we are now parents, and one day become grandparents and leaders in our own capacities to lead our people.
How long are we going to dance this Rochas Okorocha's makosaa songs?
It's time to get through the challenges and make sure each one of us live our true identity and personality without any fear of hurting ourselves or constantly apologizing to each other for living our lives and purpose.
No doubt, Rochas Okorocha made Uche Nwosu, and till eternity, he remains his son in-law and loyalist.
That's why I once said to him, "Loyalty is stronger than love."
Let him remain loyal to his boss, father in-law and his political mentor while I remain in love with the truth and only genuine source of joy.
I love being myself and speaking the undiluted truth without fear or favor.
It's indeed a difficult time for both of us because all the things we'd put together as a team may not see the light of the day.
I have vowed not to ever have anything to do with Rochas Okorocha and his greedy wife until they return our looted commonwealth and apologize to the people of Imo state.
Who knows, maybe my government will be the one to successfully, intelligently, and smartly probe Rochas Okorocha's ugly past administration.
I can't believe that he is still moving around freely, running the affairs of Eastern Palm University and so many other things that should not happen in our lmo state.
So, Uche Nwosu and I had to disconnect, separated to operate better for the unique purpose of our creation and existence.
He and I are not enemies, but we needed to operate from different realms, levels and frequencies henceforth to carry out the assignments given to us by God.
But thanks for being a big brother to me, Uche.
I really appreciate your care, trust, understanding and unconditional love.
For those of you who were expecting a romance-filled story with lots of intimacies here and there, I am sorry to disappoint you.
What we shared was beyond romance.
It is something only a brother and a sister could have and only two people with a unique destiny could share and survive.
Here's my final note.
Loyalty is very good, very demanding, very deep and it comes with a very big price.
Uche is paying his price – a price he has to live with.
Today, people love Uche, they want to work with him but many of them are skeptical about his personality.
Some might not say it to him but they are worried about him.
Some understand him but they cannot trust him with some things because of Rochas.
No doubt, Uche Nwosu is a good man, but here are some questions we must ask:
How independent is he?
Can he make a decision without Rochas Family?
Ask yourself, is Uche not Rochas or Rochas not Uche?
In my next episode, I'll talk more about this father in-law, Rochas, and how he separated me from my lovely brother, Uche Nwosu.
Stay tuned.