TGIF Tips – 5 Vital Tips To Help You Make It Back Home In One Piece Tonight.
Yaaayyy! TGIF (Thank God It's Friday) is upon us again today, and it's another time for numerous people around the world to hang out with friends and family, have fun, and just unwind after a long week of work.
Unless you're one of those who work on Saturdays too, I'm sure you must already have some fun spots planned out with some friends and colleagues that you intend to hit, right? Well, at the risk of sounding like a party-pooper, there are a few things I feel I must call your attention to again before you hit full party mode today.
One can never be too careful, especially with all the super crazy things happening in Nigeria, West Africa, and around the world of late. Indeed, it is better to be the safe one than to be the sorry one, my dears.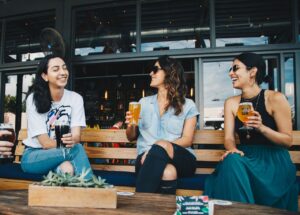 So, in keeping with my resolution to always do my best to look out for everyone as much as possible, here are 5 tips that I would like to share with you before you start "getting jiggy with it" tonight.
(1) Please Make Sure That You Drink Responsibly: A few days ago, we all heard how famous Zazzuu-Zeh crooner, Habeeb Okikiola, popularly known as Portable, allegedly drove under the influence of alcohol and ended up crashing his new Range Rover SUV.
While we thank God that it was not a fatal crash, we would also like to use him as a case in point for every other person going out to have fun tonight. Yes, you can have fun and take a few drinks, but please make sure you drink responsibly!
And, if you know you will be driving a vehicle when heading back from the spot, why not lay off the bottle tonight and probably opt for some chilled water with lemon, apples and avocado or cucumber slices in it? It would do you a world of good too, you know?
(2) Always Pay Close Attention To Your Drink: This is as important as drinking responsibly, if not even more important too. Whatever you do tonight, please don't ever leave your drinks loosely open or even unattended.
It does not matter if it is still in a bottle or already in a cup, don't ever take your eyes off your drink in a public joint, let alone step away from it! This world is a terrible, evil place, and unless you are blessed to have some very loyal and trustworthy people around you, the consequences of doing this might be pretty grave.
As God watches over you every day, you must take measured steps to preserve yourself, too, especially as you step out tonight.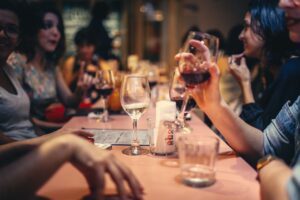 (3) Never Become Too Relaxed Around Strangers: It is better to be tagged "rude" or "paranoid" and be alive and unharmed than to be labeled "nice and very friendly" but dead!
You have and reserve the right to question any unknown or suspicious person or persons that creep into your space tonight. With the numerous kidnappings, ritual killings, and other evil things happening in today's society, don't ever get too relaxed around people you do not know as you party tonight.
(4) Check, Double-Check, Then Triple-Check Interiors Of Any Ride You Hail: If you're feeling too tired to drive around again tonight because you've had a long week, it's okay to take a ride with any ride-share service.
What is not okay, though, are you entering into any vehicle that is not yours and slamming the doors shut on yourself without checking all the inner door handles first! Believe me; this tip can deliver you from potential abductors and save your life if you take it seriously.
You might want to read up on this particular tip and equip yourself with more information here before you step out, you know?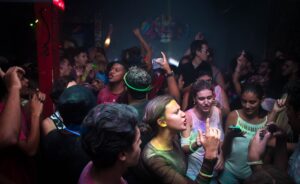 (5) Leave No One Behind: The last tip for tonight is by far not the least. As you relax, unwind, and party tonight, make sure to make a headcount of all the people you came out with and keep that headcount too. This is very important!
Keeping a headcount is vital because it would quickly help you notice if anyone in your party is missing, and you can quickly raise the alarm for help. Also, do not get so drunk tonight that you would leave anyone behind. Make sure everyone is accounted for as you leave any location or spot you're going to tonight.
So, there you have them, your "guardian tips" for tonight, courtesy yours truly, Prof. Mgbeke. Do note, though, that these tips and even more can never keep you safe from harm if God does not keep you safe.
Perhaps the most important thing for you is to commit yourself and everyone else into HIS safe hands before stepping out tonight. May God be with us all, Amen!
Professor Mgbeke loves you.
By: Dr. Sandra C. Duru