Talking Points As Real Madrid Wins 14th UEFA Champions League Title Against Liverpool In Paris
Spanish Champions Real Madrid secured a record-breaking 14th UEFA Champions League title after a single Vinicius Junior goal in the 2nd half saw them beat England's Liverpool FC again in the final played at the Stade De France, Paris, France, on May 28, 2022.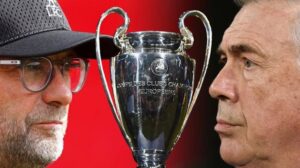 The much talked about and anticipated matchup was touted as the ultimate grudge match and expected to produce fireworks from the blast of the whistle.
It was not so, though, as the first 15 minutes of the match saw both European club football super powerhouses being very cautious, with neither willing to commit too much and be caught out by the other.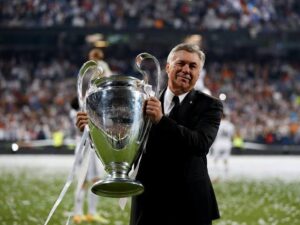 Was it all nervy and laid back? No, it wasn't by a long shot. There were several talking points and exciting moments during the match, the most notable of which was the most bizarre offside call ever seen in international football.
But then again, it's the prestigious UEFA Champions League Final, isn't it? We guess it was only natural for it to deliver the most prominent spectacle ever seen, and here are some of the exciting moments and lessons from it below:
(1) The fear and tension were evident and choked play for the first quarter of an hour.
Nothing grows and flourishes under the influence of fear and negative tension. It chokes and stifles creativity and makes the natural abilities dormant even in the most skilled individuals.
There had been so much talk about this being a grudge and revenge match, and it was heavy on the players' minds, as evidenced in the way they went at each other for the first 15 minutes of the game.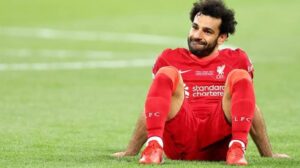 Regular service was resumed in the 16th minute, though, and things started to get into the steady flow we all expected from thence.
A flurry of chances fell to Liverpool during those exchanges in the first half, as Real looked to lean back, soak up the pressure, and hit their opponent on the counter. Unfortunately for them, though, they couldn't take any of the chances, and it cost them dearly in the long run.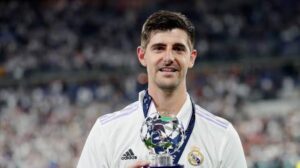 (2) Negative emotions can never produce positive results.
Mo' Salah was too focused on revenge, and it seriously restricted his usual creative flair and genius.
Truth be told, he was a shadow of himself almost all through the first half, with his only meaningful contribution being a snapshot he took that went straight at Madrid's Courtois for a comfortable save in the 17th minute.
After this, he was largely ineffective, as he was easily robbed and dispossessed of the ball virtually every time it was passed to him – a very uncharacteristic thing for someone like Salah!
Regardless of your grievance with something or someone, never hold on to negative emotions like revenge, hate, malice, etc. You can rarely make any good judgment whenever your reasoning is emotionally clouded. How much more when it's now clouded by negativity!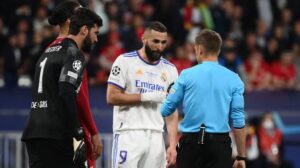 (3) Weirdest offside rule spices up Paris
Karim Benzema thought he had done it again when it mattered the most as he found the back of the net in the 44th minute of the 1st half, only for UEFA's weird new offside rule to halt Madrid's jubilations.
This new rule was introduced relatively recently, and it was being tested for the first time in a major European match during the match in Paris. It raised a wave of arguments and counterarguments as Real's goal was chalked off after an extended VAR review, and we've taken a look at it: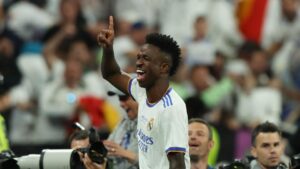 An offside is only valid when your team player sends the ball your way, deflected or not. Fabinho attempted a back pass in a panicked frenzy, and it went Benzema's way. This, according to the rule, put the French man on the wrong side of the rule, hence the removal of the goal.
More will still be said regarding this new rule, and we will be following the interesting technicality with some keen attention. For now, though, it was a significant moment in the match against Real.
Thankfully for them, it did not cost them the trophy in the long run.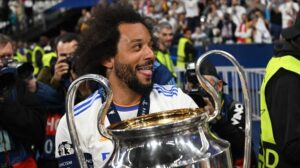 (4) Great goalkeepers are vital for tournament wins!
Great attackers will get you goals in a football game, but if your goalkeeper is weak, you're in trouble.
Even with an equally great set of defenders, your goalkeeper is your last line of defense, and if he isn't superb, you will eventually be defeated because he will keep leaking goals against you.
Thibaut Courtois won the Man-of-the-Match prize on the night for his outstanding heroics in the goal for Los Blancos, as he was a firm giant in goal against Liverpool.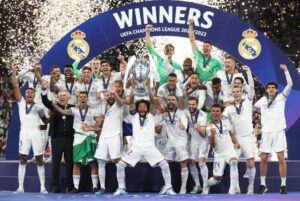 A total of 9 unbelievable saves were required to keep the Spanish goal unbreached, and the massive Belgian was more than capable. Yes, Real were crowned European kings for the 14th time on Saturday, but the night's true king was Courtois, and he ruled supreme!
Liverpool has now lost twice in the most crucial match at the European club level, and we hope that they will be able to get over the disappointment and come back stronger next season like they did the last time in 2019.
Congratulations to the Spanish and now European Champions Real Madrid for an unprecedented 14th triumph in the prestigious and most coveted competition.