Randy Prof. Kingsley Okorie & GOLEGOA Global Limited Have Mistaken A Real Tiger's Tail For The Short IMSU Skirts They Chase Around Imo State – Now They Will All Face The Music!
Chai, My Mgbekenized family! So na true say last last, na everybody go chop correct BREAKFAST! Well, this one "don cast" majorly, as the slogan goes, and a very sumptuous and hot "breakfast" dish is well laid out for our dear emeritus from hell!
There are a few major characters in this juicy gist, and I'll introduce them all to you one after the other☺️…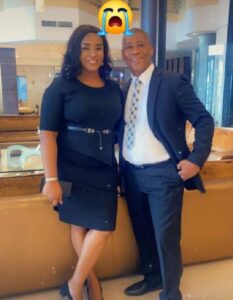 Meet Prof. Kingsley Chimezie Okorie, the Professor of Ikpu ndi Imo State and Imo State University (IMSU) girls, all the way from Abia State, and residing in Imo State to mess around with female students in IMSU and Madonna University. A proper piece of work, this one.
Hence, we have decided to award you the title of the "#1 SENIOR ADVOCATE OF NONSENSE," along with your lousy and cruel wife, Adaugo "GbasaQueen," who only knows how to criticize her elder brother's wife, Mrs. Amara Pamela Okoye – Amadiegwu, who she claims is 15 years older than her brother, the infamous "NWA baby" & "Little taata," Obinwa "mama-breastfeeding" Geoffery.
As things have been unraveled, Adaugo encourages you, Prof. Kingsley, and her fraudulent elder brother Geoffery Obinwa Amadiegwu of GOLEGOA Global Limited (GOA Foods Export & Logistics) situated at 56, Aiyetoro Street, Aguda, Surulere, Lagos State, Nigeria, to rip off, swindle, defraud, and cheat innocent people, steal their foodstuffs. And, at the same time, your questionable, evil, dubious, randy, and very irresponsible husband poses as a SAN to harass the victims!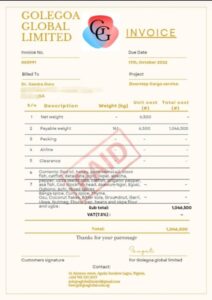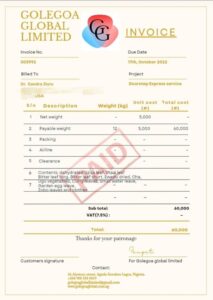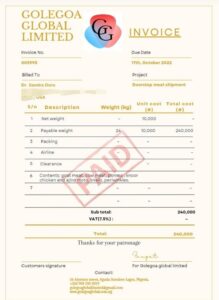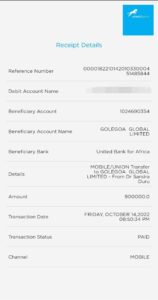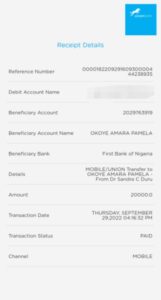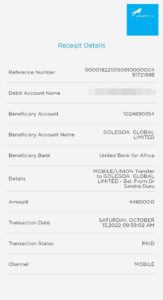 It's evident that Amadiegwu Geoffery, his sister Adaugo Amadiegwu Okorie, and her husband, Prof. Kingsley Chimezie Okorie, have been stealing from innocent people for too long. However, I promise to be their last victim, home and abroad!
These shameless characters stole my goat 🐐 , cow meat🐄 , ponmo, Maggie, mixed condiments | seasonings, Egusi, Ogbono, Asa fish, Ugba, Ugu vegetables, Okpe, mixed peppers, long bitter leaves, river catfish, and so many other foodstuffs worth over Two Million Naira (N2m) meant for a client's wedding in the United States of America.
They were paid almost N1.4 million for the "express shipping and doorstep delivery" of these foodstuffs to America. However, as I write this, they haven't shipped and have stolen most of the food items; the few shipped ones got to us damaged and way too late – one month after the agreed deadline and the client's wedding they were procured for.
We had paid for express shipping to America, considering these are perishable items. Still, alas, the only thing we almost got was a terrible name for our brand and image in America if God's mercy and wisdom hadn't been with us fully.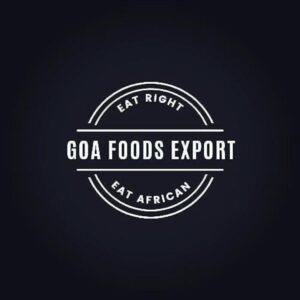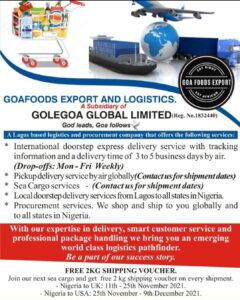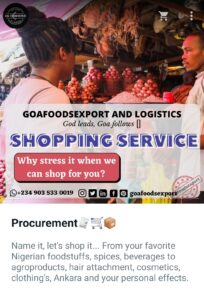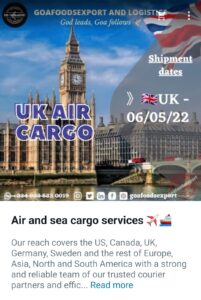 We have received nothing from this extremely devious, evil, and fraudulent GOA Foods Export & Logistics crew, even after making full payment for express shipping and delivery in early October 2022!
Below are the proofs of shipping payment for all the procurements and the extra money given to his wife, Amara, too.
The battleline is drawn.
Ana eji Uche eme ihe!
#PROFMGBEKE
www.mgbeke.media