Most American have become used to President Joe Biden making blunders, forgetting names, and strangely whispering or yelling while he's speaking.
But during an occasion at the White House on Thursday, the president struggled for 30 seconds straight.
He spoke about a move that will "enhance our underlying effort to accommodate the Russian oligarchs and make sure we take their ill-begotten gains."
Biden's brain just broke, again. pic.twitter.com/tuZub9v1IX

— Townhall.com (@townhallcom) April 28, 2022
Realizing the slip-up, Biden chuckled then said, "We're going to accommodate them. We're going to seize their yachts, their luxury homes, and other ill-begotten gains of Putin's kleptoc… uh… yeah."
He paused for a few seconds to reset, then continued, "Kleptocracy… keep… the guys who are the kleptocracies."
Biden laughed then added, "But these are bad guys."
It is one thing to announce steps that the U.S. is taking to punish Russia for its invasion of Ukraine.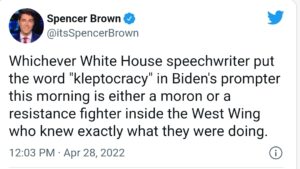 However, including words like kleptocracy that lead to such incidents is not helping to project an image of a strong leader around the world.
Not every speech needs to be written like staffers are living in the show "The West Wing."
A simple written statement could have sufficed for his announcement, rather than having the leader of the free world struggle through it.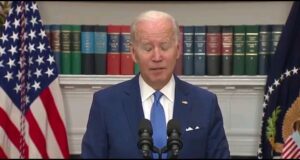 Alternatively, White House Press Secretary Jen Psaki could have announced the steps.
There is not always going to be a staffer in an Easter Bunny costume to hop in and save Biden, and the White House communications team should know that.
But instead of making any changes or adjustments to help the president deliver remarks clearer, they either hide him from the press or throw him out there with words like "kleptocracy."
By: Bradley Cortright|IJR