"Persevere For Your Purpose!" – The Inspiring Story Of Decembre "Boss Lady" Pierce
Growing up from nothing and becoming a very prominent person and figure in one's society is never a mean feat, but some people make it look easy even though it was nothing but that for them.
One of such people in North Carolina, USA's "Boss Lady," Ms. Decembre Pierce, whose life journey has taken her through some of the deepest and darkest slopes anyone could have ever been dragged through. Still, she not only survived through it all, but she has started shining brighter than jewels pulled from a furnace because of how much her experiences have helped to mold her life!
Ms. Pierce is an accomplished author and has a Master's of Science in Criminal Justice degree, which she obtained from the North Carolina Central University in May 2012. Before that, in 2007, she founded a mentoring center for troubled and underprivileged youth called "The LOVE Center."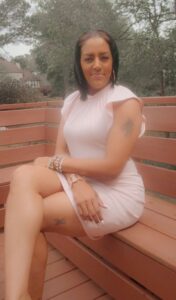 After spending several years as a Paralegal worker and witnessing many youths go in and out of the system, she saw the need for young people in her county, including her own, to have an alternative outlet in their lives. During its operation, Ms. Pierce was very dedicated to this Center and strived to make a difference within the community. Unfortunately, the Center was closed entirely in 2012 due to a lack of funding, but she stays in touch with many of the children who once attended her Center.
A mother of five children, Ms. Pierce has published three books: "Sister, Set Yourself Free," "Beaten & Bruised," and "Releasing the Bitterness," which is a crisis line, rape and domestic violence advocate for Durham Crisis Response Center in Durham, North Carolina, USA. According to her, "Writing poetry and books is an escape and expression for me, and it has helped me find the peace that I have long awaited to embrace."
"Beaten & Bruised," her second book, was released in August 2006 and is a comprehensive autobiography of her violent marriage to her ex-husband and children's father. The book details how she and her children were subjected to violence and misery at the hands of her ex-husband for more than five years and how she eventually found the fortitude to break free and leave. According to her book, her ex-husband fractured her wrist and multiple ribs on several occasions, tried to throw her out of a moving car, burnt her with cigarettes, slashed her, and held a revolver to her head three times while pulling the trigger.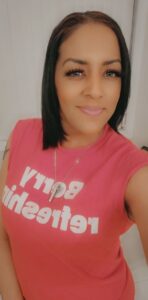 After surviving this hellish experience in one piece, she wrote this book in hopes of helping other women escape. Knowing that her story is one of pain, hurt, and courage, she seeks to educate people on domestic violence's causes and effects and educate other women on why they should not stay in such situations.
Ms. Pierce is a dedicated advocate against domestic violence. She speaks out against it at every chance she gets while helping others living in the same or similar situation to escape from it.
It hasn't been all gloom and struggles with her, though, as she recently took to social media to announce that she would be opening her security firm in Atlanta, Georgia, USA, on May 1, 2022. In an understandably lengthy and exciting post, Ms. Pierce said:
"As many of you know, I am currently the Captain of Security for all Georgia VA Clinics and Hospitals. I was initially hired by a contracted company of the Georgia VA, CASS Security, as a Lieutenant and swiftly promoted to pt because of my educational background, experience in security and management, and my job performance at the VA. As Captain, this job has taught me so much, and I have met some fantastic Veterans, VA police officers, and VA staff members over the past seven months.
I love what I do, and when it comes to working, supervising, or being a leader, I go ABOVE & BEYOND! I run a TIGHT ship, and I DON'T tolerate foolishness or disorganization. NEVER have and NEVER will! Yes, there have been some challenges along the way, but I have handled them all like the professional that I am, no matter what others around me do.
With all of this being said, I NEVER thought that I would be saying this so soon, but I have decided to step down from my position as Captain. TODAY, April 18, I began the two-week countdown until I begin my next venture as the CEO/Lead Trainer of my own security company in Georgia. I would say that I'm nervous, but the "BOSS LADY" in me REFUSE to embrace fear or doubt. My company is called Protecting HIS Security Services. We are FULLY licensed, insured, and bonded.
I'm still awaiting my DUNS number, but on May 1, 2022, PHSS will be opening our office in Atlanta and offering public and private security (to churches, companies, businesses, schools, colleges) individuals) with both armed and unarmed security officers.
I already have an amazing team who will be working with me and for me, and I'm looking forward to showing the world what a REAL female boss is all about. I can say that I DIDN'T settle; instead, I have found my purpose!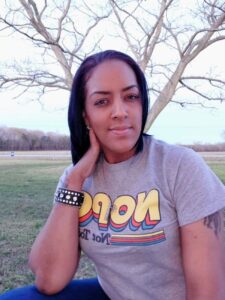 Life will often throw you a curveball, some you saw coming, some you didn't, but the ultimate goal is to catch it and throw it back with each incoming ball."
She also announced that her Sexy HI Swimwear & BossLady Apparel line is coming soon. She looks to establish multiple income streams to support herself, her children, and her numerous passionate projects.
Ms. Pierce is a dedicated, motivated, hard-working woman who has single-handedly raised her five children – three teenagers and two God-placed (now adult) children. She is also a stage play writer, actress, model, brand ambassador, motivational speaker, and domestic violence survivor and advocate.
Her honors and awards include Queen of the City, Issued by Liles Foundation (August 2016), Awarded the prize as Queen of the City of Durham, NC Durham Grit Award, Issued by Herald Sun (June 2010), and several others.
Ms. Pierce has renowned proficiency in Public Speaking, Leadership, Event Planning, Social Media, Customer Service, Marketing, Marketing Strategy, Leadership Development, Time Management, and many more.