There're times compassion manifests in making difficult decisions and holding others proportionately accountable for their actions. On occasions, those being held accountable find deeper meaning and purpose on the back end of their story.
Bringing humanity to our work can create remarkable opportunities for success, unity, love, miraculous outcomes, opportunities and positive changes.
The golden chance given to Dekara Anderson by Judge Shannon Frison changed his life positively.
" Sentencing is one of the most important and difficult jobs of a judge. In addition to the traditional goals of Sentencing (punishment, rehabilitation, deterrence, public safety), there is room for mercy and compassion." – Judge Shannon Frison
Let's read the very touching story of Dekara Anderson and his encounter with Judge Frison.
She wears a black robe and sits on a bench above her courtroom, and when the moment of truth arrives, it is never routine.
She treats the power and authority with which she's been entrusted with equal measures of respect and awe.
"You have a person's life in your hands at that point,'' Superior Court Judge Shannon Frison said. "It doesn't matter if I'm giving you one day or life, it is me — quite literally — taking away your freedom.''
And it was a moment precisely like that brought Judge Frison and Dekara Anderson together in Middlesex Superior Court in August 2014.
Frison, a Harvard graduate and a former officer and lawyer in the Marine Corps, took note of Anderson's age. He was 39, the same age at which she was appointed to the bench in 2009. "This was not a kid,'' the judge said. And other things about Anderson, who now stood before the judge on a charge of resisting arrest, stood out.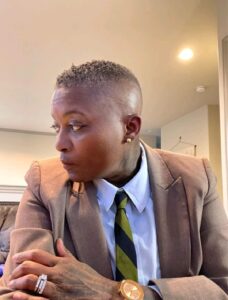 He had a colorful criminal history. "Being horrible,'' is how he described it to me. "At first, it was breaking into cars. The last one was a cocaine arrest.'' But Anderson got a big break after that cocaine arrest, a break named Annie Dookhan. She is the former state drug analyst who tampered with evidence and jeopardized tens of thousands of convictions, including Anderson's. In October of 2012, a judge stayed his seven-year sentence for cocaine distribution.
Seven months later, he was chased down by Framingham police, who said they found a plastic bag of crack cocaine on him. And Dekara Anderson got yet another break. By the time he stood before Judge Frison, the drug evidence had been suppressed. State prosecutors were seeking two and a half years for resisting arrest.
In court that summer day, Frison, the prosecutor, and Anderson's lawyer, Mark Helwig, gathered at sidebar. They looked out over the courtroom and saw Anderson's mother and sister who promised to provide him with the stability he needed.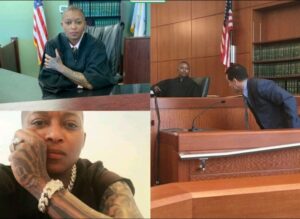 "For most people, it's circumstances, it's bad decisions, it's chemical dependence,'' Helwig said. "Everybody deserves a chance.'' It's an argument Frison found persuasive. She weighed the support Anderson's family offered. Helwig made a convincing case that he was committed to turning his life around.
"I took a chance on this man and, as I've done with other folks, I said, 'All right, I'm not going to put you in jail again. I'm going to give you probation,' " the judge said.
"It's never an effort to split the baby. It's this: What is the most appropriate thing that should happen here?'' By then, Anderson had served 459 days awaiting trial. That's enough, she decided.
Then it was Anderson's turn to make a decision. Time to change, he said. He enrolled in a nonresidential program called Overcoming the Odds, which aims to reduce recidivism and protect public safety by providing guidance to inmates headed back into society.
For Anderson, that meant a 21-week culinary arts program, which has fueled dreams of opening his own catering business.
"My family feels better knowing that I am there and grounded and focused," he said. "My family will help me as long as I help myself.''
Dekara Anderson was reunited Tuesday evening with Frison and Helwig during a program at the Seaport Hotel hosted by Community Resources for Justice, which runs the Overcoming the Odds program.
For Judge Frison, it was a rare chance to witness the personal consequences of one of her decisions from the bench. "I'm probably more excited than he is,'' the judge told me before Tuesday's program.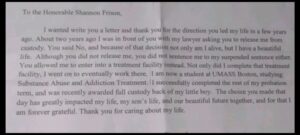 Anderson's pretty excited himself. He's making $17 an hour doing work that he loves. He's got a fledgling career. And something more precious: the opportunity to prove himself worthy of a golden second chance.
"You never know how your simple humanity affects someone. Do right my folks." – Judge Shannon Frison
Credit: Thomas Farragher| Boston Globe columnist & Dr. Sandra C Duru |Wenetlynewyork