Operate in silence 🔕
Till today, my classmates at Owerri Girls call me Nnukwu Mmanwu, which means the big masquerade. In Igbo culture, Nnukwu Mmanwu is the biggest and most entertaining masked dancer during village festivals, but yet the most revered and the most dreaded. Nnukwu Mmanwu appears only during the peak of the ceremony. I was among the students that used charcoal and chalk to deface school blocks with nicknames inscribed on almost every surface. My nickname didn't get much traction until after an ugly incident happened in our SS2.
We returned from night prep one day to see that the hostel had been burgled. The hostel was then divided into the city and village wings. 'City' residents were supposedly the happening babes then. My bed/corner was right at the entrance of the village wing. My nickname, NNUKWU MMANWU, was boldly inscribed above the bunk. I think it was the boldest-ever inscription in the hostel. As if the burglars had some intel about the city-village segregation, they went straight to the city section and ransacked several bags and lockers, taking away all the valuables they could find.
Nobody was robbed in the 'village' wing except me. I was not only robbed, but they also cleaned out my drawer and took my entire box away with them. I was the only one robbed so radically and dramatically. My textbooks, day dress, uniforms, provisions, undies, rechargeable lanterns including my favorite home wears I hid in my box were all gone. These things were my valuables then. If the dead have ears, all my ancestors would have been awakened by my tears, loud wailing, and rolling on the floor that night. I don't know if my classmates were mocking or pitying me, but chants of NNUKWU MMANWU rented the air everywhere I went. And that's how the Nnukwu Mmanwu became a household name.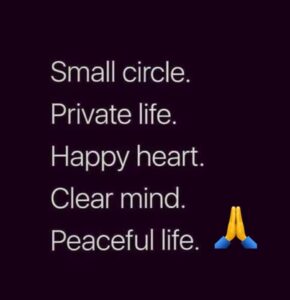 Humbled by that experience, I tried my best to clean up all the inscriptions I made in and around the school. Nobody deserved to be robbed, but there were lots of borders of rob-able value in the village wing that were spared. The silence made the difference. I learned so early that we sometimes, personally invite grief into our lives and later accuse others of witch-hunt and bad belle.
Living a private life guarantees peace. It is a firewall against needless drama. People are moving around snitching, taking screenshots-and keeping receipts for the "rainy" day. At a time yahoo boys and kidnappers are on the rampage, you can never tell in whose hands these receipts end up. Nobody needs to know what your living room or bedroom looks like. Nobody needs to know what is behind your closet. Nobody needs to know who you're dating. Nobody needs to know your relationship's start- and end-dates. No need to announce and show off. It's poor content. Lowest grade content! Sometimes, what we call 'envy' are consequences of our irrational displays.
If God has indeed blessed you, enjoy your life in peace. Stay away from self-inflicted harm. Wisdom is profitable to direct.
BY: ASANMA MGBEKE, LOLO VICTORIA IBEZIM- OHEARI
#PROFMGBEKE