Notable Points As Liverpool Ensure The EPL Goes Down To The Wire With Remarkable Victory At St. Mary's
Fresh from his FA Cup heroics over the weekend, Liverpool's star Kostas Tsimikas was again the difference for Jurgen Klopp's men as their much-changed side fought back impressively from a goal down to defeat Southampton. The latter played in front of their home fans at the St. Mary's Stadium in Southampton, England, on May 17, 2022.
Knowing that a slip-up would have ultimately handed the 2021/2022 Premier League crown to rivals and current champions Manchester City, Klopp showed incredible faith in his fringe players as he opted to field a second-string team due to their upcoming UEFA Champion's League showdown against Spain's Real Madrid.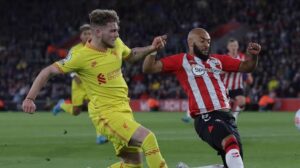 The match played in front of 31,588 spectators in Southampton couldn't have started any better for the home side as Nathan Redmond smashed them into the lead with a superb curling effort into the top-right corner of Liverpool's goal in the 13th minute of the match.
The opening minutes were slow for the Anfield Reds due to their recent exertions during the FA Cup final that went the whole 120 minutes. However, it didn't take them long to hit back and level things up as former Saints loanee Takumi Minamino blasted in Liverpool's equalizer into Southampton's near right post from close range.
Despite needing just one point to secure their top-flight safety mathematically, the Saints didn't offer much in goalmouth action. Liverpool's well-deserved winner came in the 67th minute after Joël Matip instinctively reacted to nod in a Tsimikas in-swinging corner that had bounced off Mohamed Elyounoussi's head.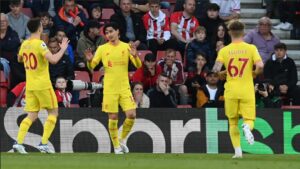 It was to end 1-2 in favor of the visitors on the night, and this result now means that it is all to play for on the final day of the league as we all wait to see who would eventually be crowned as the 2021/2022 Premier League Champion in England come Sunday, May 22, 2022.
As Klopp and his boys also prepare for an epic European clash against the mighty Real Madrid of Spain on Saturday, May 28, 2022, here are a few things we learned from their exploits at Saint Mary's on May 17, 2022:
(1) You are only as good as you believe you are.
Liverpool's manager Jurgen Klopp undoubtedly sought to rest his key players ahead of two impending finals for the Premier League and UCL to be played within a week, so many thought his second-string side would find it difficult to get the point away at Southampton.
However, Kostas Tsimikas and his companions had other ideas on the night, and they showed the whole world that, second-string or not, you are only as good as you believe you are!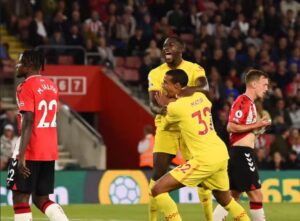 They never showed any signs of self-doubt throughout the feisty encounter and wore their hearts on their sleeves, giving everything to the Liverpool cause in the game.
This performance holds a big lesson for everyone who cares to watch and learn here: No matter what the world thinks or believes about you, what you say, think, and believe about yourself is the only thing that matters!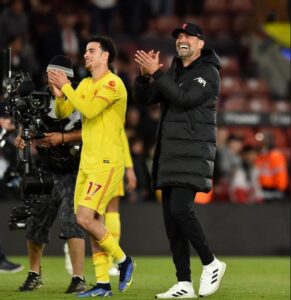 (2) There is nothing impossible to him that believes!
Klopp could have risked some of his star players from the start to secure the much-needed point against The Saints, but he showed an example of great faith by not doing so.
Even when his team went down after barely 15 minutes into the match, he remained stoic in his faith that these boys could deliver, and they did not fail him in the long run.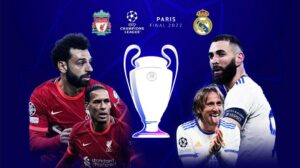 Regardless of the obstacles and battles ahead of you, never relent or flinch in your resolve as you hold on against every onslaught of life in faith. Your faith will be rewarded, and you will be celebrated too if you do not quit!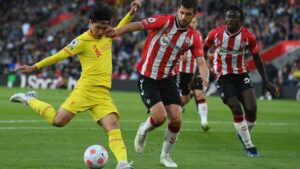 It was indeed an interesting match.
By: Dr. Sandra Duru