Notable Point And Question Raised As VP Osinbajo's Convoy Rescues Accident Victim Enroute Owo, Ondo State
There has been a barrage of mixed feelings following the news report on how the Nigerian Vice President Prof. Yemi Osinbajo's convoy rescued an accident victim earlier today, June 6, 2022, while on their way to Owo, Ondo State, Nigeria.
According to reports, a Toyota Corolla was involved, and only one male was injured in the accident at Zamani Junction in Abuja, Nigeria.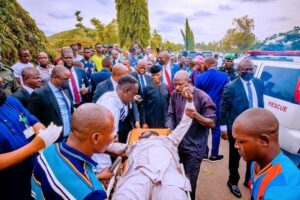 Speaking on the incident, the Federal Road Safety Corps (FRSC) Public Education Officer, Mr. Bisi Kazeem, commended the VP for rescuing the victim and also added that this is a call to everyone to note that road safety is a business for all.
He also revealed that other well-meaning citizens assisted the VP and his security detail as they collaborated to pull the victims out of the wreckage
An aide of the VP, Laolu Akande, had shared pictures from the accident scene and disclosed: "VP's medical and security teams quickly intervened removing the victim from the crushed car which somersaulted on the opposite side of the road and got stuck on a tree. The victim now moved to a hospital."
The VP was reportedly on his way to the airport to head to the scene of the attack on a Catholic church in Owo, Ondo State when his convoy came upon this accident.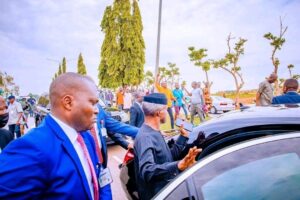 A question many Nigerians are asking now that we also feel a need to resound here is why do Nigerian politicians always use this same old script every time they're trying to appeal to the sentimental side of the people during election campaign seasons?
This is even more common when the said politicians know that they have failed the people terribly and have no goodwill with them. Things like these rescue and humanitarian aid attempt reek of PR stunting, and it is a general opinion that such needs to stop already!
This same humanitarian was at a party on the night of the attack, which had happened quite earlier in the day, and no attempt was made to fly straight there and offer real help where it was direly needed.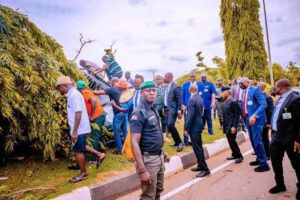 Only for a man to somehow get hung on a tree while he "coincidentally" happened to be passing by on his way to the airport after his more important party, and then they whip out the camera for some quality pictures for the press and social media during their "daring rescue" exercise.
Please, these our so-called leaders need to start doing better, indeed!