MGBEKE EXFOMOISTURIZING SOAP AND PRO-REPAIR BODY OIL ARE FINALLY IN STOCK.
Worry no more about dry, itchy, cracked, very dull looking, damaged, irritated or eczema prone skin. Say goodbye to acne, wrinkles, cellulite, scars, finelines, pimples, smelling feet, blackheads, dark spots, psoriasis, uneven skin tone, strechmarks, rough skin, hard palms, flaky skin, skin irritation, hyperpigmentation, body odours, as these two organic natural products have the highest quality ingredients that contains a bunch of exfoliating, antioxidants, anti-bacterial, anti-fungal and anti-inflammatory botanical extracts to help protect and strengthen the skin.
These carefully selected ingredients help to glow, brighten, smoothens, softens the skin and the best anti-aging formulas for people who want to look young, vibrant, flawless, youthful, supple, great and evergreen naturally. WE CALL THESE TWO ANCIENT AFRICAN ANTI-AGING SECRET, "MGBEKE QUICK ACTION SKIN GLOW SET".
Today, we at the Mgbeke LLC Home Of Organic Natural Beauty Products And Supplements have the pleasure to introduce the best quality organic natural African Ancient Secret soap and body oil that will take care of your skin problems and challenges.
These two well researched, formulated and carefully handmade organic natural recipes have the healing ingredients to repair even the worst damaged skin and renew the skin, leaving it glowing and healthy within few days.
At Mgbeke LLC, we produce superior quality organic natural skincare, haircare, and lipcare products. We are known for the best quality organic natural herbs, spices and natural supplements. We are committed to only the formulation, production and the distribution of QUALITY NATURAL beauty & healthy living products and services.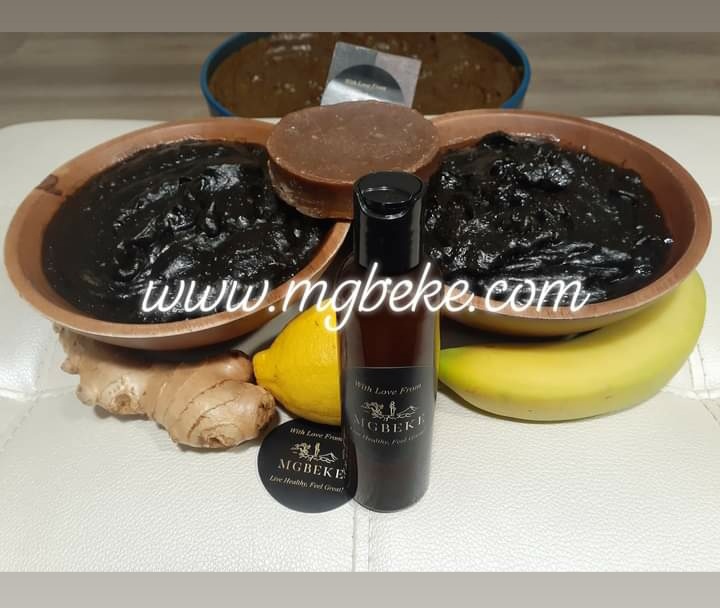 We leverage science, expertise, and nature to deliver the most potent, safe, rich and healthy formulations in the production of natural Supplements, Skincare, Haircare, Lipcare and infact, the general body care to make our customers Live Healthy, Feel Great!
Our products are comprised of the highest quality natural ingredients sourced from around the world. Our luxury, clinical-grade formulas are as effective as they are safe. All products are USA-made and manufactured using the very best natural domestic and imported ingredients.
We produce and package our products in a GMP certified facility, we care so much about our customers satisfaction and we are very hygiene conscious. We manufacture our products with love and pride.
So, you don't have to dislike, or hate your skin or loss your self confidence because of your skin problems. We at Mgbeke LLC have you at heart and we have you covered. You are the reason we set out to research on a natural approach to solving your skin issues with love. Don't ever hate or dislike any part of your body or even your skin. Mgbeke natural products and supplements can help you restore your confidence and your skin again without having to break the bank or empty your wallet.
Now, who thought you to hate the texture of your hair, the colour of your skin, or hate your own kind? Stop hating what God gave YOU. You're naturally beautiful|handsome. All you need to do is to enhance and maintain your beauty naturally with Mgbeke organic natural beauty products and supplements and remain evergreen like Prof. Mgbeke.
You can now order for your Organic Natural Mgbeke Exfomoisturizing Soap and Pro Repair body Oil. These Ancient African recipes will help you glow. It has potent Anti-Aging ingredients, it helps to eliminate acne, blackheads, whiteheads, eczema, wrinkles, stretch marks, body odours, pimples, puffiness, cellulite, dark spots, scars, skin discoloration, finelines, dryness, psoriasis, and even 'sharpy-rocky' or 'hard-rocky' palms.
Mgbeke Exfomoisturizing organic soap softens, exfoliates, brightens, moisturizes, cleanses, smoothens and repairs damaged skin. It's works wonders around your armpits and bikini areas.
It's exceptionally creamy texture makes it easy to use in the bathroom|shower. It's jam-packed with botanical extracts and natural healing oils, and herbs. Order yours today from our online store (worldwide) or from our physical shops within the United States Of America.
Mgbeke Pro Repair Body Oil comes in 4 oz Amber bottle and Mgbeke Exfomoisturizing Soap comes in 8 oz Amber gar with botanicals infused herbal leaves covering the top of the soap to retain its nutrients and increase the potency of the Ancient African secret plant extracts.
www.mgbeke.com