Mazi Nnamdi Kanu's Treason Charges Cut Down To 7 From 15 – Presses For Total Dismissal Of All Charges!
Incarcerated leader of the Indigenous People of Biafra, IPOB, Mazi Nnamdi Kanu, has had the 15-count treasonable felony charge leveled against him by the Federal Government of Nigeria reduced to only 7 by Justice Binta Nyako of the Federal High Court, Abuja, Nigeria.
During the hearing in court today, Friday, April 8, 2022, Justice Binta also ruled on a preliminary objection filed by Mazi Kanu as she acquitted him on 8 of the 15-count charges previously held against him.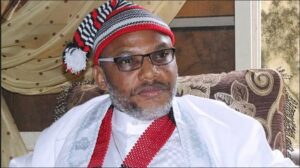 While delivering her judgment, Justice Binta said: "In this instant preliminary objection application, I have read the counts and come to the conclusion that counts 6, 7, 9, 10, 11, 12, 13, and 14 have not disclosed any offense against the defendant.
Counts 1, 2, 3, 4, 5, 8, and 15 show some allegations, which the defendant has to answer. Therefore, the court shall proceed to try the defendant on those counts only."
You may recall that Mazi Kanu had recently filed a motion for the Federal High Court to dismiss all the charges against him because, according to him, the court did not have the jurisdiction to try him based on an incompetent charge. Filed through his attorney Chief Mike Ozekhome(SAN), and his team of lawyers, his application also insisted that the case against him was legally baseless and defective.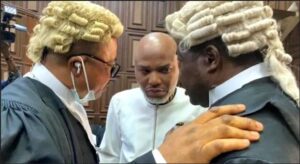 The entire nation and the rest of the world continue to watch and follow this saga, which looks more like a needless head-hunt against Mazi Kanu. And in light of recent events in the country, his case also brings up a pertinent question:
Why is the Federal Government of Nigeria charging Mazi Nnamdi Kanu for treason and terrorism but is always quick to label the real terrorists bombing trains and attacking our international airports as "bandits"?
Whatever the true agenda against him is, his case also teaches everyone who has been following the whole saga that it is only the one who throws in the towel that loses in life. As long as you are doing what is right and you do not give up or back down, creation will one day make a way of escape and eventual victory for you.
Mazi Kanu has fought against these unjust charges for over 5 years. He is still going strong against a government that is obviously implicitly biased against him and his kind. Learn from his resilience, if nothing else, for it is undoubtedly worthy of emulation.