Mazi Nnamdi Kanu, those set to destroy you will eventually DESTROY THEMSELVES.
Honestly, from the event that played out today being Thursday, the 21st of October, 2021 at the Federal high court in Abuja, Nigeria has further proven that Nigeria is a Zoo as described by the divine prophet of our time, Nnamdi Kanu.
I watched the video of Mazi Nnamdi Kanu's supposedly trial in the high court of Abuja, which turned out to be a show of shame on Buhari and his very confused team. Recognized Journalists, elderstatemen from the southeast and lawyers were not allowed into the court premises, but organized thugs were allowed in their large numbers into the court to harrass harmless and innocent citizens who came to carryout their official duties and also came in solidarity with Nnamdi Kanu as a very strong freedom fighter.
A very well known journalist and activist, Sowore was harrassed and assaulted within the court premises by hoodlums right in front of the department of state security services and the police, yet nothing was done to either arrest and prosecute these hoodlums who looked more like bokoharam members and Miyeti Allah terrorists. That's also has confirmed that they were sent by Buhari to harm Sowore and other innocent Nigerians.
It took the bravery of the journalists who were so offended by the inhumane treatment meted out to Sowore and their colleagues to alert the civil defense team and other security agencies to intervene in the issue before the hoodlums were taken away from the court and their vehicle was also taken away by the police. Nigerians have lost confidence in the security agencies and the government of Nigeria. They believe that the hoodlums will be released on the way and allow to go free. I have that same feelings too. What stopped them from arresting them immediately and preventing the attacks against Sowore? How did the hoodlums gain entrance into a very tight security zone so freely and had the effrontery to attack journalists and human rights activists in front of the large numbers of armed DSS and the Nigerian Police fearlessly?
Let's look into today's court case and the federal government of Nigeria's huge embarrassment to themselves internationally:
The photos obtained by The PUNCH media house have confirmed that the leader of the Indigenous People of Biafra IPOB, Mazi Nnamdi Kanu, appeared in court today, October 21, 2021.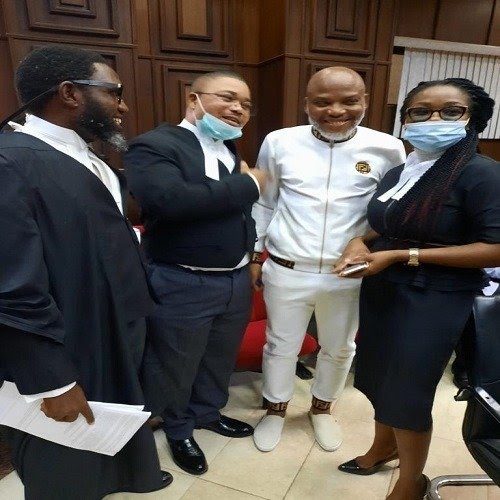 The photos showed Kanu and members of his legal counsel, Ifeanyi Ejiofor, Aloy Ejimakor and others in the courtroom together. Though, the Ohaneze Ndigbo attorney and their appointed representatives were denied access to the courtroom.
Kanu was arraigned at the Federal High Court in Abuja today over charges of treasonable felony and terrorism.
A seven-count charge was last week slammed by the Federal Government against Kanu who has been in the custody of the Department of State Services for several months now since he was illegally kidnapped and brought into Nigeria.
During the last proceedings, the IPOB leader was not brought to court. This was blamed on "logistical issues" by the prosecuting lawyer, Mohammed Abubakar of which Nigerians are aware were part of their delay tactics to continue to keep him in their custody because they are not sure of what to charge him with or what to do to him ever since they kidnapped him.
His lead counsel, Ejiofor, in a press conference yesterday, urged authorities to provide his client in court today to allay fears held by people in the South-East about his well-being. Yet he was smuggled into the court and denied the lawyers, and the journalists access to courtroom to see him.
In the press conference held by Mazi Nnamdi Kanu's lead counsel, Attorney Ejiofor, he said, "We also wish to state that the current tension and regular Monday sit-at-home being observed by our people in the South East, despite the exercise being called off by our Client's peaceful movement, is steadily gaining momentum because our people are yet to see and believe that our Client Onyendu Mazi Nnamdi Kanu is still alive."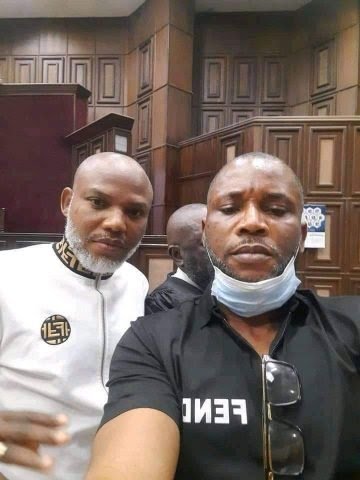 "This suspicion was further fueled by his non-production in Court on the 26th day of July 2021, for no tangible reason. Our people's demand for his unconditional release from custody is a well-informed position, which the government at the centre currently persecuting Mazi Nnamdi Kanu should give a listening ear to, and speedily activate the process towards his freedom, as he has committed no offence known to law."
He added, "Further note that our objection to the competency or otherwise of the newly amended seven-count charge is now before the Court, and we believe most strongly that there shall be light at the end of the tunnel."
I strongly believe that Muhammad Buhari has only succeeded in making Mazi Nnamdi Kanu more popular, acceptable and stronger than him and his entire failed government. Nnamdi Kanu was not looking fearful at all. He appeared even stronger than he used to be and very articulate and ready to further educate Muhammadu Buhari and his very unintelligent and uninformed team of oppressors on what FREEDOM means. And how to respect human rights and lives.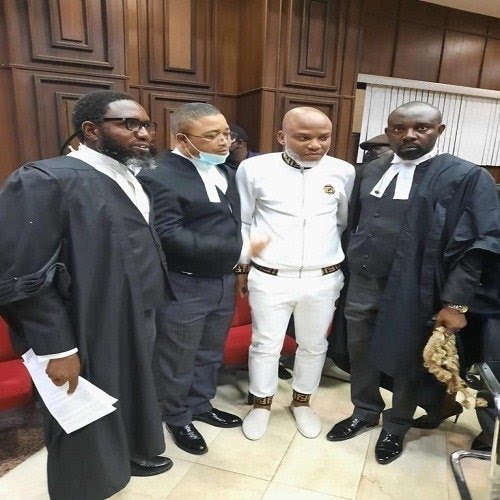 Nnamdi Kanu, his lead counsel Ifeanyi Ejiofor and other members of his legal team in courtNnamdi Kanu in court with a member of his legal counsel Aloy Ejimakor