PROF. MGBEKE'S SUNDAY SERMON. April 3, 2022
"Man's Inhumanity To Man Makes No Sense! – Tribute To Chinedu Nwadike"
My people, how una dey today? I hope we've all enjoyed our weekends and kept safe till this morning? In keeping with my newest custom of sharing a message with you every Sunday, I have a profoundly saddening and very personal issue to talk about today.
A gallant brother has fallen. Another soldier has ended his watch and has gone back to the Creator. Famous Nigerian Gospel musician Chinedu Nwadike is no more! On Sunday, March 27, 2022, he passed away after a brief battle with leukemia (cancer of the blood) and kidney failure.
I am dedicating today's message to him in honor of his life and as a glowing tribute to a man who, like the Biblical King David, was a tremendous worshipper and knew how to get God's attention through quality worship. Oh, our dear brother, Prince Chinedu Nwadike was an amazing person, not because he had no flaws but because he was a man who was constantly searching for ways to move God's heart.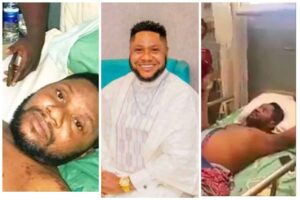 Having previously battled with a kidney disorder and overcame it, Chinedu's health regressed again, but this time to something much worse than his kidney. This terrible illness led to a situation whereby he had to solicit help|support financially from friends, associates, family, and kind-hearted people worldwide.
This was where my pain and heartbreaking parts about the last days of Chinedu started. Not because he had to solicit help, but because of the inhumanity that he began to get subjected to when his health failed to a point where he couldn't physically manage himself anymore. Here are a couple of the things that I noticed and would like us to all ponder on today:
(1)   Be careful who you let into your circle and call your friends and brothers when the going is good for you. Some people are so evil; even Satan must be afraid of them sometimes.
While reportedly receiving treatment in the hospital and was stark naked, someone in the late Chinedu's circle snapped his picture and posted it online. What manner and level of inhumane wickedness is that? And for what purpose too? A helpless, very sick, and dying man? Whoever you are, God sees you clearly, and HE will surely reward you for this!
(2)   Sadly, when you are confused, depressed, hungry, sick, unhappy, incapacitated, and even in death, you will know who truly loves you in this life. Even in his visibly deteriorating physical state and health, many people still chose to mock and criticize him.
Some said he was paying for his sins and being punished by God. All manner of atrocious fallacies and accusations started raining at him in his darkest point and hour of need. My question to everyone who went online and even offline to say and do all these things is simple…
Why are we so quick to condemn and judge others for their sins or weaknesses that we know, yet leave our sins festering on our heads like sore boils? Do you even know if or when he may have silently made peace with his God while enduring his afflictions? Chinedu made his mark on earth, had a lovely family, a good source of livelihood, and in HIS time, God decided to take him home. What are you doing with your own life apart from being nasty and deeply wicked to others?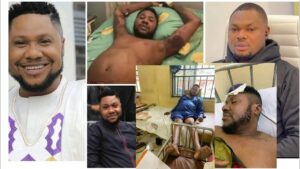 (3)   Please, let us learn how to honor people, even in death! I observed many things during the period that he was trying to raise money for his trip to India for treatment and even the treatment he had before for his kidney issue. Let us learn to give without showing off. Don't make a spectacle out of your giving!
It was already embarrassing enough for the young man that he had to ask for help to survive, yet some made fun of him and dishonored him about how they went about making their donations to him. Chai!
Stop being wicked to people by posting them online in their moment of affliction and weakness just because you want to assist them financially. "Let not thy right hand know what thy left hand doeth when thou giveth," remember? Stop condemning people because of their present condition!
In conclusion, I'll leave you with this today. Sometime in March 2022 before he died, Chinedu recorded a video in which he lamented about all the inhumanity he was going through at the hands of known and unknown people. Why are we so wicked in this Nigeria?!
Let me reiterate a significant part of that video where he "prayed" for everyone who was attacking him without cause on and offline and spreading terrible lies about him around: Those who used him and messed him up at his weakest moment will not end well in this life and beyond; AMEN!
Our inhumanity to one another makes no sense at all, especially in this Nigeria! Kanayo O. Kanayo is lamenting about this almost every day now; Mr. Ibu has allegedly been poisoned severally in Nollywood, and all for what? My kids and I have been through our darkest moments too in the hands of very evil and wicked people. The pang of envy is terrible in this country called Nigeria! May God heal our land o!
Till I see you all again next week…
Ana'eji Uche Eme'Ihe!
By: Dr. Sandra C. Duru
#PROFMGBEKE