MAJOR TALKING POINTS: 2 Confirmed Dead As Another Nigerian Airforce Aircraft Crashes In Kaduna
Two persons have been confirmed dead, with several other fatalities yet to be confirmed, as another military aircraft owned by the Nigerian Airforce crashed in Kaduna State, Nigeria, today, April 19, 2022.
According to reports, the two confirmed dead are the pilots who were flying the ill-fated training aircraft with many other Airforce personnel reportedly aboard as well.
This comes barely 11 months after a NAF aircraft transporting the then Nigerian Chief of Army Staff, Ibrahim Attahiru, crashed around the Kaduna International Airport in May 2021. The Army Chief and all other officers on board were all killed in the fatal crash.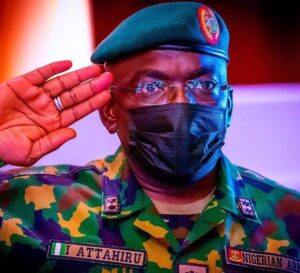 You may recall that after the significant loss of the Army Chief, members of the minority caucus in the Federal House of Representatives had reportedly requested that the federal government order a "thorough system-wide investigation" into incidents involving military aircraft in Nigeria.
The crash that killed Attahiru was the fourth military aircraft crash in the country in less than a few months, and today's crash now makes it five crashes in the last 12 months!
Almost all these crashes have happened within or around the Kaduna and Zamfara States airspaces, and about three of them have been confirmed as acts of terror by Boko Haram and armed bandits in the region.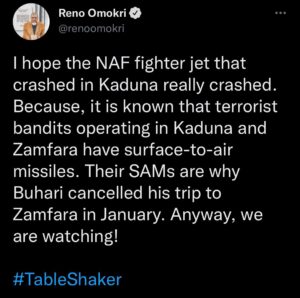 The Nigerian Airforce spokesperson is yet to make an official statement on today's crash, but this recent spate of events leaves way too much to be desired.
So much so that, in related developments, popular Nigerian lawyer, bestselling author, and human rights activist Reno Omokri took to his Twitter account to share this thought-provoking tweet: "I hope the NAF fighter jet that crashed in Kaduna crashed. Because it is known that terrorist bandits operating in Kaduna and Zamfara have surface-to-air missiles.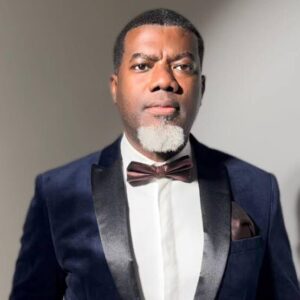 Their SAMs are why Buhari canceled his trip to Zamfara in January. Anyway, we are watching!"
The question now is, if our dear President knows that there are terrorists in that zone and they have such a dangerous weapon in their possession, why hasn't he given an executive order to the Nigerian Armed Forces to flush them out and crush them as any sovereign nation should?
Are these poor NAF officers just being wasted and sacrificed for nothing, and how long will this sacrilege continue? Well, everything that has a beginning surely has an end. May there still be a country by the time this administration packs out of power, though…Amen!