Lessons As Akwa Ibom Police Command Ends Notorious Armed Robbers' Reign Of Terror
The adage that says that "one day is for the thief, and another for the owner" could not be more true, as the case of the notorious Akwa Ibom armed robber Malachi Uwem proves.
The Akwa Ibom State Police Command in the Akpabuyo Local Government Area of the State recently disclosed that Malachi and two members of his evil gang have been killed in a shootout with the police.
According to reports, Malachi, Wisdom Akpan, and Annansia Umoh engaged officers of the Special Weapons and Tactics Squad of the police command at their hideouts at Ikang and came out on the losing side.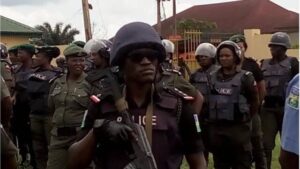 Several items, including one cut-to-size pump action gun, one locally-made pistol, a large number of cartridges, and one gas head resembling a gun and charms, were all recovered from the gang after the battle.
One other member of the gang, Ndifreke Ebong, sustained gunshot wounds during the shootout and was arrested afterward.
A spokesperson for the State Police Command, Odiko Macson, revealed that the gang's activities had led to many businesses shutting down in the area, as Malachi and his crew had terrorized the region for a while, leaving several casualties and more than 15 people dead.
The statement released by the police said: "The suspect and his gang have robbed several point-of-sale shops and filling stations at Okobo Ibiono, Itak axis, and Uyo.
Only recently, on April 25, he shot and killed two young men on the ground that the village couldn't meet his demand of N20 million but were only able to raise N5 million."
Malachi's known victims include Lovina Chiwendu, an NYSC member reportedly killed on February 20, 2022, at Ikot Ambang; another victim, Mrs. Idongesit Damson, shot and killed at Okobo on March 5, 2022; and an unidentified female teacher murdered while returning from school on February 21, 2022.
The much-anticipated end to his reign of terror serves as a lesson for others like him everywhere, and we hope they will all listen for once.
You can only get so far with crime and living such a sinful life. One day, the law, and posterity, will catch up on you, and you will be served the fruits of your unrepentant wickedness!