Kickstart your morning with this delicious and easy ginger smoothie recipe! Packed with superfood ingredients and blended to form this refreshing immune-boosting, very healthy, antioxidant-packed breakfast! Perfect for breakfast, afternoon snack, or post-workout recovery drink. It's also very good for glowing skin and it helps with libido, healthy heart, vision, digestive health, strength|stamina| vigor, and mood enhancement.
You can prepare this healthy smoothie with 5 ingredients:
CARROT🥕:
Carrots are crunchy, slightly sweet root vegetables. Carrots are a great source of beta carotene, fiber, vitamin K1, potassium, and antioxidants. This vibrant veggie has been linked to many health benefits such as:
Reduced risk of some cancers
They're great for eye health
Heart and cholesterol health
Good for skin repairs and glow.
LEMON🍋:
Lemons are loaded with vitamin C and antioxidants. Antioxidants help remove free radicals that can damage cells from the body. Lemons are also great when paired with foods high in iron (like the spinach in this smoothie) since pairing foods that are high in vitamin C with iron-rich foods increases the body's ability to absorb iron. I used a hand full of fresh spinach.
Lemon juice will help your smoothie stay fresh in your refrigerator for 1-2 days.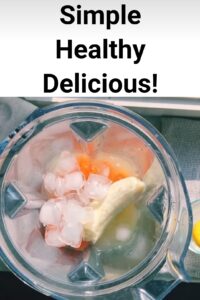 GINGER:
Ginger root is one of the healthiest and most flavorful spices. It's considered a superfood since it's loaded with nutrients and bioactive compounds that have powerful benefits for your body and brain. This fragrant and spicy food has been linked to many health benefits such as:
Lowering your risk for some cancers
Helping with nausea
Lowering cholesterol
Help regulate blood sugar and fight obesity.
Reducing inflammation and pain.
ORANGE🍊:
Orange juice is high in many nutrients, including vitamin C, folate, and potassium. The concentrated amount of vitamin C is good for immune health, but due to the high sugar content, you may want to limit the amount of Oroma|Osan|Lemu|Orange Juice you consume.
When choosing orange juice, fresh squeezed or 100% juice with pulp are your best bets to receive the most health benefits.
I love adding a small number of orange juice smoothies for vitamins, antioxidants, and a touch of sweetness to my daily smoothies
BANANA🍌:
Bananas are considered one of the most popular fruits. They contain a moderate amount of fiber, vitamins, and antioxidants. Sufficient amount of Potassium, Vitamin B6, Vitamin C, Magnesium, Copper, and Manganese.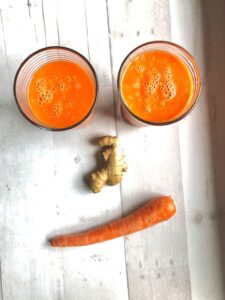 Unripe bananas rank lower on the glycemic index than ripe and overripe bananas. A 'Glycemic index' is a tool used to measure how quickly a food increases blood sugar levels. This is why overripe bananas are preferred for their super sweetness in homemade banana bread and puff puff recipes. I use a riped few bananas in making delicious puff puffs for my beautiful family. It tastes so good and is very healthy.
Bananas also contain three natural sugars (sucrose, fructose, and glucose) and are fat and cholesterol-free. This is one reason why bananas make a great addition to the diets of children and athletes. I use only riped organic bananas for my recipes.
WATER💧:
Water may seem like an odd healthy ingredient to add to this list, right? but hydration is often overlooked when thinking about a healthy diet. Staying hydrated is crucial for a healthy body, skin, and mind. Add clean water to a smoothie instead of a large quantity of juice and boosts the required liquid without adding unnecessary calories and sugars.
STORAGE:
Smoothie will keep in the refrigerator for 1-2 days as long as the lemon juice has been added. It's normal for the fibrous carrot pulp to rise to the top. Simply shake in a blender bottle or whisk together with a fork until smooth to remix.
FASTEST MEAL PREP FOR VERY BUSY PEOPLE/FREEZER OR FROZEN OPTION:
Wash, dry, and chop your fruits and vegetables then portion them out into freezer-friendly containers or Ziploc bags. Then, place your bags into the freezer until ready for use. When you're ready to make a smoothie, simply take the frozen fruit and veggies out of the bag, add them to your blender, add your ice water and orange juice, and blend. No need to thaw before blending! It's as easy as that, but make sure that your hands and blender are clean.
Live Healthy, Feel Great!
By: Dr. Sandra. C. Duru