Key Lesson As Chimamanda Ngozi Adichie Speaks At The Yale Law School 2022 Commencement Ceremony
Award-winning Nigerian novelist and essayist Chimamanda Ngozi Adichie was honored by the Yale Law School as she was invited as the Guest Speaker for the prestigious school's 2022 Commencement ceremony.
The ceremony, which celebrated the Yale Law School's Class of 2022 for its strength and tenacity, was held at Yale University's old campus in New Haven, Connecticut, USA.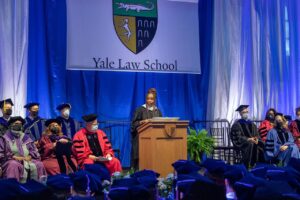 During her speech, Chimamanda reportedly urged the class to hold close to the ideals and goals they first entered law school with.
"I hope you know that idealism versus realism is a false choice. And, I hope you continue to refuse to accept that unacceptable things must remain as they are," the famous writer said.
Her inspiring speech and life, in general, reflect the truth in her words and teaches every one of us that the only impossible things are the ones we accept and concede to make that way.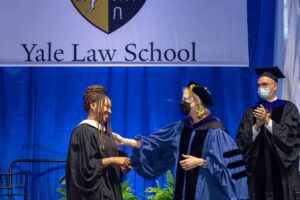 There is nothing a person sets their hearts upon to do that cannot be achieved, as long as you refuse to accept that it cannot be done.
There were 252 degree candidates honored at this year's Commencement, including 206 J.D.s, 38 LL.M.s, three MSLs, and five J.S.Ds