Saturday May 21, 2022 Joke Of The Day: Why Does Justice Nyako Not Want Mazi Kanu To "Walk Alone"?
Hello, my Mgbekenized people. I hope you're having a splendid day wherever you are today?
I haven't been able to get over a recent development that has left me both bewildered and quite amused.
During his recent court session at the Federal High Court, Abuja, Nigeria, Mazi Nnamdi Kanu's bail application was denied by the presiding judge, Justice Binta Nyako, because he "had jumped bail in 2017 and the circumstances surrounding that needed to be clarified first before applying for another one." We all know that the federal government of Nigeria are looking for a soft landing.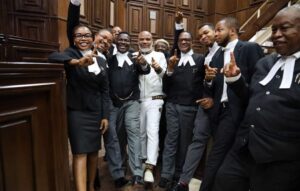 This is not the point that struck me, though, and even as I write this, I can't help but chuckle again.
So, according to reports, Justice Nyako asked Mazi Kanu later on about his favorite football team, and he reportedly told her that he supports Liverpool FC of England.
The judge now reportedly instructed the DSS to allow him to watch his favorite team's games anytime they are playing. If this is not one of the funniest things I've heard in a while, then I don't know again o!
Please, what is the point of trying to compensate an innocent man wrongfully arrested, humiliated, detained, and denied access to his family and the comfort of his home by letting him watch his favorite matches in custody? What type of compensation is this one kwanu?🤷‍♂️🤕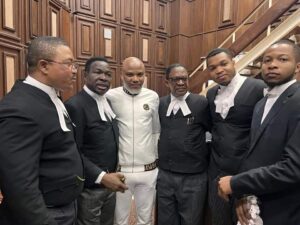 Does this not simply show that he is innocent of all he has been charged with, but the Federal Government is merely feeling threatened by his strength, truth, and incorruptible values?
Mazi Kanu is never going to give up his fighting spirit and his quest for freedom, whether or not they decide to let him not "Walk Alone" or remain in isolation like they've kept him for God-knows how long now!
This Buhari-led administration is filled with clowns of different characters and temperaments sef, like – is an unjustly incarcerated man supposed to go back to unlawful detention feeling very happy because now he can get to watch football matches whenever Liverpool is playing? I mean, can someone please explain the logic behind this to me because I am not getting it at all!🤦‍♂️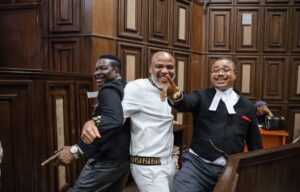 To even make matters worse, it is even now that the Premier League and European football leagues are wrapping up this season that they're now granting him access to watch…like calling your starving son to come and eat with you when there is only one spoon of rice left in the plate. Na wa o!😂😩😒
May God deliver and save HIS own from trouble and unjust persecution; Amen!
Ana eji uche eme ihe!
Prof. Mgbeke loves you all ❤️
#PROFMGBEKE