How Chris Rock May Have Gotten "Slapped Into Riches" By Will Smith!
The official tickets vendor for veteran and multiple award-winning American actors, comedian, and producer Chris Rock has confirmed that the demand for his comedy tour tickets has shot up so astronomically that it has caused the ticket prices to spike by over 200%!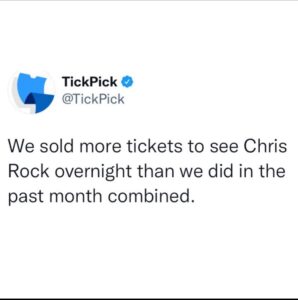 Wow! – which was the first thing Chris said immediately after the infamous incident that has now turned into more of a blessing than anything else for him, by the way.
You may recall that during the 94th Academy Awards held recently at the Dolby Theatre in Los Angeles, California, the United States of America, eventual "Best Actor" winner Will Smith physically assaulted the event's host Chris Rock for making an inappropriate joke about his wife, Jada Pinkett Smith.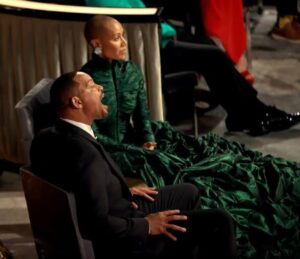 Now, according to ticket sellers, TickPick, the prices for Chris Rocks comedy tour has spiked incredibly high on the secondary market ever since the comedian was slapped on stage by Will Smith. "We sold more tickets to see Chris Rock overnight than we did in the past month combined," the company disclosed.
Regular balcony ticket prices have reportedly shot up to almost $900 from just about $200, while tickets for the front aisle area now sell for an astounding rate of over $2,000! And, what is even more surprising is that, even at these insane rates, the tickets are selling out fast!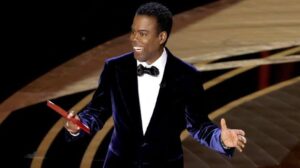 After getting slapped that night, Chris had immediately said: "Wow! Will Smith just slapped the blackout of me!" Well, it now looks more like Will just slapped the poor ticket sales out of Chris instead, and we can all learn something vital from all this.
When you choose the path of peace and humility, even when you're unjustly treated and attacked, the universe can use such attacks to uplift you in ways you could never have imagined! It should have been a career-denting moment for Chris, cracking a joke and getting slapped for it at a MAJOR event, but look how it's turning out for him now?
Chris has still refused to press charges against Will – who publicly apologized to him for his actions earlier this week, by the way, and it seems that the universe is fighting his cause a lot more than the LAPD or even the Academy could ever do! Long may he prosper…Amen.