Joke Of The Day: Is Our Supreme Court Governor Supremely Tired Or Supremely Wasted?
Is the Supreme Court governor of Imo State high on something, or is he now "Hopeless"?
Not only is he looking intoxicated, unhappy, unhealthy, very high on something cheap and expired, but he is also looking quite 'displaced', and malnourished in this picture too!
Where is the always fresh and cream-looking governor we've always seen in many pictures – or are all those ably supported by Snapchat filters?🤔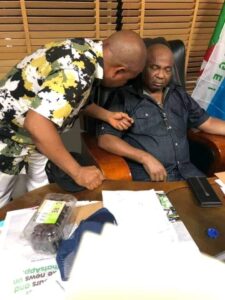 Looking at the picture here, one could almost envisage the conversation going on here:
Aide: My Governor, but I told you not to puff more than once or twice on that stick, nah. Chai!
HU: Nna, you mean that I cannot pass the back of Orlu and burst out in Sydney? It's wrong o.
Aide: Chimo! Okay, just try not to shout, sir…make I prepare some grapes and chilled water for you to take reboot now, first.😂😒
If this was an excellent administration now, we could have assumed that it's the stress of serving the people diligently that's taking its toll on him. Alas, we all know better than to believe such, though.
Or, maybe he is hearing some voices from Orlu innocent people killed in cold blood speaking to him now, you know? Abi na Ikonso or Gulak?
There is no peace for the wicked, and we shall all pay for all we do in this life and more in the life beyond. It is well o, our dear Supreme Court governor of Imo State, Nigeria.
Ana eji uche eme ihe!
Prof. Mgbeke loves you all ❤️
#PROFMGBEKE
www.mgbeke.media
YouTube: Mgbeke TV