The Advantages Of Having A Brilliant Lawyer As The Commissioner For Lands, Survey And Physical Planning in Imo State. Our guest today is Hon. Enyinna Victor Onuegbu, a very interesting politician from Imo state.
Q:    Good day Honourable Commissioner
A:    Good Day Prof. Mgbeke
Q:    Can you introduce yourself Sir or give us an insight into your background?
A:    My name is Enyinna Victor Onuegbu. I am a native of Umuokoro Eziama in Ngor Okpala Local Government Area of Imo State. I am the first born in a family of five, of late Mr. Mark and late Mrs. Juliet Egocha Onuegbu, who were both teachers. My father retired as a School Vice Principal. My mother died in the course of service as a Headmistress in 1985. My father died in 2012. I have four siblings; two males and two females. My two brothers live in the United States of America with their families and my sisters who are now married are in Nigeria. One of my sister is an Accountant by training and the last is a lawyer by training. My two brothers are an Engineer and a Medical Doctor by profession. I am married to Her Worship Uche Onuegbu, we were undergraduate sweethearts. We are blessed with four kids.
My first two kids are in the University while the last two are in Secondary Schools. I, by training, I am a Lawyer. I've practiced my profession since Youth Service. I have been in practice in Owerri, Imo State. I am a politician, a very old politician. I was in the then Social Democratic Party, (SDP), when I tried to be a Councillor before the Abacha Coup. I was in Democratic Party of Nigeria (DPN) then as an Assistant Legal Adviser. Most of my relationship in the past in politics was with the one and only Senator Arthur Nzeribe who I inherited as a wonderful client from his then lawyer Barr. Nicholas Adigwe (as he then was) who handed over to me some case files to conclude for Senator Nzeribe. In the course of concluding those files, we had a strong relationship, like a father and son, a lawyer and a client, younger brother and elder brother, and as a friend. We were so close that people began to think that I was from Oguta, from Orlu Zone. You could not see him without seeing me. I was his private secretary, I was his political secretary and adviser he addressed me as his SAN. He exposed me to most of the political people in Imo State. I am eternally grateful to him just as I am eternally grateful to Barr. Nicholas Adigwe for introducing me to him. That is my story.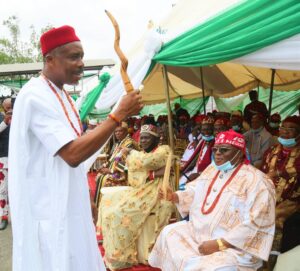 I have been in practice as a Lawyer but when I have public duty, I leave my post as a Lawyer. For example, His Excellency Governor Ikedi Ohakim as the then Governor of Imo State appointed me as the Sole Administrator for Ngor Okpala L.G.A. I did the work for about 5 months and ran for election. I was elected as Executive Chairman of Ngor Okpala L.G.A in 2010. We served till July 2011 when the government of Anayo Okorocha dissolved the elected Chairmen. While serving as an elected Chairman, I was serving as the State Secretary of Association of Local Governments of Nigeria (ALGON) Imo State Chapter which is the meeting of all the Local Government Chairmen. In fact, I am still serving in that capacity as we had sustained it till now as an Association. From there, we challenged the then Okorocha's conduct in Court. I was the lead Plaintiff. That case reads "Enyinna Onuegbu and 26 others against Chief Elthelbert Okorocha, and Attorney General of Imo State". We won the case at Appeal, the wrongful dissolution of our Council was set aside by the Court. We couldn't even access our offices again. Okorocha resisted us with thugs and all that. We stayed away until the termination of his tenure. One aspect of that case is still in Supreme Court. I am still the one leading the case, I and my colleague Ruby Emele the ALGON Chairman. So that is my political background. In the sense that, in the 1999 dispensation, I was with Senator Arthur Nzeribe, we were at that time in the All Peoples Party (APP). I rose to become the State Secretary of that party when Arthur Nzeribe left for PDP, of course I followed. While in PDP, it was a larger party. It was remarkable when I became the Publicity Secretary of the party. From there, I served till the end. In the course of service, I ran for the House of Representative ticket for Aboh Mbaise/Ngor Okpala Federal Constituency. Incidentally, I lost the primaries by six votes and the man who won is still there on his second term. There were lots of schisms in PDP but before we left PDP, we ran the media directorate of His Excellency Emeka Ihedioha when he contested the first time for Governorship under the PDP ticket against Okorocha, and in the course of that election, we worked assiduously but God said "no" that time and part of the fallout of that outing is that some of us left PDP under the leadership of Senator Hope Uzodinma. He took us to the National Party, APC where we stayed and then supported his gubernatorial ambition. Fortunately for us, God answered our prayers. Now His Excellency Governor Hope Uzodinma is the Governor of Imo State and he has graciously indulged all my idiosyncrasies all these while and I thank him for that. He rewarded me with an appointment as the Commissioner for Lands, Survey and Physical Planning in Imo State which is my current position.
At the Ministry of Lands, we are doing all we can to dissuade public perception of the Ministry as the cesspit of corruption and illegal antics of speculators. We are trying to put a new image for the Ministry where records are kept of land titles, where people's documents are never missing, where Banks can rely on our documents to grant facilities to businessmen so that the economy of the State can be improved upon. Where if you have anything to do with us, you get it fastly done without undemocratic practices. Where communities will not lose their lands to illegal acquisition from either government agencies or individuals masquerading as agents of the government. Where people are sure to get compensation on their properties acquired by government, where government will use what it has in land holding not acquiring the land and leaving it fallow or to the cronies of those in government, or where allocation is made secretly. When we eventually go into land allocation, it will be made on the table, the public will have the notice and people will apply and see transparency. And in Imo today, we are expecting the State Government gazette that will streamline the operations of the Ministry and to correct some inbalances and to fix some deliberate conspiracies that were used to take away most public lands and given to undeserving individuals. We are trying to restore all that when the gazette comes out during implementation. I am sure Imo people will be happier for it.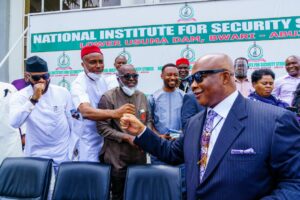 Q:    Why did you dump your profession for politics?
A:    No you can't dump your profession, because you are entitled to practice. The only thing you are limited from doing is to go to Court to advocate since I am a public officer. But even in the Exco, CouncilI provide legal counsel because it is my profession. My Chamber is a limited liability company, I only resigned as a Director, My Lawyers run my office for me and I need that office because I am going back to my profession whenever I finish public service like I have done in the past. So, I did not dump my profession, because of public office. I am just on a leave of absence from a regular practice of a lawyer and from going into Court to advocate.
Q:    We understand that, you were the Publicity Secretary of the PDP and was very relevant and actively involved in the success of PDP when you were their member and now, you are very relevant in the APC and one of the silent pillars of APC in Imo State, what has kept you so strong and relevant in Imo State and Nigerian Politics as a Lawyer, Local Government Chairman and now a Commissioner for Lands, Survey and Physical Planning?
A:    It is not for me to say whether I have been strong and relevant, it is just that probably I enjoy the trust of those I work with because I value trust a lot, I am a loyalist and I don't follow two masters at a time, I follow one master and I give my optimum. I am ready to sacrifice. I am ready to pay with my own money in pursuit of group objective and I have never in all my politicking asked for refund for expenses made because of working for the common good. As for being effective, it is for those outside to judge, as to whether I've been strong, it's for those outside to judge, but I've tried to have a political nose to smell when things are about to change and if I'm to change. I know it is better to play politics without bitterness, when you realize that power comes from God, when you remember that power comes from God, when you remember it is not your birthright, then those things are limiting clauses to how you can carry your own interest. When I lost the primaries for the House of Representatives, everybody urged me to leave Ihedioha's campaign because he was in the position to facilitate my winning but I said there was no point leaving because I was not born to be in the House of Representatives. I was born to be Enyinna Onuegbu and God orders my ways. So I stayed back and we continued politicking round the governorship campaign. While we were running that governorship campaign, I am aware that some delegates who went to meet our principal to tell him that in case he won the governorship, that he should bear in mind that making me a Commissioner will not have their support and those people went to him and said he should not give me any political appointment, as a Commissioner because they don't support me, that slot of Ngor Okpala L.G.A should not come to me. And by the grace of God, I am a Commissioner today. But for people to go that far shows you that there is hatred, people can hate you for your height, people can hate you for your complexion, people can hate you for how you talk, people can hate you for how successful they perceive you are, and of course, people will also hate you for being dull. So it's a normal thing that people will dislike you but you soldier on. What is important is that I still challenge those people that had had anything to do with me politically to go out and give a bad recommendation. It is difficult to find a bad recommendation against me politically. As a lawyer, I practice my profession only for my client's case. I have never had a case or had any reason to compromise that case. In Imo State, I am known as a very very principled and strict lawyer. Whether my client has money or not does not rule me, what rules me mostly is going out to fight for the cause of my client as I had assured in the interview session and any case I will not accept, I will tell you from the outset that I will not accept it. Any case I accept, my whole mind, body and soul is in that case. That is how I have always recorded success in the cases I have done and anybody in Imo will tell you that my name has no blemish, either in public service or in my professional life. I have never been in a case or practice and then come out to say, "go and get money", let us bribe the Judge or Magistrate or any arbiter as the case may be. I do my case, I win on the strength of my case or loose on the weakness of my case.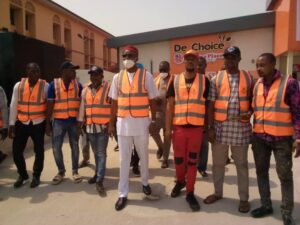 Q:    What was the toughest decision you have ever had to make in your Political career?
A:    Okay. The toughest was withdrawing the case I filed against Hon. Bede Eke in the House of Representatives primaries. After that contest, I had filed a case at the Federal High Court owerri through my lawyer, Barr. Ngozi Olehi. But because of the then circumstances that the then Deputy Speaker who we were marketing as our governorship candidate did not want any dispute in his Constituency, I had to withdraw that case, though I had very good chances to win that case in the sense that Hon. Bede was a member of the Board of Directors of Anambra-Imo River Basin and contested that primaries without resigning his Board appointment and I wanted as a lawyer to use that technique to torpedo his victory but I had to take a very difficult decision withdrawing that case on my own because Ihedioha said he didn't want dispute in our area and we did that, nobody gave me anything, nobody talked to me up till date, I have never received any letter or any commendation from Hon. Bede Eke for withdrawing that case against him but I still keep that record for future purposes.
Q:    The phrases "it is a dirty game" or "A game of interests", have been used frequently in Nigeria to describe politics, as a seasoned politician, would you agree as a gentleman who is known by people as a very honest person?
A:    Well, I take the complements. I don't think politics is a dirty game. If it were to be so, Americans won't elect Joe Biden as President at 78 because he has all his adult life been in politics. Ordinarily, he should have gathered some dirt along the way. If it were to be so, Donald Trump would not have lost the election because he was never engaged in politics. He said he came in to drain the Swamp but Americans cleared him out instead.
So, I don't think locally here politics is a dirty game, because even in your family, you play politics because if the good people keep away the bad people will rule, and leave the so called honest other people at the back so it is common. The big men come out to look into certain services. Why people describe politics as a dirty game is because politics is actually a game of concentric circles of conspiracies, until it ends, it has never ended.
It is not something you can do today and then think it's over because it involves human relationship, it involves human activity whom you seek to serve. So at every time, new developments will emerge. The politician is the man who knows when to say no or when to stop. A politician is not a man who will continue steadfastly on one project for every season. Some people have been running for governorship in Imo for close to sixteen years, they are still running for governorship.
At that stage, the public will start thinking "oh why you want this governorship is because you want to recover all you have spent looking for it". You must be able to know when to stop playing politics and when governance starts. Somebody has won election, all the cases are ended, it is time for governance, it's time for people to support the government, but our people tend to play politics every day until the next election. And our people tend to preach a different thing and live a different life. There was a governor here who said he did not believe in primitive acquisition of wealth, but he acquired everywhere in Imo State. So those are the things people see and say politics is a dirty game but like even the priesthood, the Clergy, they play politics there, after all when ten priests are vying to be Pope, only one will be Pope. It is politics that will make someone Pope.
When priests are thirty and one should be Bishop, there must be something that will make one Bishop. It is a struggle amongst your contemporaries and that thing that makes it possible is politics of the field. In a family, you will find a man trying to balance the interest of his children either in education, Okeke will go to Owerri Girls, another one will go to Nigerian Turkish, it is politics. So it is not a dirty game and I don't believe the people playing it are dirty people. One thing you must bear in mind is that, in our own culture, people believe that once you achieve a public office, you have gotten a ticket to pay all their bills and if you can't pay their bills, you are not doing well, you must be stealing it all alone. And if you start paying their bills you can never finish paying, it will make you dip your hand in the public till, that is the dirty thing in politics. That our expectations are too high in terms of personal aggrandizement from the followership as well as the leadership. If only we have the benefit of saying all our amenities are working well; water, light, roads are available then we will slow down on demanding from public office holders, people will do better. If you attend Church service today as political office holder, you will be called upon several times to make donation. The Priest will be on you, the Clergy will be on you, the Knighthood will be on you, the old students association will be on you, the alumni will be on you, the age grade will be on you, the village will be on you, just because you occupy a public office, and they will turn around to say you people are corrupt. How do they think you raise that money? If Christmas comes and you are not able to provide rice or kill one cow or the other, it means you are not doing well as a public office holder. So, these are the actual indicators of a corrupt biometric society. As to interest being permanent, yes, but interest actually is not as permanent as you think because the only thing is ambition.
If you are in politics for a political office ambition, you tend to do all you can to achieve it. That is how it is important. But it is not a matter of cutting corners but by being a team player, following the party rules and regulations, being essential to leadership and contributing your dues to the party. If God favours you with success, so be it. There are many people who belong to political parties but are not contesting election.
Q:    What's your take on Youths participating in Active Political Leadership?
A:    Well, I am an advocate of youth empowerment. I think youths need their proper training. I decry a situation where people in the University, undergraduates are following politicians all over the place claiming to be youth body, this and that. It is destructive. I think the best thing is for the youths to get education or training in any field of artisanship and then try to play politics. I don't believe that what our youths will be doing is to make themselves available for any politician, for them to wear uniform, charter a bus and accompany him to one political outing or the other. That is not what I see as the youths being in leadership.  What I see as youth being in leadership is grooming the youths and the first grooming is from your home, to your school, to your church, for you to know. When you see the youths who say that they are in politics, they are just like us older politicians, because if you see their vehicles, "Imo State University Parliament 001", "Imo State University Senate 002", the SUG Parliament 001; they are just replicating what they think their fathers and mothers are doing. Like the day they were swearing in President Biden, I saw a young lady, a poet; she rendered a wonderful poem to the whole world. She is a leader in the making. So these ones we have here who are interested in having their vehicles tinted or staying in hotels everyday in the name of one youth activity or the other, I can't describe them as those who want to be groomed into leadership tomorrow. But there should be paradigm shift, a generational shift. Yes. I don't see how somebody who is sixty-something will be looking to be Local Government Chairman, looking to go to House of Assembly because the age of retirement for a Judge is actually sixty-five! You find people who are sixty-five years trying to be youth leader in a party just because they want to hold on to a position. You see people who are beyond fifty years trying to be Councillor. I don't think it is good. We need to give way for the younger ones to contest but why the younger ones are not contesting is because the cost of contesting an election is very enormous.
The expectations of our people are so high in terms of governance. You can't go to anyone to tell them your ambition or market the manifesto of your party without the person expecting you to bring drink, bring money, bring kola, bring goat; and when you eventually win, you stay away from those people because you have to reimburse what you borrowed to run for the office. So it is only in our capacity to regenerate our ideas, to have a paradigm shift so that people will know that you are actually coming to serve and treat you in that capacity so that they can carry you tomorrow if they vote for you tomorrow or refuse to vote for you tomorrow. So youths must grow in terms of education, in terms of training and play a role, not youths becoming leaders just to replicate the corruptive tendencies or the perception we have of the leadership currently and be seen corrupt generation.
Q:    How do you manage the multiple roles of being a husband, father, public servant and politician?
A:    Well for me, it's for my wife to say if I have been a good husband, it is not for me to say. Like I told you, about my wife; we met in the University during our undergraduate years and I think she is my best friend. In marriage, you have to tolerate and overlook some idiosyncrasies. I can't judge myself but for my children, I try to train my children not knowing who I am in terms of what I do. I don't want any of my children to come out and say "I am the son of the Commissioner for lands", "I am the daughter of Local Government Chairman". I want them to say "I am the son of Enyinna Onuegbu". So I love my children and I am praying to God to continue to sustain the humility I have seen in them lead an exemplary life better than mine. In my house, you can come to my house and see me washing dishes, sweeping and mopping. I don't carry my office to my home. My home is my melting point. I just go there to get my nerves together when I'm home. I don't carry my office and I don't expect any of my kids to come out telling everybody "don't you know I am the son of Chief Enyinna Onuegbu who is that and that". No, I'll banish that child from my presence, if I hear such thing; like if my child is going back to school and he'll carry with him an entourage, no, no, no – I'll drive him to school myself. I can't waste time on frivolities because I had a strict upbringing. During my undergraduate days, my father would still be using the cane on me; in as much as they don't use that to children of nowadays, I still make sure my own kids get their own necessaries. I don't satisfy anybody's greed.
Q:    So Sir, as a Public Servant and Politician how do you cope?
A:    As a Public Servant, we multi-task. Some of those living overseas do more than three jobs and still go to School. You just plan your time. I don't have time for clubbing, I don't have time for so many social activities neither do I have time for sitting down and gisting. I have time for practice as a lawyer; I go to my Chambers, go to Court, come back from Court, do my research and do my politics. In my public office, I try to go to work every day as a public servant, deal with my files as I should. It is for the people to judge whether there is an improvement or not. But, I give God all the glory for the good health and the sense of calmness about me. Those who know me will tell you that they think I'm floating above the perception of an office holder, they see me as that simple Enyinna from Umuokoro Eziama but I'm praying to God to keep me like that.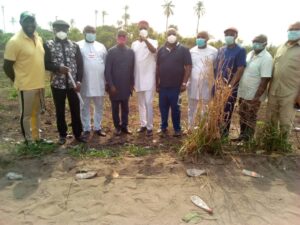 Q:    Politics is all about strategy, and your accomplishments have shown that you are a man that understands strategy. What do you think determines the success of a campaign?
A:    Well, the important thing is to know your community. You must know where you are operating. Like if you come to Imo, Imo has more than 70% of enlightened populace so you don't come to Imo and tell them that you are bringing down Heaven. They rather want to see the simple things. They rather want to access you and discuss with you. They don't want your airs. They don't want your "bigmanism". They want you as their brother in office. They can walk in and walk out. They want to see you connect with your Okada rider, the limousine rider, the truck rider and the cart bearer. Imo people don't believe in too much of robbing the office on their noses. That is the truth. And in Imo, if you are doing well, they will acknowledge. If you are not doing well, they will leave you until the next election time. So I think it's by God's grace that will enable you; once you know your society, you will know where to come in from. Like I am a Lawyer in Owerri, I cannot say because I'm a Commissioner my colleagues would no longer have access to me or I'm attending a function, Police won't let people access me…no, no, no, I don't do such. So strategy is important but in our politics, there's an element you'll notice, people are not steadfast towards a political party or the other. They still play the politics of; "if it's favouring party "A", majority tend to join over there" unlike what is happening overseas. But for me, I have tried to be consistent in my party. For example, having left PDP which was my former party which I described as a grooming centre. Having left PDP, on the score that we need to take Igbos to the National Level as directed by Governor Hope Uzodinma, we need to take Igbos to the national grid; enough of politics of regionalism. The strategy we are deploying now is beginning to yield fruits. Ebonyi State has joined us, what I mean is having a Nigerian President of Igbo extraction; we won't get it by shouting Biafra. You can't be saying you want to split from the National Geography and you want to be President of Nigeria.
So strategy is very important, but as far as we are concerned, we can't make our politics a market place discussion, we play it close to heart and we know when to stop and when to start. But we cannot in honesty claim it was because of our capacity. It is because of the grace of God Almighty. Because probably by this time, eighteen months ago, anybody who knew me will tell that I was down and out until the presence of God shone on all of us. With all gratitude to governor Hope Uzodinma who remembered me today. Some people would be in that position and look for new friends and look for those whose fathers are well to do. It's only governor Uzodinma who has given a son of a nobody who has nobody to fight for him this position without lobbying.
Q:    There is this belief that women in politics are loose, do you agree with this assertion?
A:    It is anachronistic. It is not true. How many women are in politics. We are trying to encourage more women into politics. That is why we want them in this administration. Because I have discovered a good number of responsible women, qualified professionals, teachers, doctors, lawyers and business people from different parts of the country, working for this administration. Who is one to judge. Jesus Christ said "let he that is without sin cast the first stone". When you empower a woman, you have empowered a family, you have empowered a community. I do not believe that. It is a fallacy. And in my own experience, I haven't met such women in this administration. When people are fighting, it's like those days when we were kids, and we want to fight instead of boy to fight a girl, he will prefer to hit her on her breast so that she'd become weak. It's a cheap argument. Can anyone describe Okonjo Iweala and Dora Akuniyili as loose? It's for men who are not ready to compete and women who are not ready to compete. That is their anachronistic tendencies we all condemn. There are men in the public offices who are worst.
Q:    What advice do you have for young people who are seeking to be like you when they grow up?
A:    You are already writing me off as an old person? What is important is for a young person to get good education or training as an artisan. To have a vocation, a profession to always fall back on. In our culture, politicking is not an occupation. Playing party politics is not a profession. It could be a vocation but there must be a second address so that you won't take rubbish from anyone. You must understand what the society needs and you want to be the only cock that crows. You cannot be in Nigeria and be playing politics as if you don't know that there are more than 250 tribes. You have myopic tendency to write off people from other faith/tribes because, they are not from yours. You have an overriding air of importance and viability, as if God created you alone. The most important thing is to have an education, be a fair player, believe in something. Believe in God. Believe in certain principles; things you cannot compromise on. If you don't have anything that cannot make you say "if this thing will take me to Heaven, I won't do it". If this will make me to be your friend, I won't do it. Don't shed blood. If you don't have limiting clauses, you will go haywire. So, our youths must be able to have good training. They must be able to practice what they preach. They must know that there is time for everything, and that God gives power. And you don't win power by running the person in office down because the Bible tells us to pray for those in leadership.
Q:    What is the most challenging thing you have had to face as a trustworthy person, a leader, a Lawyer in your new office with the grassroots and the people of your State where you serve as the Honourable Commissioner for Lands, Survey and Urban Planning?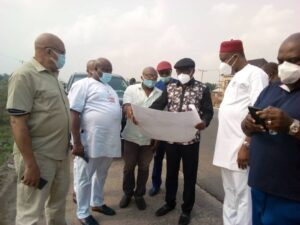 A:    Actually, first as a young Lawyer, I met one Emmanuel Orji, he told me that money that does not belong to me, I should regard it as tissue or paper. It's been my guiding principle. As a young lawyer of not less than two years, I had a client who was traditional ruler before he resigned Collins Amukamara. Eze Collins Amukamara would leave 20 million, 50 million in my care. As a young lawyer who didn't have N10,000 in his account, he will be in Lagos, I'll be in Owerri. I will be paying people for him, contractors, workers, staff salaries from my own Chambers as a lawyer. He never lost a kobo, I never embezzled his money. And I sustained that relationship. Senator Arthur Nzeribe, I used to be a co-signatory to his account. I was witness to many billion dollar businesses Senator Arthur Nzeribe did. He used to leave money in my care, he used to give me money to take to Odumegwu Ojukwu, he used to give me money to pay delegates during an election. Those days, when they put N5,000 and N10,000 in khaki envelope and got to the whole of Orlu. If anybody counted money for Ogbuagu and I hadn't counted it, Ogbuagu Damanze would not believe it, that's the level of trust I enjoyed in my coming up years. And I've tried to live like that, but the grace of God sustained it. When I am giving an assignment, I don't start with how will the money come, I start with the little I can within my own means and I always render account. I think I've achieved a level of trust that I can no longer go back. I think I've achieved a level of acknowledgement from people, that they say I'm reliable and trustworthy. I cannot afford to go back because it will lead to wasting all my efforts all these years. I have not had any case against me over money matter, business matter or professional matter. So I think by the grace of God, I have crossed the Rubicon of being greedy over people's money or properties. I'm done. If I have two vehicles I'm okay using one for any time as far as it starts. I don't believe in acquiring and dumping. If you come to my house, you will see how it is. The most challenging thing is the society we are operating. Sometimes people that are acting or behaving in a way that I just said are seen as weak people, "mugus" or those that are not sharp because they are not ready to cut corners. They see us as old-fashioned, conservative, dull people because we are not ready to do everything to get wealth. We are only ready to do what needs to be done in due process. And will not start doing things by giving people bill; unrealizable bill, we cut our coat according to the cloth we have to suit our size.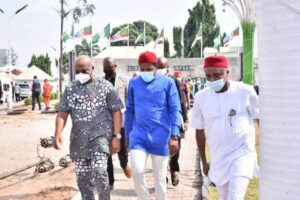 Q:    Looking back at your growing up years, what would you say was one thing you could have done better or differently?
A:    Sometime I still wonder whether I let my parents down by not going to study medicine. Well, I have compensated them, my two kids are in the medical field and my kid brother is a doctor too. I think somehow my father wanted me to study science but I disappointed him because I wasn't attentive to mathematics. Secondly, I wish I had had enough time with my mother. My mother died too early. My mother died at less than 45 years of age and it still affects me. But I think I am more of my mother than my father. My mother was very compassionate, very friendly and accessible, and less talkative. I am more of my mother. As a young lawyer, I served in Bauchi State, I was the head of the Chambers. My juniors are now senior advocates SANs. I think that politic also distracted me from my professional life, sometimes; I regret that I ventured into politics. Like I said, you can't eat your cake and have it. Politics has made me popular, politics has made me impactful to my community because there is nothing you can earn from your private life that politics cannot do in one hour. That's why I am still here hoping that I'll still go higher in politics; probably retire at a good time to see what I can garner again from my professional training.
Q:    Looking back, what will you say has been your biggest achievement and your biggest challenge?
A:    My biggest achievement is my marriage to my wife who has given me four wonderful kids. That's my biggest achievement because by the time I was getting married, I didn't even have more than one bed or seat, she just moved in immediately after marriage. We were sleeping on one bed on the ground and she believed me. So I think that is the greatest achievement. I made the Chairmanship of Ngor Okpala Local Government Council at the youngest age. I reckoned that as an achievement. I also reckon the fact that I started running my own private office after Youth Service, and I have sustained that practice for 26/27 years and I am still going strong and when I moved into my office, the rent was about N18,000 a year, today, I pay close to a million naira. It means that my professional life is not awkward or poor as anybody can think. And then, I have won a group of landmark cases. I think I can claim some level of accomplishment and those I work with presently will trust and the find me reliable. I am praying to God that I do not breach the trust the governor has reposed on me by giving me this opportunity to be Commissioner for Lands because like everybody knows Land is the most treasured asset in Igboland and if I am the one superintending over it, I need God's grace, I need to be prayerful to achieve it and I pray to God that I won't lose the governor's trust.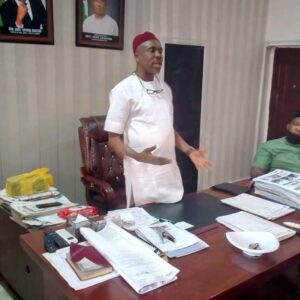 Q:    If destiny permits you to find yourself in a higher leadership position, what's your burning desire for your people of Imo State and Nigeria?
A:    I hope to be President of Nigeria as a politician but it's all in God's hands. God orders our ways and gives us office but, if we are at the right place at the right time, God will manifest himself. If anything comes, it's what we call "jara" from God. And I will remain grateful. As of today, I have no political office ambition. God says, when the time comes, we will see where he will lead us. I am interested in keeping the trust of the principal I have now. Keeping the trust of colleagues I am working with now, keeping the trust and confidence of the public I am serving, so that at the end of the day, each group can make recommendation that Enyinna Onuegbu can do a further work in service of God and humanity.
Q:    Sir, any final words for our leaders.
A:    I want to thank Mgbeke TV for this opportunity, very rare privilege coming to me from this background and this community, that for them to have noticed me. I am grateful I wish them well and I believe in due time will be having better cooperation while we wish them the best. May God bless you.
Q:    Thank you very much Sir.