HIDDEN TRUTH: Why Brittney Griner Should Never Have Been Detained In Russia – Player Not As Hated As Many Claim, Too!
The embattled American WNBA superstar Brittney Griner has begun her defense in a court in Russia as her attorneys have submitted that the star player had a chronic injury which allowed her to have a prescription for medical marijuana.
This admission was made in court on July 15, 2022, about one week after Brittney had pleaded guilty to the drug charges against her. The WNBA star reportedly had the said injury before being arrested in February 2022.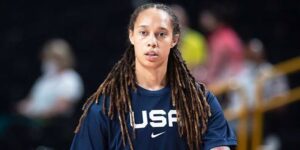 Having now spent about 5 months remanded in a Russian prison with little or no communication with her loved ones, Brittney had told the court as she pleaded guilty last week that: "I'd like to plead guilty, your honor. But there was no intent. I didn't want to break the law. I'd like to give my testimony later. I need time to prepare."
Now, in that testimony that looks to have been well prepared for about one week, her attorney, Maria Blagovolina, disclosed: "The defense today provided written evidence, including character materials, medical documents, and tax returns. Among the medical documents is a doctor's note for the substance Brittney Griner inadvertently left among her belongings when crossing the border."
Recall that Brittney was arrested at the Sheremetyevo International Airport after vape cartridges containing hashish oils were found on her. If convicted, the American star could spend up to 10 years in a Russian prison.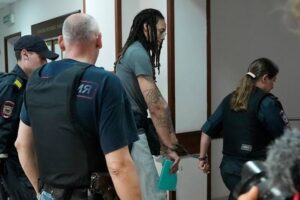 July 15 was the 4th time she had appeared in court for trial since her arrest, but some interesting things happened a day before that (July 14), and these events revealed a few lessons and points from her ordeal. Here they are below:
(1) Why did her attorneys wait this long to produce this argument in court?
Should she even have been detained for up to 24 hours if this had an element of truth?
Brittney's case is starting to look more political than ethical, honestly, but even then, no one should ever be detained this long over something medical!
We're also wondering why the player's legal team did not use this alleged medical fact to push for her bail and stop her from taking the guilty plea. There seem to be many hidden twists yet to be revealed about her case, but it keeps getting more interesting by the day.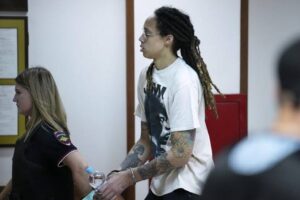 (2) Brittney is not as hated as many would have people believe she is!
Many things have been said in the media about how the star player has a toxic attitude and isn't liked by most of her colleagues and people around her.
Yet, it seems to be the opposite, as several character witnesses showed up in court on July 14, 2022, to testify on her behalf and show her great support. Part of those is her teammates from her Russian team, UMMC Ekaterinburg, and a few others.
According to the team captain Evgeniya Belyakova: "Brittney has always been a good teammate, which is why my role here is to support her and be there for her. We miss her and her energy so much. I was very glad to see her. I hope the process ends soon and ends well."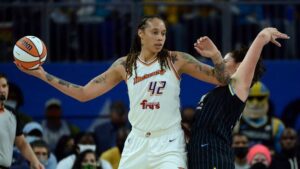 Also speaking for her, the team director, Maksim Ryabkov, said: "Brittney has played a big role in the success of the Ekaterinburg club and Russian women's basketball in general with her performances in the EuroLeague. She has definitely raised our national rating."
Brittney had reportedly sent a letter of appeal to the United States of America President Joe Biden, pleading with him to help facilitate her quick release from prison in Russia.
There has not been any remarkable or significant movement from Washington since then, though. Still, we can never write off a prisoner exchange between the US and Russia involving her and any prime Russian asset.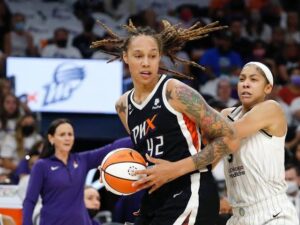 We hope that she makes it out of this ordeal with a positive result and learns her lesson not to travel into foreign territories with illegal substances – prescribed or not!
Do you think that she will be freed eventually, or she'll end up in prison? Share your thoughts with us in the comments section, or on our Facebook page: Prof. Mgbeke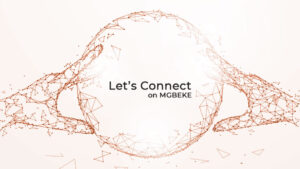 For your news, real stories, Let's Connect, and adverts, click on the link below:
https://mgbeke.media/advertise-with-us/
Do you want to support our charity work? Click on the link below:
For your Natural Skincare Products & Supplements, click on the link below:
For any other information or breaking news, please contact us at: info@mgbeke.media, contact@mgbeke.com, or send us text messages @ +1 413-777-7990