HIDDEN TRUTH: How Sade Balogun's Bitter-Ex, Babatunde Gbadamosi, Orchestrated Current Attempted Murder Charges With Yinka Igbinoba Against Her
The bitter drama between former Lagos State power couple Babatunde Gbadamosi and ex-wife Sade Balogun doesn't look like it will end anytime soon as one party looks desperate to see the end of the other in every sense of the word.
One would think that this would have been the woman in a case of love-gone-sour, but, alas, it appears to be the man in this case, as the former Lagos State gubernatorial and senatorial candidate has proven to be both deviously motivated and determined to wreck his former wife's image and legacy at any costs.
The latest in his series of attacks, cyber-bullying, unfounded and wanton lies, and mischievous attacks have recently been shockingly linked to his ex-wife's alleged involvement in the supposed threat to life and attempted murder of another Lagos State realtor and businesswoman, Adeyinka Igbinoba.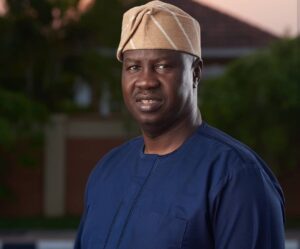 Recall that a few months ago, Ms. Adeyinka  Igbinoba had raised the alarm alleging that Sade had conspired with one Saheed Mosadoluwa, popularly known as Ibile, to assassinate her over a land dispute matter that had transpired between her and Ibile in 2021.
Adeyinka had reportedly gone to the police to report that Sade and Ibile had made several attempts on her life, were still planning to kill her and that Sade Balogun had also barred her from accessing her residence in one of Red Brick Homes's flagship establishments, Amen Estates, owned by Sade. This matter began about July 2021 and has since been reportedly dragged even up to the office of the Inspector General of Police in Abuja, Nigeria. Yet, no concrete charges or arrests have been made by the police.
A few days ago, Adeyinka teamed up with a notoriously vindictive, confused, controversial, and fallacious self-acclaimed investigative reporter Kemi Olunloyo, who hosted a Twitter Space session where some "credible" Nigerian journalists, Adeyinka, and some other media and real estate people were invited to listen in and speak.
Kemi shared a link to the meeting before it took place on May 22, 2022, and it was a session that left much to be desired both for Adeyinka and all the so-called "credible journalists" that attended and said many things on the apparently malicious and ill-sponsored media briefing of sorts.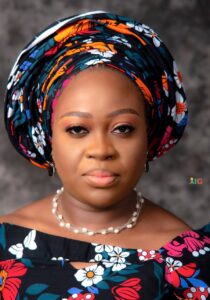 Adeyinka disclosed and made several damning allegations against Sade and Ibile during that Space session. Some media persons speaking to her promised that they would "take up her matter and fight it to the last," even without bothering to either reach out or hear from any of the other parties involved.
Their extreme regard for "Dr. K," as Kemi was fondly referred to during the session, alone is enough to seriously question their credibility as supposed reporters and their mental state. After all, a friend and close associate of a known mad person is what, again, in African parlance?
Anyway, having been privy to many things that have transpired over the years between Sade and her estranged and bitter husband, Babatunde, we decided to leave the rumor mongers and surface scratchers and dig well into the truth behind the whole Adeyinka, Sade, Ibile, and the attempted murder/threat to life charges.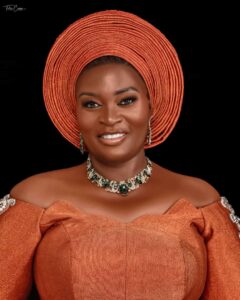 What we have uncovered is very indicative that there is a lot more to this case than meets the eye, and it now looks like hell has switched its fury from women to a man who feels scorned these days! Here are a few of the revelations and some key questions below for anyone who genuinely cares about the truth to note about this whole issue:
(1) Why Did Sade Get Involved In The Police Matter When Officers accosted Ibile At His Amen Estate Residence?
Sade Balogun is the CEO and owner of Red Brick Homes, which owns Amen Estates. According to her, Ibile is currently a member of the corporation as the company's Chief Security Officer (CSO). He also owns a mansion in the estate and has lived there with his family for a while now. Of course she was called from the gate that police were looking for Ibile but that Ibile was not around. She put a call through to and Ibile agreed to attend the police station. She relayed this to the police officers and they left.
Having been informed and invited into the saga before by Adeyinka, it was indeed not out of place or an abuse of power for the CEO to intervene when officers showed up without an official invitation or any court order to arrest a key member of her company who is also a resident in her very premium and exclusive private estate.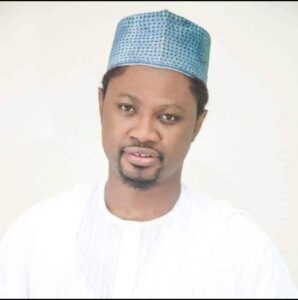 Unless we all want to deceive ourselves, there are places, establishments, and areas that law enforcement agents cannot just waltz in and whisk anyone away, no matter the allegations being leveled against such an individual or group of people! These places offer that level of exclusive security and protection from harassment, and their residents pay a steep premium to enjoy it.
Why shouldn't Ibile now be able to enjoy the premium he has already paid as a resident of the exclusive estate, and why is it odd that his boss would stand up for him at the sight of trouble? If all this does not make sense to you, you should check if you're still standing for the truth or being vindictively biased!
(2) The Truth Does Not Need To Be Garnished, Does It?
During the mentioned Twitter Space session, Adeyinka did say a few things that are partially true but obviously over-garnished to suit her devious agenda. One of these is that she had reached out to Sade after Ibile allegedly fractured her ankle at his office in 2021, and she stated that Sade should "never have sided with Ibile" over her.
A simple question comes to mind here: When a person calls an elder to report another equally known and close associate to the said elder, is the elder supposed to keep quiet about the matter and do nothing or arbitrate between both parties for an amicable resolution? Or should all our elders also become rambling, lunatic gossip, and act devoid of scruples like this Kemi is renowned for?
As a grounded and unconventional media organization, we've obtained a complete and signed statement from Sade Balogun, along with several documents, voice recordings, chat records, and other concrete pieces of evidence to substantiate the claims in her statement.
According to her: "In the case in question, all I tried to do was play the part of an arbitrator between the two parties, as saved WhatsApp messages will reveal. I am old enough to be the mother of the people involved in this case. I did my best to sort out the matter. My very best. I went out of my way, as a matter of fact, to try to install peace.
If they were both my biological children, I couldn't have done better for them in terms of the arbitration. Saheed Mosadoluwa swore to me that he did not break Adeyinka Igbinoba's leg. While Adeyinka said he did it, and she has a video of him doing it. She apparently told the police the same thing!
I, therefore, asked for the video, so I could confront him with it. I never got the video. Nevertheless, I pressed for the balance of N15m from Saheed, less the usual agency fees, but Saheed refused, saying that the EFCC case was not withdrawn and more police stations were being contacted on the matter.
I gave Adeyinka the feedback, not knowing that I had offended her by asking for the video evidence with which I would confront Saheed with. She refused to produce the said video which I believed anyone will quickly forward as evidence to support their allegation, especially to someone trying to make peace and help her get back the balance of her money.
From what I later learned, the video she has, is the surgery video. Yet, she did not forward even that to me. I did not disbelieve her and I could not disbelieve Saheed either. I was only acting as a neutral peace maker."
How does an older person who did all this for you suddenly become the one being charged with attempts on your life and threats to it? Something just doesn't add up here.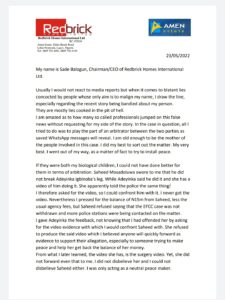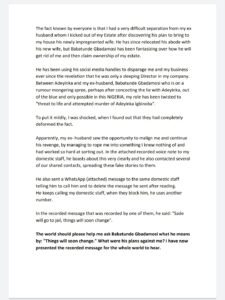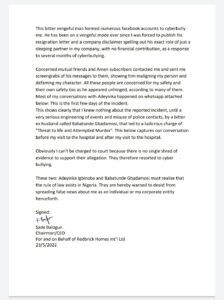 (3) Why Has Adeyinka Conveniently Omitted The Fact That She Was Fired From Amen Estates For Misconduct?
While addressing the people on Kemi's Twitter Space, Adeyinka repeatedly boasted and claimed that she made the Amen Estate Phase 2 brand what it is today and that it was even she that named it thus. She also claimed to have been such a good and faithful person to Sade and made her "a lot of money from sales of many properties."
Red Brick Homes have firmly debunked all these claims, and some other interesting revelations too were made in the process. The major one is that Adeyinka was fired as the company's Sales Agent for misconduct on November 18, 2019, after it was discovered that she breached their exclusivity sales agreement and used the Amen Estate name and brand as a front to market her other properties.
How she conveniently left out all these while claiming to be such an "upright and clean" person during their Space gathering is a wonder indeed.
Also, her claims to have made a lot of money for Sade are well garnished to suit her agenda while leaving out another fact that reveals how cunningly dubious she is. While fronting the Amen Estate brand, even long after being fired and instructed not to, Adeyinka recruited many agents selling and letting properties in the establishment and ensured that she was their direct upline.
That way, she made tons of money for herself from the upline commissions accrued from any deals those agents sealed. She equally benefitted greatly financially from all her dealings – legally and illegally, with Red Brick Homes.
So, why is she now making it seem like she did Sade a favor and never benefitted from it?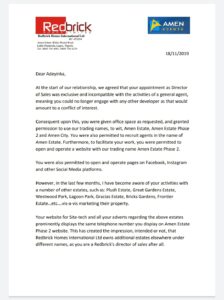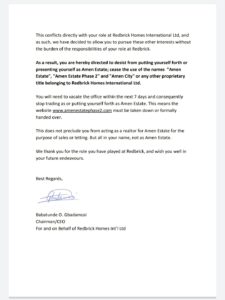 (4) She Was Never Barred From "Entering And Living In Her House" As She Also Claims!
Another blatant lie Adeyinka is selling to her vindictive media gang is that Sade has barred her from "entering and living in her house" in Amen Estate and is doing everything to ensure that she is killed.
The alarming level of this lie is such that one would need to hold on to something for balance when you eventually discover the truth! This truth is that there was never a time when Adeyinka was or has been barred from coming into Amen Estate.
On the contrary, she was served a written notice – also here attached – that due to her claims and official petitions to the police that her life is in mortal danger if she ever comes near or to the estate, she should kindly ensure that she does not ever come to the estate henceforth without an armed police escort and a video person recording her entire visit to the place.
This looks more to us like she is even being protected by the same person she's alleging wants her dead at all costs. The most shocking part of it again, though, is the fact that Adeyinka's so-called "house" that she has been "barred from living in and coming to" is a yet-to-be-completed building that is still very much under construction (pictures also attached).
Was she living in an uncompleted building before in Amen Estates? And, if the people in the estate truly want her dead so desperately as she claims, why is it that same place she's fighting and clamoring to go to all the time? This is another thing that makes no sense in all her claims.
We have to ask, why does she need this access so badly now? Just to plant evidence? Because so far, no evidence!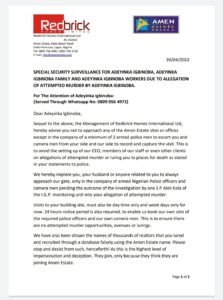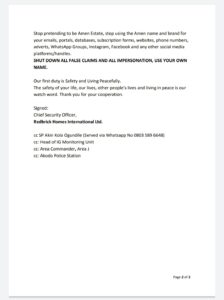 (5) Why Did Adeyinka's Siblings Not Buy The Piece Of Land From Her Directly?
From the very beginning of this saga, many things have not sat well or looked right from any perspective related to the truth, and it only takes an objective and impartial eye to see this clearly.
Adeyinka is supposedly a well established and renowned realtor who has sold properties and lands to the tune of billions of naira in her real estate career/business over the years. When her siblings wanted to purchase a piece of land that valuable, why was she not consulted and given the contract?
Isn't it very weird that I'd have a brother, sister, or even relative that is well renowned for selling something that I need and I would opt to go to an outsider to buy that thing from them?
There is a big lie somewhere in here, and it is starting to rot and stink! From all we're observing and gathering so far, one of these two things are at play here:
A. It's either Adeyinka's siblings do not trust her at all to execute that deal in their favor, or not swindle them somehow. Or…
B. This whole land, CofO, refund, and everything it has birthed was all a premeditated and well-laid plan to create trouble with Ibile knowing well that the matter would somehow get back to Sade Balogun since he doubles as her CSO.
If not, why was Yinka invited to come to Ibile's office when the siblings went there with their mother to attempt to retrieve the deposited money? Are they toddlers or teenagers?
If they could initially afford to do a N30 Million land deal without her presence or notice before, why is she now the one fronting and fighting for the money with all vehemence? Unless, of course, there was never any genuine intention to purchase that land in the first place, and the whole buy was just an inlet into the courts of the known short-fused Saheed Ibile.
Now, from all recent indications, too, the second option is the exact thing that has happened in this entire saga. Adeyinka and her siblings have been willing pawns in the game whose bigger picture and ultimate goal is to either totally destroy the Red Brick Homes brand and Sade, or have everything fall back into the hands of the desperate, starving, and currently impoverished puppet master. How do we know, and why do we say this? Please keep reading…the truth is unfolding gradually.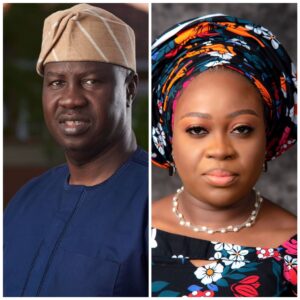 (6) This Was Never A Case Of Fraud, Else They Would Have Successfully Gotten Ibile Locked Up, Wouldn't They?
Adeyinka confirmed on the Space session that her siblings had conducted a thorough background check on the said parcel of land at the appropriate quarters and there were no issues with it at all. This was before they made the deposit payment of N30 Million.
A while later, they now claim that they went to run a second check on the land again and discovered that the CofO had been revoked and was now under review by the Lagos State Government. This was the point at which they now started clamoring for a refund from Ibile, months after paying the deposit to him, and at a time when their other installment payment was due. On this point here, a couple of things are also at play:
A. There was never an intention or attempt to defraud them of their money by Ibile because he did not sell them an unaccredited and certified land before, and he didn't revoke the CofO after selling them the land either and Ibile did not have any direct transaction with them. This is why their case filed against him with the EFCC couldn't hold water because there was never an intention, nor was an act to defraud committed in the entire process.
B. Ibile does not even work with the state government agency in charge of lands, so there is no way he could have even influenced that occurrence. However, the grand master of this whole puppet show not only has the connections to orchestrate such an action by the land agency, but has also being caught bragging several times about how he's the one that got the land agency to revoke the documents.
This further proves that the whole matter was a setup right from the start, and the dirty scheming has been orchestrated by none other than Sade's ex-husband, Babatunde Gbadamosi!
According to very reliable sources, too, Adeyinka's siblings could not come up with the N90 Million balance for the purchased land as at when it was due to be paid. They had even reportedly found a "cheaper" land that they wanted to go for, but they needed to get out of their existing deal with Ibile without paying any administrative charges or penalties for defaulting on the existing signed agreement.
This is why they started making trouble over the CofO issue which they all clearly knew had nothing to do with Ibile, and was not his fault in any way. It was all a well-scripted setup from day one, and the CofO trouble, which was orchestrated by Babatunde, was only a side tool in their whole game to create trouble with Ibile and subsequently with Sade Balogun.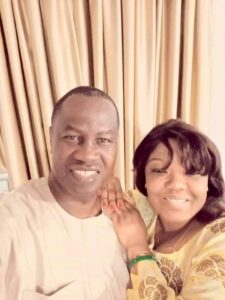 (7) How Is Babatunde Gbadamosi Involved To The Point Of Being Given Updates By Top Police Officers From Abuja? Is he the complainant? The petitioner? The author of the petition?
Another bizarre twist to this whole saga is the unraveled fact that the brain and instigator behind all these media attacks against Sade Balogun is none other than her bitter, vengeful, and very vindictive ex-husband. There are more than enough pieces of evidence to this effect attached here as well including voicenotes, WhatsApp messages etc.
According to recent revelations from a very trusted and close source, Babatunde and Adeyinka have allegedly been lovers for quite a while now. Over time, they have been sighted together at different hotels across Lagos and even in Abuja.
The source claims that these two adulterous lovers were on a trip to Abuja again recently, and it was on that trip that Babatunde introduced her to some police officers and prevailed on her to use the threat to life and attempted murder angle in her case against Ibile and Sade to ensure that the police will sit up.
On his part, Babatunde started giving himself away when he began calling many of Sade's domestic staff to brag that he was being given constant information from the Inspector General of Police's office in Abuja about how they were soon going to arrest Sade for attempted murder and send her to prison.
He has also made some very amateur, childish, and silly mistakes that have given him away entirely as the brain behind all these recent media attacks against Sade. One cannot but wonder: Why is he still so bent on destroying and killing this poor woman whose only crime was to have loved, honored, fed, clothed, lifted, and even financed all his depraved lusts, affairs, and debauchery for over 20 years of her life!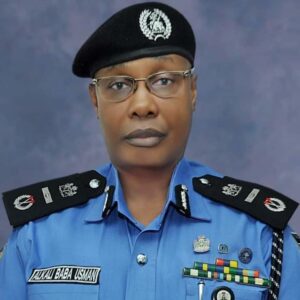 Ever since she had woken up to the fact that he is just a no-good gold-digging leech and kicked him out of her life and fortune, he has relentlessly done everything within and without his power to ensure that he destroys her. Alas, God has never and can never side with an evil person against the good, though, so all his efforts have continued to fail to date.
This latest conspiracy to frame his ex-wife for attempted murder is another tremendous low even for him. But then again, what does one expect from a man who is currently reportedly living in another woman's father's house in Ibadan, Oyo State, Nigeria, after his rent expired in Lagos, and he couldn't afford to renew it?
What does one expect from a man whose only modus operandi is to find wealthy and affluent women that he can live off and milk dry while he's yet busy painting the town red with his randy loose member and having orgies with different young ladies and sex workers alike on his innocent woman's bill?
What else could one expect from a failed politician who cannot even afford to pick up a nomination form for a local government councilor, talk more a senatorial position in his party, the PDP, because of how broke he is right now?
There is an end to everything and a price to pay for all our actions in this life. He will get the due reward for all his wickedness and evil sooner or later, and so will all these empty-belly reporters who have been allowing him to use them as his evil pawns.
The truth will always prevail, though, and at the end of the day, we will all see who the true villains, liars, manipulators, and evil persons are in this matter. Until then, may God be with you all…Amen.
Below are the pictures of Adeyinka's uncompleted building in Amen Estate.