HIDDEN TRUTH: Atiku's Bizarre Denials, Protests Become Violent Riot – Vital Questions From Deborah Samuel's Brutal Murder In Sokoto, Nigeria
The supposed peaceful demonstration planned in Sokoto State, Nigeria, today, May 14, 2022, over the arrest of some young men involved in the cruel murder of Miss Deborah Samuel has reportedly turned into a full-blown riot after men of the Nigeria Police Force allegedly shot a protester.
Recall that Deborah, a student of the Shehu Shagari College of Education in Sokoto State, Nigeria, was brutally beaten to death and her corpse burnt afterward by an angry and highly irrational fanatic mob made up of fellow students of the institution.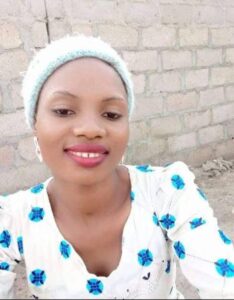 Accused of having "blasphemed" the Prophet Muhammed (SAW), Deborah had reportedly lamented over a series of messages sent to her class' Whatsapp group, which led to her being lynched by the students.
According to reports, Deborah had responded to the messages on the group by saying: "This group chat was not created for you to be sending nonsense. It is for past questions, updates about tests, or other school matters. Not for nonsense or some rubbish prophet."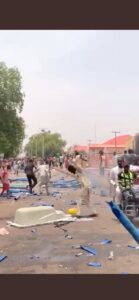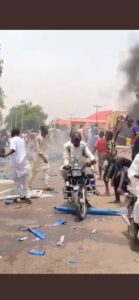 After the entire nation erupted in deserved anger and fierce criticism of the barbaric and fanatical behavior of the students, some of her alleged killers were recently rounded up by the police.
This move led to a call boldly put out on social media on May 13, 2022, by an unknown group of people that said: "Peace be upon you. We are inviting the Muslim family in Sokoto & environs for a protest for our dear Brothers & Sisters who were arrested while protesting the Religion of Islam & also Exalting the Messenger of Allah."
Now, their so-called "peaceful" protest has become a full-blown riot, with several buildings, businesses, and other valuable properties being mindlessly looted and destroyed with alarming impunity!
While this rages on, though, we cannot but also mention a critical role that a very prominent figure in Nigeria has played in this saga so far.
Former Vice President of Nigeria and current presidential aspirant under the People's Democratic Party (PDP), Atiku Abubakar, had taken to social media to initially send out a message strongly condemning the "gruesome murder" while also urging that those behind her killing "must be brought to justice."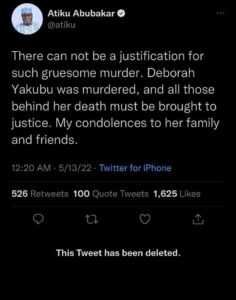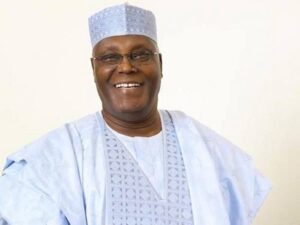 A worthy and commendable move, you would think, only for him to not only delete the tweet later but also reportedly fire his social media manager and also publish another message denouncing the first tweet – and this time, in the Hausa language too.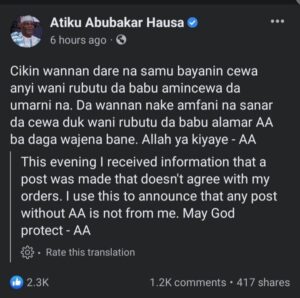 All these twists, turns, lies, rebuttals, "peaceful protests," mindless killing and all, cannot but raise a few questions in our minds and, in our usual way, we would like to share them with you below:
(1) Where Is The Army And DSS Now?
As this matter is an issue that happened in the Northern part of Nigeria, not one soldier or DSS officer has been deployed to make any arrests, foil the "peaceful protests," or even to "calm the situation" like they were deployed to do in October 2020 at the Lekki Toll Gate in Lagos State.
Many innocent people are being killed in Imo State, too, by our dear soldiers who seem always to be weaponized against the South at the slightest whims of those in power.
Yet, an innocent girl was brutally murdered, and protests against the arrest of her killers have gone totally out of hand, but no Northern life must be harmed by the country's security agencies, right?
Don't get me wrong, though – I firmly believe that it is the right of the citizens to be protected and not harassed, intimidated, and killed by the ones who swore to "protect and serve" them.
So, if the military does not intervene anyhow in the current situation in Sokoto State, then they haven't done wrong technically. BUT, where is the same energy and wisdom when it is a situation or issue down South? Is this truly still one nation?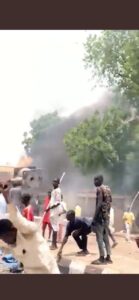 (2) Who Is Atiku Trying To Please And Who Is He Trying To Deceive?
For a man who claims to be the solution to all the problems that have plagued Nigeria in the last seven years, this social media episode reveals a lot of dirty truths about his real personality!
As much as it may hurt some people that are his staunch supporters, the truth must be told – Atiku Abubakar does not care about anything and anyone but himself and his selfish ambition to become the president of Nigeria!
And if any of these his recent actions are anything to go by, he has also proven that he is far from the true nationalist he claims to be. Why would an aspiring president of the country be afraid and so cowardly to stand for the truth and speak against evil in a land he claims he lives and can heal?
No matter where or who the culprits are, should a man who claims to want to rule and unite a country be so openly biased and unjust to some people because they are not of his ethnic and religious inclination?
Let's examine another disturbing thing in the former Vice President's denial on Facebook, shall we? According to Atiku, "any post without AA is not from me." So, the question now is: Does this mean that all the tweets on his VERIFIED Twitter account are also not his?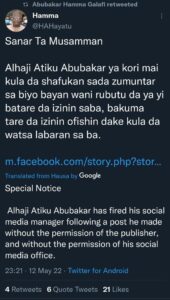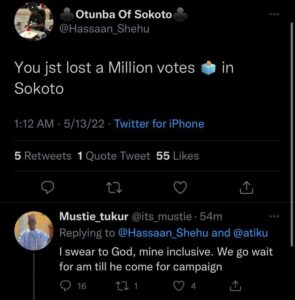 As we've observed at press time, a few of the latest tweets on his Twitter have now been edited to carry the "AA" initials, but who is he deceiving here? Not us, because some things are too glaring to be manipulated!
One last thing for now about his denial that is truly worrisome is the fact that, in his message on Facebook, Atiku is quoted to have said that the deleted post condemning Deborah's death "does not agree with his orders."
Please, can anyone make any sense of this right now? An innocent girl was brutally murdered and her body mutilated by religious fanatics. You're now reportedly fired social media manager did the honorable thing you should have done by tweeting against the dastardly act, but now you say the sent tweet "does not agree" with your "orders"?
Are we to assume by this that Atiku is subtly implying that he sees nothing wrong with the murder of Deborah? Or what order could a tweet that honorable denounces and condemns such an evil act possibly have gone against?!
Another disturbing thing is the fact that his denial and deletion of that initial tweet came after a bunch of Northerners commented under the tweet that he "has lost Sokoto" and they would never vote for him for speaking against Deborah's murderers.
There are way too many concerns and substantial red flags being raised about the true nature of this man who aspires to lead us in this nation called Nigeria right now, and our final question on this to everyone is…
Nigerians, is this the kind of man you want to commit your destinies to for the next 8 years? Is this the type of leader we want in this country?!
In all things, we pray for God's rain of peace to wash over this land and for HIM alone to help us because these so-called "leaders" are nothing to write home about! So help us, God, Amen!