"Gov. Uzodinma Only Pretends To Be My Brother In Public But Immediately Switches When Eyes Are Turned!" – Sen. Rochas Okorocha.
The relationship between former two-time Imo State Governor and current Senator Owelle Rochas Anayochukwu Okorocha and the present Governor Hope Uzodinma looks like that shared between the two famous cartoon acts, Tom and Jerry. They are always at each other's throats in private but act cool before others.
And, if the recent disclosures of Senator Rochas are anything to go by, it doesn't seem to be on the mend anytime soon either. Speaking in an exclusive chat with Channels TV on Sunday, March 27, 2022, the present senator representing the Imo West District spoke extensively about the just concluded APC Convention that saw the emergence of Mr. Abdullahi Adamu, 76, as the new APC National Chairman.
While recognizing and lavishly praising the role played by President Buhari in ensuring that the party convention was held and all necessary concessions could be reached, Senator Rochas stated: "President Buhari has a gift from God that enables him to calm warring factions and make peace the way he does it without stress. He is the only one with the kind of personality and wisdom required to do a thing like this, and he used those gifts to the maximum to ensure that this happens.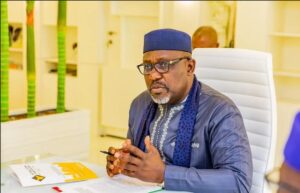 I tell you, no one else amongst all the party's founding fathers that he had called together to dialogue with initially could have ever been able to pull this convention off. Not Asiwaju Bola Ahmed Tinubu or even me could have ever succeeded at getting it done. For example, look at me; I am a founding father of the APC, and I founded the party in my State, Imo, but what do I have there now? I have been marginalized, kicked out, ridiculed, and everything rightfully mine and should be given to me has been taken away."
When prodded about the current state of the party in Imo State, his relationship with the current Governor Hope Uzodinma, and how the latter had publicly made attempts to reach out to him for peace talks, Senator Rochas smiled wryly and sarcastically remarked: "I have a very interesting Governor indeed, and in fact, he deserves a certificate of expertise. I am his brother only at night when he comes live on the Sunday Politics show, but by the morning, he is already back to impounding my properties, harassing me all over State, and arresting my people, but it's good anyway.
I have let all that go, and I bear no malice against anyone anymore so that we can forge ahead. You have to be able to let things go if you want to grow. Part of the qualities of a good leader is that you have to be able to chew nonsense and take nonsense and move ahead. So, I've moved on already when it comes to Governor Hope Uzodinma. I recognize him as my Governor and accord him due regard as such. I've even made certain concessions for him regarding some slots for his people recently because I have moved on, and I want peace. All I just want is peace!"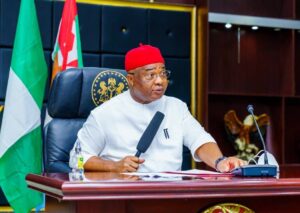 On the issue of possibly working with the current Governor, he disclosed: "I can work with anybody no matter how terrible they are. I don't raise dust anywhere I am. All I try to do is just cover my face to protect my eyes. I never fought back against him for once. If I did, you would know that I have fought back.
The former Governor before him, Emeka Ihedioha, was a much better candidate and way better at fighting than Uzodinma. Governor Emeka, in his time, set up a panel filled with people that were very angry at me because I had defeated them. Still, he never did anything with the panel's recommendations. Governor Uzodinma came, took over the matter, and seemingly started to carry out the panel's wishes. The next things that happened were that my cars were vandalized, houses were seized, children were beaten, in-laws were kidnapped and arrested, and many things, but all that is in the past now.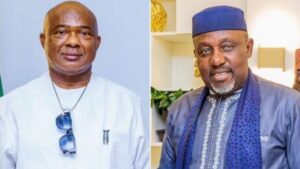 I wish him well. Let's forge ahead. How many are in the Igbo land and in the South-East that we would keep going at each other's throat like this? It is not good for us at all, and there are more significant challenges for us to face out there than these squabbles."
If it is true that Governor Uzodinma is a brother in public glare and a mortal enemy away from the cameras, then the people of Imo State still have some work to do if things would start working right for them there.
You may recall that these two men are both from the Orlu Senatorial zone in the State. While Rochas was Imo State Governor for two terms from 2011 to 2019, Hope Uzodinma was a Senator representing Orlu. Now, it seems as though they deliberately switched positions because each presently holds the other one's previous portfolio.
As one of the founding fathers of the APC, Rochas has always seen Uzodinma as a parasite and an intruder. Sadly, their political rivalry and power tussles have taken a negative toll on the people of Imo State, especially the people of Orlu, as everyone is almost always caught in their crossfire. When two elephants brawl, it is the grass beneath them that suffers most, remember?
Quite frankly, though, they have both been useful pawns in the hands of Ndi Imo State enemies. One can only wish that, for once, they genuinely make peace with each other and start to put the interest of their people before theirs going forward.
Do you think this could ever be done by these men, though? Please share your thoughts on this with us in the comments section below.
By:Dr. Sandra C. Duru