Friend Of Nigerian Doctor Shot By Terrorists On Abuja-Kaduna Train Confirms Her Death.
A Nigerian female doctor who was shot onboard the Abuja-Kaduna train that was attacked by terrorists yesterday night, Monday, March 28, 2022, has been confirmed dead this morning.
Before her untimely death, Dr. Chinelo had worked at St. Gerald's Hospital in Kaduna State, Nigeria, before she resigned last month. Reports hold that she had processed and obtained travel documents and was due to leave Nigeria for good this coming Friday, April 1, 2022.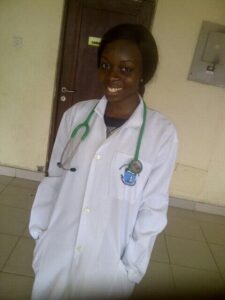 The doctor had taken to her Twitter account after she got shot last night to solicit prayers from her friends and contacts. Presently only identified as Dr. Chinelo, she had said: "I'm in the train. I have been shot; please pray for me."
Unfortunately, she did not recover from the assault as she reportedly died this morning, March 29, 2022, due to the injury sustained from the gunshot.
Confirming her demise this morning, an associate of hers tweeted:
"Just woke up to a sad news. My friend just woke up to losing a close friend who was shot at the Abuja Kaduna train incident by terrorists. She tweeted yesterday that we should pray for her. Sadly she didn't make it. She was a Doctor Nigeria why..I'm heartbroken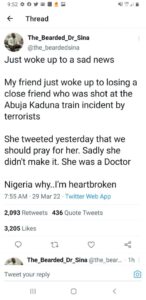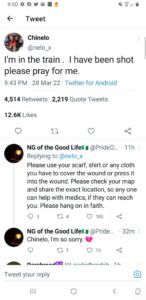 I was just here yesterday tweeting and asking if there were medical personnel on the train who could offer emergency services And some people were here saying why will I think of such a thing..really?..for basic first aid to be provided for injured. May Nigeria not happen to us. #RIPDRCHINELO"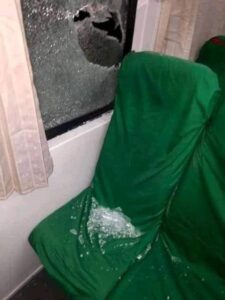 According to reports, about 970 passengers were on board when the terrorists detonated a bomb on the rail track and opened fire at the train. Members of the Nigerian Army from the GOC 1 Division, Abuja, were able to respond quickly, and most of the passengers were reportedly rescued last night.
May God help us in this nation, Nigeria, and keep us safe from evil. Amen!