"God is vindicating me," Sandra Duru says as Edith Modebe is convicted for Assault, Grand Larceny in America.
"To everything, there is a season, and a time to every purpose under the heaven: A time to be born, and a time to die; a time to plant, and a time to pluck up that which is planted." – Ecclesiastes 3:1-2. There is time for everything under the sun, indeed, and it is great that this particular time and season to bare it all out has finally come.
For over five years now, I have been quiet and patient as I've watched a fellow woman I never knew from Adam until she sent me a friend request on Facebook. She became a Facebook friend, fan, and follower without knowing that she came practically to do everything that could be done under the sun to destroy me and everything associated with my name. God has not only kept me all this while, but HE has successfully shut the mouth of the dragon against me and mine, and now HE has made the time ripe and perfect for me to come out of my shell on my ordeal with Edith Chiedu Ayiya Modele.
On August 4, 2016, criminal charges of Assault and Battery C265 13a(a) were filed against Edith at the Massachusetts Trial Courts | Hampshire, Eastern Hampshire District Court, MA, with Case Number: 1698CR001178.
On September 8, 2016, another criminal charge of Larceny Over $250 By Single Scheme C266 30(1) was also brought against Edith by the State of Massachusetts, with Case Number: 1698CR001359.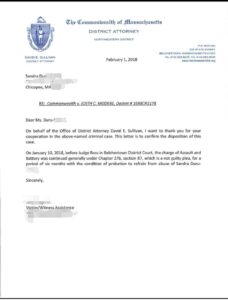 These cases took a long time to conclude because Edith kept pulling many mischievous tricks and gimmicks out of her arsenal. But, in September 2018, she was found guilty and convicted on all counts of the charges brought against her. According to the constitution of Massachusetts, if the stolen property is valued at an amount greater than $250, the law considers the offense to be classified as Grand Larceny, which is a felony in Massachusetts. This crime is punishable by a maximum sentence of five years in State prison, a maximum fine of $25,000, or a county jail sentence of up to two-and-a-half years.
However, for the charge of Larceny, she was only ordered to make a restitution payment of $1,694. On the assault and battery charge, she was given a 6-month probation term.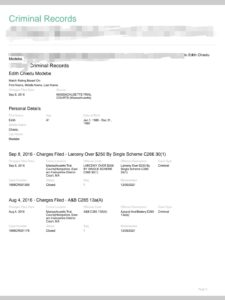 As providence would have it, though, sources close to Edith recently revealed that she had been absent on social media since August 2021 because she was allegedly serving a 6-month jail term for another criminal offense and was just released from prison in March 2022.
I finally got some justice after waiting for a couple of years. And more than five years later, more legal processes are also ongoing for full justice to be served. It may take time, but the justice system is guaranteed in America. Cases can be revisited, adequately re-investigated, and the appropriate penalties handed down to those found guilty. A lot more is coming for Edith Modebe because she is neither repentant nor reformed.
Before I go into that part, though, let me give you a brief rundown of how I got involved with her in the first place. My encounter with Edith began when I needed to travel to the United States of America on medical vacation as I was heavily pregnant with my third child in 2016. I met her online and we seemed to connect much better on Facebook. Unknown to me, she was an agent working for my political enemies and rivals in Imo State, Nigeria, West Africa, and Africa.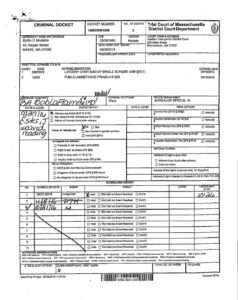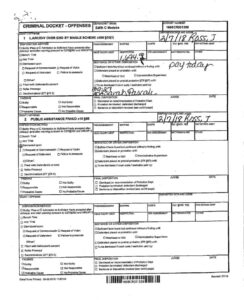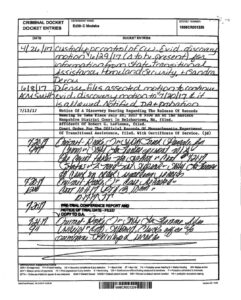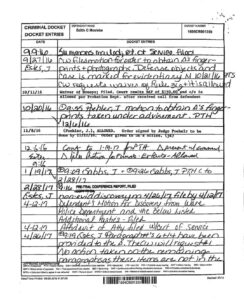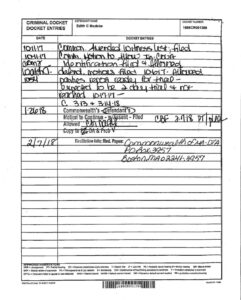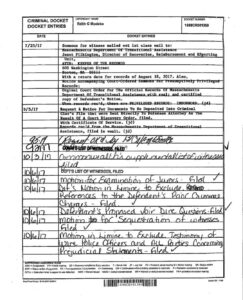 So, when the time to travel approached, I naively thought that I had someone very caring and like very loving friend, family, and sister out there in Massachusetts who could look out for me when I arrived there. I reached out to Edith to inform her, and she sounded very excited to be having me over at her's when I eventually arrived. Never could I have imagined that this woman had been planning with many of my detractors all along on how they would drive me into serious depression, insanity, and eventually an early death by taking everything I had and my children away from me.
Her deception, cruel games, and evil plans were set in motion, and she started to lay the foundation for what would eventually be held against her as criminal charges.
Edith deceived and scammed me of an initial $3,000, claiming that this was to be the charge for the comprehensive insurance cover she was preparing for me. She never used that money for anything, but instead, she booked me for the mass health insurance policy, which is free in America. I only got to find out about this after I had landed in America and reached her place, where I stayed for a while before things got out of hand ultimately.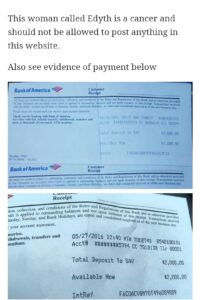 She also collected an additional $2,000 and other amounts on several dubious grounds and claims, which eventually totaled over $6,000. For years, many people have been reading about the cooked-up lies from her and her cohorts, who were politically motivated and sponsored to tarnish my image because they feel threatened by my high level of intelligence and my burning desire to serve my people of Imo State, Nigeria.
Her criminal records from the 2016 fraud, and assault and battery crimes against me when I was pregnant with my last child, Dikesinachi, are all attached to this post. We almost lost my son, but God saved him. From 2016 to 2021 till date, Edith has done everything possible to get me out of America, being the principal witness on her cases. Still, I have been solid and intelligent enough to overcome all her plots with her cohorts, sponsors, and stalkers.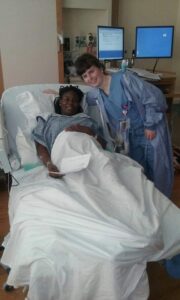 There were many politically motivated and sponsored publications that she put out on numerous blogs. She kept lying to her political sponsors and giving them false hope that she would help them destroy me. They planned to make me have a nervous breakdown, indict me somehow, send me to prison, or make sure that I lost all my kids and was finally deported back to Nigeria without them. Such was the wickedness set against me, but God delivered me from all of them.
From 2016 to January 2022, I have won all the trumped-up cases of child trafficking, kidnapping, identity theft, fraud, small claims, and every other devious lie she had cooked up against me. All her charges were baseless, without proof or merit, and all of them have since been dismissed. Security has also been beefed up around me, and my kids and my status have changed.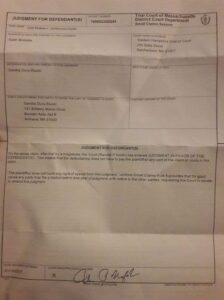 Ironically, thanks to Edith, a lot of things have changed positively around me, so much so that it will be challenging for any nuisance, wicked, evil, or irresponsible people to get close without being taken care of within the powers of law. All things do work together for good unto them that love the Lord indeed!
My experience and ordeal with Edith taught me some vital and bitter lessons, and I would like to share some with you here if you wouldn't mind learning from them.
(1) Meekness Is Not Weakness!:
Whenever you have an adversary or someone you're doing everything to persecute, but the said person stays calm and almost always remains quiet, you need to check yourself and beware of hidden traps.
I have been silent for over five years, but that doesn't mean that I allowed all her atrocities to be swept under the carpet. No! I decided to pay more attention to raising my kids, recovering from all that happened to me in my weakest moments, and reestablishing myself financially so that I'll be able to afford the best attorneys to take care of all the evil done to my kids and me within these years by these people.
No matter what you're going through and the battles you're faced with, always remember that it is imperative to take some time out to recover from all the mental|emotional distress, harassment, physical, emotional, psychological abuse, humiliation, stress, financial difficulties, and to also deal with bouncing back without losing your mind, life, and children to death and other things.
There is time for everything, remember? You must first strive to preserve your sanity, protect your children, and get back on your feet financially before you start fighting back against all those who violated your rights, plotted evil against you, inflicted pain upon you and your children, and defamed your character.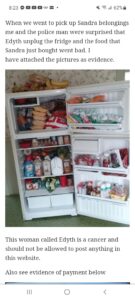 (2) Stop Envying And Looking Up To People Online!:
If there's anything we have proven all by ourselves in this jet-age and digital generation of ours, it is the fact that nobody posts their bad moments and troubles online. Stop looking up to and envying people online. Most of them are 100% FAKE!
Many people go about "tapping into the grace" on some online strangers' heads because they keep seeing videos and pictures of those people doing well. May you not tap from generational curses and problems in the name of being social media savvy!
Edith's life is a complete mess that is riddled with several criminal charges and outstanding cases against her, and she's reportedly|allegedly been dealing with many issues, even on the family front. This has made her unable to keep up with her very active and fake life on social media. For a woman who posts and brags about almost everything she does online, she was conspicuously absent during the Christmas, New Year celebrations,s and even on her birthday. Stop envying people you don't know online.
(3) Always Look More To Obtainable And Available Facts Than Coercive Words From People:
"He that is first in his cause seemeth just, but his neighbor cometh and searcheth him." – Proverbs 18:17. Edith has been running around with bitter, unfounded, and malicious lies about me for many years. She has also done many things that would have put me in an early grave but for God's mercy and grace, I am still here alive and well.
She's kept lying that I am a fraud and fugitive hiding in the United States of America. Whereas she is the one who physically assaulted a heavily pregnant woman, tried to kill her by kicking her in the belly while heavy with a child, and has refused to desist from spreading evil lies about the innocent woman since 2016. She also assaulted her blind mother and called the poor woman a prostitute, amongst many other unprintable things she's done to the woman, her mother!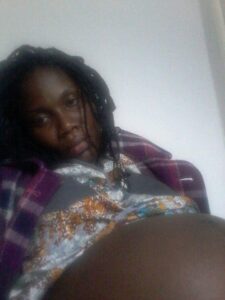 Now that the time to speak out and fight back has come, all her lies and devious schemes are being exposed and prosecuted accordingly. In a bid to harass and brag to me again recently, she loosely indicted one of the District Attorneys in Massachusetts and several other police officers. She bragged and lied that her criminal charges and cases were "dismissed and never made it before a judge." Yet, she was summarily convicted and sentenced (as evidenced in these attached documents) and had even been moving from place to place and hiding away from social media. Her documented claims about what the DA and the police told her 'a defendant' in a criminal case where I was the victim are being looked into. She also boasted in documented evidence recently that she was responsible for some things that happened to me and my kids last year.
If she genuinely never made it before a judge, why was she made to refund money on Larceny charges and also handed a 6-months probation term if she was never found guilty as charged? The only charge dismissed against her was her Public Assistance Fraud criminal charge (C18 5B), and this was after she had served her punishment by refunding the money she stole. A charge may be dismissed after the recommended penalties for the charge have been served by the offender or a plea bargain reached with the prosecutors. It does not change the fact that the accused was found guilty of those charges, which directly makes them a convict.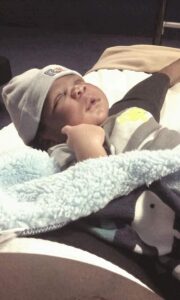 Due to her recent bragging and onslaught of harassment, stalking, bullying, a threat to life, and many other criminal activities that directly violate our rights and the conditions of her earlier probationary sentences, my children, our attorneys, and I have decided to revisit some of the cases against her. We are not satisfied with the verdicts passed for her against what the constitution states and the time she has served so far. Hence, we have requested thorough re- investigations, reviews, and re-trials and also filed new civil and criminal cases that had not been attended to but were committed by Edith and her cohorts.
We had taken our time with the appropriate agencies to gather enough information, evidence, and facts from 2016 when these cases were filed to date. Until April 2nd, 2022, Edith and her cohorts have committed more crimes against us, and when final judgment is issued, we will also make it public.
Are we sure of getting 100% justice? YES! God is not mocked. Whatever a person sows, so shall they reap, and Edith Chiedu Ayiya Modebe's cup is filled to an overflow already. Her harvest time is now within the powers of law and nature.