#EPLROUNDUP: Key Lessons As Manchester United End Arsenal's 100% Record, City And Liverpool Held, And Chelsea Need VAR Assistance To Earn 3 Points!
The 2022/2023 EPL Match Week 6 was concluded grandly on September 4, 2022, as Manchester United FC ended Arsenal FC's unbeaten and 100% start to the season by beating The Gunners 3-1 in an exhilarating encounter at Old Trafford in Manchester, England.
United was able to make it four Premier League wins in a row for the first time since April 2021, with a Marcus Rashford second-half brace and a delicious finish from newest signing Antony dos Santos in the first half. The Red Devils are now just three points off the top of the table.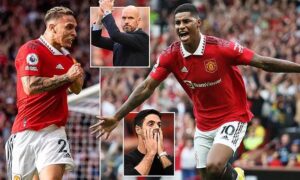 The match was everything a typical United vs. Arsenal match always is, as both teams flew out the blocks at each other from the blast of the whistle and delivered premium end-to-end entertainment for fans and neutrals throughout the game.
Arsenal thought they had taken an early lead in the 11th minute when Gabriel Martinelli fired past David de Gea, only for VAR to ruin the visitors' celebrations after a Martin Odegaard foul on Christian Eriksen was spotted in the build-up to the goal.
Arsenal smelt blood and kept pushing for the opener, but that opened the way for their hosts to take the lead in the 35th minute from a swift break-away. Match referee Paul Tierney played an excellent advantage following a clear foul on Bruno Fernandes, and the ball fell kindly to Rashford, who slipped in a delightful throw ball to Antony and the new attacker finished expertly into the bottom right corner for the first goal to United.
The Gunners came roaring back at the start of the second half and were duly rewarded with an equalizer in the 60th minute after the ball fell kindly to the birthday boy, Bukayo Saka, in the box, and he made no mistake from just 8 yards out.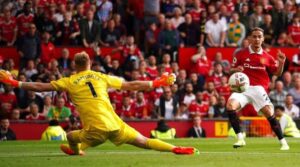 That goal seemed to knock United back to life, though, and just six minutes afterward, Bruno Fernandes slid in a jaw-dropping pass to set up Rashford for his first and United's second. Bruno was again instrumental with another incredible defense-splitting pass to Eriksen, who squared the ball to Rashford for his brace and the third goal for the hosts. Arsenal was well beaten, and their impressive run ended at the same grounds where their 2004 invisibility was terminated, too.
The champions Manchester City visited an Aston Villa side already in relegation waters after just five matches and was terribly out of form. Everyone had predicted another goal feast for The Cityzens, especially after their last outing where they ruthlessly put six past Nottingham Forest FC.
It was a rude shock for them and everyone else, however, when The Villains not only refused to roll over but were actually putting up more than just a fight in the game against Guardiola's men.
When the inevitable Erling Haaland finally put City ahead in the 50th minute after a sublime cross from Kevin De Bruyne, many thought the floodgates were about to open. However, Villa fought back and bagged a deserved equalizer after a glorious finish from Leon Bailey in the 74th minute.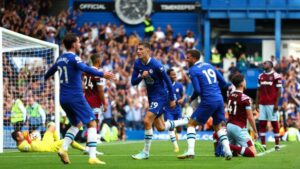 That goal was bravely defended to the end of the match, and they should have even had a second goal to steal all three points but for the dreadful offside call by the assistant referee that VAR couldn't review because the referee had seen the flag and blown his whistle before the ball was fired into the net by Phillippe Coutinho. 1-1, it ended at Villa Park, and the champions dropped points for the second time in six matches this season.
The Merseyside Derby between bitter local rivals Liverpool FC and Everton FC, too, had everything the derby always serves up but for goals! The game witnessed an outstanding competition of "who's better" between Alisson in Liverpool's goal, and Everton's Pickford, as they both pulled off strings of astonishing saves after saves.
While Frank Lampard and Everton were delighted and gladly settled for the draw, it was more frustration for Jurgen Klopp and his Reds, who have now had the worst start to a Premier League season since the German took over the club in October 2015, with just nine points from six matches this season.
Chelsea FC, on the other hand, had the VAR to thank as their blushes were spared after a well-deserved West Ham equalizer by Maxwel Cornet was ruled out for a foul on Chelsea's goalkeeper Mendy after a lengthy review.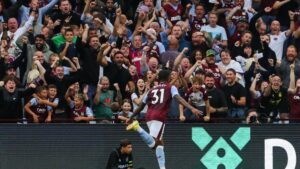 The Blues had dominated the first half with well over 75% of the ball possession, but they couldn't make it count for anything meaningful as the visiting Hammers were content to sit back, soak in the pressure, and hit them on fast counters.
That strategy seemed set to yield all three points for David Moyes and his men in the second half after they grabbed the game's first goal in the 62nd minute through striker Michail Antonio. Chelsea immediately sprung back to life, though, and it took substitute wing-back Ben Chilwell only five minutes after entering the pitch to pull one back from an almost impossible angle at the far post for the hosts in the 76th minute.
Twelve minutes later, and Chilwell showed he had no chill at all as he turned provider for striker Kai Havertz to fire Chelsea into the lead and complete the impressive turnaround for the hosts in the 88th minute. Cornet's goal and ensuing VAR episode were in the 90th minute, but Chelsea was able to weather that storm and hold on for a vital victory and maximum points.
From all the thrills, nerve-wracking tensions, stunning goals, and super excitement from this match week, here are some important lessons and things we observed during the games below.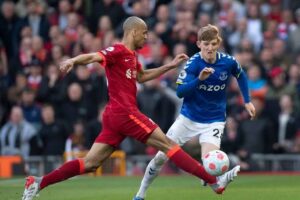 (1) No matter how bad things start for you, it can only get better, and you will turn things around if you do not give up on yourself or relent!
Manchester United showed everyone this in the last few weeks by turning around their disastrous start to the season where they were bottom of the table with no points after two matches. Now, they're 5th on the table with 12 points from the last four games and are only three points apart from league leaders, Arsenal.
Giving up is never an option in life. No matter how rough or hard it seems, keep pushing, and you will break through eventually!
(2) VAR can be such a pain in the butt but also a lifesaver at times!
While Chelsea had the Video Assistant Referee to thank for bagging all three points against West Ham United, some other teams like Leeds United, Arsenal, Aston Villa, and even Brighton (although they eventually won after putting Leicester City to the sword by 5 goals to 2 at The Ammex Stadium) all had some bitter experiences with the technology.
The bulk of the issues was more about the men in charge of the technology, though, and it shows that man will never be without flaws, even when he is "video and technologically assisted" like these British match officials. Hence, always ensure that you put in your very best always, and rely on nothing else but God.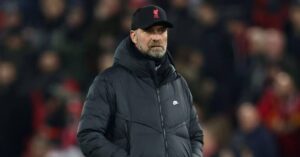 (3) Write off your opponents at your own peril!
The biggest lesson from this match week is that nothing is ever as it seems, and nobody can ever be taken for granted in this life!
Pep Guardiola and his boys went into Villa Park pretty confident that they would be leaving later with all three points and another bag of goals to further boost their impressive goals difference in the league. None of these was the case eventually, and even they needed a moment of officiating madness to help them secure the one point they got.
Never write off your opponents or anyone else for no reason. A battle is never over before it is fought, no matter how much you think the odds, history, resources, and every other things are stacked up in your favor.
Who do you think was most impressive this match week, and what goal was your favorite in all? Please leave your comments below or via our Facebook: Prof. Mgbeke.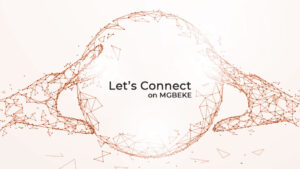 For your Natural Skincare Products & Supplements, click on the link below:
Do you want to support our charity work? Click on the link below:
For your news, real stories, Let's Connect, and adverts, click on the link below:
https://mgbeke.media/advertise-with-us/