Nigerian Court Fainting Drama Continues As Abba Kyari's Wife Joins Daniel Pondei, Olisa Metuh, Dino Melaye In Collapsing Stunts.
Ramatu Kyari, the wife of disgraced Deputy Commissioner of Police and Nigerian Supercop, Abba Kyari joined a not-so-illustrious but popular group of prominent Nigerian officials who have resorted to pulling health stunts in public while on trial for grievous crimes and offenses against the State.
This happened at the Federal High Court, Abuja, Nigeria, earlier today, Monday, March 14, 2022, after her husband's bail application hearing was adjourned till March 28, 2022, by Judge Emeka Nwite. Ramatu was reportedly rushed to the court's clinic, where she was subsequently resuscitated before being taken away in a private car later. Her husband, Abba, is currently being prosecuted by the Nigerian Drug Law Enforcement Agency (NDLEA) on drug-trafficking charges.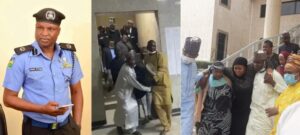 Reasons for her dramatic collapse are yet undisclosed. Still, this latest incident cannot but bring up memories of previous stunts and theatrics some other notable Nigerian government officials and politicians have pulled in similar situations in the recent past.
You may recall that the then Acting Managing Director of the Niger Delta Development Commission, Daniel Pondei, had collapsed during a heated session with the Nigerian House of Representatives Committee on NDDC in July 2020. This led to the derailment of investigations into the misappropriation of budgetary funds allocated to the NDDC under his stewardship back then.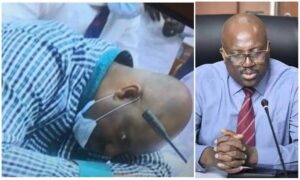 Another high-profile court fainting drama was served up in May 2018 by the former Peoples' Democratic Party (PDP) spokesperson, Chief Olisa Metuh, when he was arraigned in the court on corruption charges. Metuh was accused of receiving a N400 million bribe from the Office of the National Security Adviser, ONSA, ahead of the 2015 general election. He "fainted" in court as he made his way to the court docks for his cross-examination, and he had to be removed from the court later on a stretcher.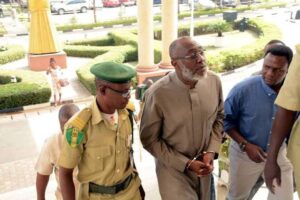 After a police siege on his Abuja residence that lasted over 8 days in December 2018, former Kogi West Senatorial District Senator Dino Melaye also gave us a taste of his fainting skills when he collapsed as men of the Nigerian Police's Special Anti-Robbery Squad prepared to cross-examine him in January 2019. He was immediately rushed to a hospital for medical treatment as well.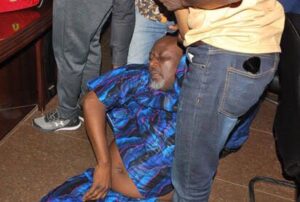 Although he wasn't the one that slumped, this same fainting-in-court technique seems to have resurfaced again today, and one can almost already predict how Abba's trial is going to end.