A Beaumont businesswoman shares her leap of faith that turned into a spiritual, natural, and business journey. This journey has brought her wisdom, fulfillment, and great success.
She has also been able to establish her beauty, health, and wellness personal care brand, Unlax Self®️, with products ranging from bliss skincare, haircare, body & parfum creams, to pure therapeutic essential oils, and lots more.
If the term "strong African –American woman" were a person, it would be Denicka Colbert! Denicka, 47, came out of not only a broken home but two unpleasant marriages that she survived as well. A mother of two wonderful children, 30 and 28, she's also a very happy grandmother and the beautiful wife to Mr. Leroyal J. Colbert III, who is the man behind her peace of mind, happiness, and success after God Almighty.
Denicka had always wanted to have a very beautiful and healthy marriage. Despite going through two previous failed marriages, she did not let those sour experiences discourage her. Instead, she stayed focused and continued to live a good life whilst pursuing her dreams. She did not shut the door of her heart to love again either.
This time around though, she took her time to heal and re-examine herself. She also spent time praying for a man that will love her, appreciate her, support her dreams, and stay with her on both the good and bad days. The God-fearing kindhearted young woman has eventually stayed married all her life, and she has so much respect for that union created by God.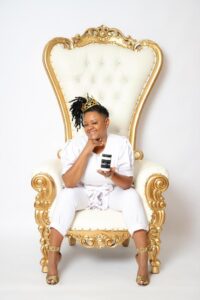 Her first marriage which produced two beautiful children lasted for 13 years. Her second marriage lasted for 2-and-a-half years, while her third and blessed marriage to Mr. Leroyal has now lasted for almost 13 years as well. She has found true love, and her husband attests to being grateful to have found a great wife like her. "I am favored to have Denicka as my beautiful wife", he said.
When asked about her childhood, Denicka revealed that she suffered a lot of pain and trauma during that period of her life. She came from a family where her mother was a drug addict, and her father was not involved in her life. What made it worse for her was the fact that her deadbeat father lived right across the street from her family house, yet cared less about her welfare and upbringing.
She and her lovely younger brother were raised by their grandmother and aunt. Though loved by them, Denicka always craved the love of her biological father and mother.
She felt disconnected, neglected, abandoned, and rejected. She felt like she came from a family without a family despite her grandmother's love; which she forever remains grateful for though.
Instead of allowing her situation to damage her life, she drew closer to God Almighty and developed remarkable mental toughness for the journey ahead of her. She became independent at the 3rd Grade level and vowed to remain focus-driven, strong and on the right path always.
Growing up was no fun for Denicka but she held on to her faith in God. That faith was tested when she got pregnant at the age of 16 though before she finally got married to the father of her children.
That marriage lasted for 13 years. Although she felt that she was not emotionally and mentally prepared for her first marriage, she gave it her very best nonetheless.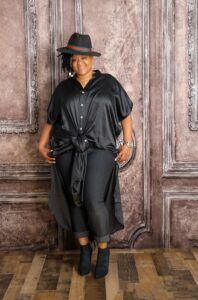 However, at the time when she started feeling emotionally drained, abused, and devalued, she had to quit the marriage to preserve her sanity. Her mental health was threatened. Many who were not in her shoes misunderstood and misjudged her, but she knew what she wanted for herself.
She moved on and remained undeterred in her resolve for happiness until she found her present husband. He has given her peace of mind, love, protection, and all the support that she needed to be who she was created to be. Today, she's now been happily married for almost 13 years to her husband, Mr. Leroyal J. Colbert III.
This has also helped her tremendously as she has continued on her journey to greatness and discovered her purpose in life. She regained her lost energy, self-confidence, and self-esteem. She has also added value to her life and re-launched for the best.
About 3 years ago, the then Senior Deputy Clerk of Jefferson County in Texas, Denicka, got fed up with being in what she says was a hostile|toxic  working environment where she felt DEVALUED. She took a leap of faith and resigned.
She stepped away from an entity she'd worked for, for 12-and-a-half years! Denicka waved goodbye to the comfort of knowing that, despite the daily challenges that threatened her peace, the paychecks she was getting were providing a remnant of tranquility.
"I went from getting a paycheck, knowing where my money was coming from to now connecting with God and living a simple life. My life has gotten simpler since I've connected with God", she says. She also credits God with leading her from a place of distress to that of joy unspeakable as an entrepreneur.
While Denicka is more than pleased with her customers' expressed satisfaction, she takes great care not to lose sight of the one who has made the wonderful life she lives possible. "God is the CEO of my business and I'm just a worker", she says humbly. "He gave me a product to start with because I walked off my job in faith. God presented a product to me that I was already using, myself, as a natural detox."
Denicka references the bath salts that she makes, which consist of Himalayan salt and serenity oils. The products, which go in the bathwater, help those who use them to relax. She is very vocal about her walk with God and declares that He gave her the wisdom to mix the ingredients that go into producing a sense of calmness.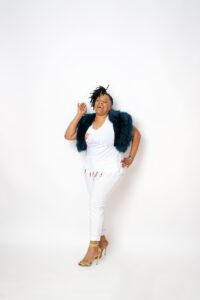 She saw that the feeling of euphoria that inhabited her spirit would also bring peace into the hearts of others. "I was on my spiritual journey and I would put all of my negativity in the water. Then once it goes down the drain, I have a fresh start", she says. "Even today, I take a detox to give myself a fresh start", Denicka added.
When asked about how she came up with the bath salts, she said: "I just feel like everybody needs a tool for a fresh start for wherever they are in life. And so that's how I came up with the bath salts". Although God gave Denicka a plan for success in running her own business, she did not realize it until after an immense struggle even after she had left her job at the county. "I had an e-commerce store with Shopify and it didn't go well because I think it was something Denicka wanted and not what God wanted", she said, adding that "anything God wants is successful".
Denicka also reveals that she had often seen where business experts would share information that included 12-step models to attain success. But she had to get to a point of understanding that someone else's formula for getting to the mountain top was not necessarily the blueprint that God would have her follow.
"When it was all said and done, the bath salts got me closer to God because that's when I detached from the world's system of doing things and went straight to the Bible", she says. While referencing the 12 Steps to Success that God outlined for her versus the 12 steps other people recommend, Denicka says; "God revealed that He was going to give me my own unique 12 steps that He had strictly for me. So, I had to (spiritually) die to myself and come back in the Spirit; my only reason for being here anyway".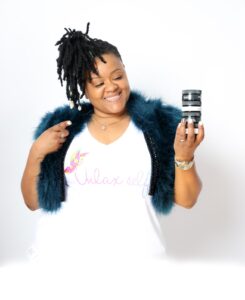 She further explained: "Once I detached from the worldly system (of doing things) for 8 months, I got closer to God. So, instead of promoting my product, which was the bath salt at the time, I had to kill my flesh, come back in the Spirit, which gave me a new beginning, and now I'm closer to God. Now, God is showing me the difference. I am spreading God's Word 90 percent of the time and talking about my product 10 percent of the time".
So, as God would have it, Denicka shut down her e-commerce store. And, after the past 8 months of dormancy, business-wise, she hit the reset button. "The Holy Spirit told me: 'It's time to re-launch your business because you're walking as a new creature (in Christ). And, you know that all of your success and knowledge and wisdom are going to come from the Bible.' Now I'm on my success journey with the business, not somebody else's", she says.
Leroyal J. Colbert III, Denicka's husband, lauds her for her tremendous focus and dedication. "I'm proud of her. I'm a go-getter myself. It's only fitting that you have another go-getter by your side", he says. "And, everything that she has done up to this point, I'm very proud of her. She puts a lot of time and effort into what she does. She really cares about what she does, and she wants everybody to be happy".
Denicka Colbert says that Unlax Self is moving in an "awesome" way in terms of sales. This is thanks to word-of-mouth PR and promotions at different vendor spots and on Instagram as well. She disclosed that she goes to Winnie's Trade Day, which is like an outdoor flea market.
Additionally, she's about to get "a pop-up shop," – this is when vendors set up their portable stores such as tents or booths. Denicka has been back in active business for just under 1 years after her 8-month hiatus (as at press time), and she's already moving products at an impressive rate.
"God let me know that this is the time", she says. "Everything is falling in its proper place and success is happening very quickly now that I've let God take over. He let me know that I can be successful in this". Because God has shown her how to relax through turning to Him for guidance, Denicka says it made sense for her to give her business a name that reflected that.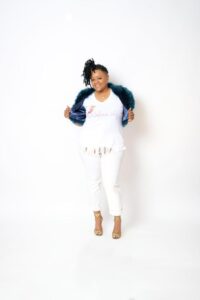 That is how the name "Unlax" came about, she says. "Unlax really means relax. When I was getting my name trademarked, I had an attorney who looked up the databases. 'Relax Self' was too common. So, I prayed, and then I went to the Thesaurus. And then, that's when 'unlax' jumped out", Denicka explains. "When I told the attorney 'unlax,' she looked up the database twice because nobody had ever done anything with the word. It takes a whole month for anyone to come up and say 'this is interfering with my business,' and I wouldn't have been able to use it".
Thankfully though, after 12 months of working the database and nothing surfacing that would indicate a name discrepancy with another company, Unlax Self was cleared by the United States Patent & Trademark Office to be an established business.
Now, the 47-year-old mother of 2 beautiful children (a 30-year-old daughter and 28-year-old son), a grandmother, a successful entrepreneur, and an Evangelist of the Most High God is living her purpose in life today. That is because she listened and obeyed her Creator, and she did not give up on herself or her dreams.
She concluded by saying that God Almighty used her unique life to build up her values, and also gave her a direction to her expected destination. Finally, she also disclosed that she is still searching for her connecting pathways and tribes to fulfill destiny.
By: Dr Sandra C. Duru
For: Mgbeke Media | Bare It Out With Mgbeke & Real Stories.