PROF. MGBEKE'S TGIF TIPS FOR JUNE 3RD, 2022. KISS YOUR MAN PUBLICLY AND VERY ROMANTICALLY.
Thank God it's another beautiful Friday and we are getting ready for the weekend. How nice and romantic you want your weekend with your partner depends on you and not on him or her or even the best or worst situation. And many women are too shy to kiss their men in public. Some do not know how to kiss, while some don't like to kiss both in private and in public.
Kissing is one of the most intimate actions between two people. A good kiss can change your mood for an entire day, but do people notice?
Kissing a man in public for the first time can be scary, but it does not have to be especially if he is your husband. If you know what to do, it can be fun! This weekend, i will give you lots of tips on how to kiss your man for the first time in public if you are the shy type, including advice on technique and how to prepare for the kiss. These things are important as they can help guarantee you a second kiss and help build a more romantic relationship between you and your partner.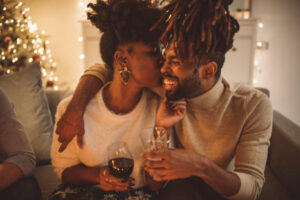 HERE ARE SOME TIPS FOR YOU ASA MMA MGBEKE ON HOW TO KISS YOUR ODOGWU:
• Make sure you have a fresh breath. Fresh breath is important for kissing because you want to give your 'odogwu' as many excuses as possible to keep on kissing you anytime, anywhere and anyhow☝😄
Try using lifesavers or mints and always brush your teeth and wash your tongue very well before you meet up with him. Remember, bad breath isn't the end of the world but avoid it if you can.
Try not to eat strong, spicy, or garlicky food before you see him. Biko, run from ofe ogiri na akwu, or wash your mouth well after eating the ogiri soup. Again, if you can't avoid it, it's not a huge deal but it's better to avoid it altogether.
• Make sure you're looking good. You can't always plan when and where you'll kiss your man, but you can try to be prepared. Always look and smell nice. If you're dressed pretty and in a way you feel comfortable, you'll have a spring in your step. That means you will be more confident. More confidence means that there's a bigger chance that your man will come back to kiss you again and he will so reciprocate with more romantic moves.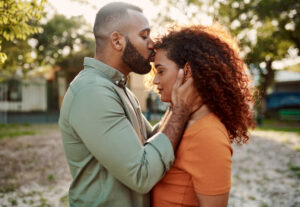 • Don't inescapably wear lip-gloss, and don't wear heavy lipstick. Lip-gloss and lipstick, especially, will rub off on your partner, making him look sparkly or sloppy, depending on the situation. Stick with lip balm instead or edible lip and soft moisturizers.
• Don't wear a bunch of accessories like hats, or wear your hair so that it gets in the way. Real men-Odogwus like natural beauty anyway. You may want to try kissing your guy when you have your hair packed or pinned so that he focuses only on you and the kiss, not the hair tickling his face.
• Move your lips towards him slowly, closing your eyes at the last second. You need to be able to see so that you can aim for his lips, but you don't want to keep your eyes open while you kiss, so close them right before your lips lock. Keep your eyes closed during the whole kiss. When the kiss ends, you can open your eyes and you gently pull away.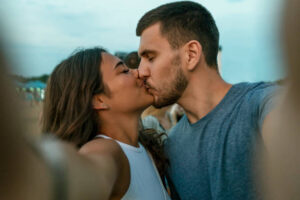 • Move into the kiss at an angle. That means if your odogwu's face is straight up and down, you probably want yours tilted a bit to the left or right — whichever is more comfortable, inugo. This helps keep you from bumping noses together when you kiss him romantically and in a natural Mgbekenized way.
• Say something nice about him, if you feel like it. Sometimes, the kiss itself is enough of a statement. Sometimes, you'll want to say a little something after the kiss, like:
"You're a good kisser."
"I've been wanting to do that for a long time."
"You smell so good"
"You taste so good, my love"
Stop shying away from being romantic and start loving your man well. Men love to be pampered. Kiss him always and anywhere.
Enjoy the rest of your weekend.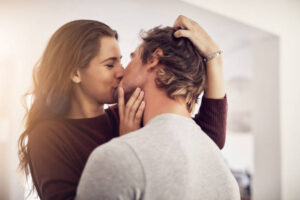 By: Dr. Sandra Duru