A lot of men and women have been asking me how I've remained so positive with everything I have on my table.
Some wonder how I survived the numerous dark moments of my life without having a nervous wreck or dealing with anxiety or even depression.
My simple answer, " I saw myself going through a process of transformation to live my purpose. I saw my challenges as a process to purpose. So, I stayed focused on the direction of the storms."
I got unstuck and confidently told myself that I am strong enough, and I am enough to be on a journey to my expected destination. I reminded myself that I needed to be in sound mind to get there and live my purpose in life.
A damaged person can not live a purposeful life, so I didn't allow my pains and bitter experiences to damage me. A damaged person can not look after his or her children or give them the love and care they deserve.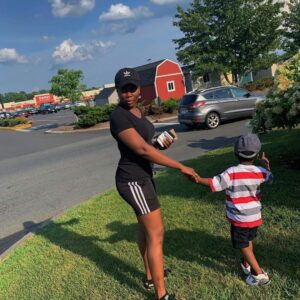 A damaged person cannot live her dreams. So, i transformed my fears and doubts into strenght and power that got me unstuck and today, I am living a life of purpose, with confidence.
You have heard the saying; that you must believe it to achieve it, right? To believe it, you must recognize it, and to recognize it, you must be in sound mind. Well, first you need to be able to SEE. See yourself in a light, see yourself in that place and position you wish to be. See yourself as a strong indestructible and unbreakable person. See yourself as a person who wants to survive and come out better and stronger. See yourself as ENOUGH.
I did not allow Anxiety to get me down on my knees. Today, I will share with you how anxiety can cripple you and how you can walk again.
"Anxiety is a man's heart weighs him down, but a good word makes him glad." – Proverbs 12: 25.
According to webster's dictionary, ANXIETY  is defined as the following:
"An apprehensive uneasiness or nervousness, usually over an impending or anticipated ill; an ABNORMAL and OVERWHELMING sense of apprehension and fear, often marked by physical signs (such as tension, sweating, panicking, and increased heart beat or increased pulse rate), by doubt concerning the reality and nature of a threat, and by self-doubt about one's capacity to cope with it.
When we consider the definition of ANXIETY  according to the Webster's dictionary along with the Bible verse that we just read, we can get a very good understanding of what Anxiety truly is. When we fear something, usually something that has not happened yet, it begins to weigh us down. Nobody wants to go through his or her daily life with the weight of Anxiety.
Fear of something that has not happened or possibly not going to happen, sparks a level of anxiety that is usually unhealthy. When we are fearful about something going on in our lives, or we're experiencing pain about something that has happened in the past, or we are afraid of something happening in the future, it's easy for Anxiety to take over.
However, the Bible says that a good word is a combatant to Anxiety. Remember that you were not created to be fearful. When your spirit is low or you're weighed down, listen to good music, good words from loved ones, read beautiful messages in your phone, cards sent to you by loved ones. Pick up a soul lifting book to read. Take a walk, go to the gym, workout, dance, take a warm shower.
Always be positive, get your body, soul and spirit detoxed. Calm your body with Alovera, ginger and honey drink. Ideally, you have people in your life who can encourage you in the face of anxiety. However, if you don't, spend some quality time listening to positive words or reading the scripture when you're feeling anxious.
If you don't know what verse to read, you don't have to worry, just open up any chapter or verse, and read, miraculously you will be calm. There's something about the holy book. When you allow the good words of the gospel to infiltrate your mind and heart, it's easier to overcome Anxiety.
2 Timothy 1:7: "For God gave us a spirit not of fear but of power, love and self-control".
Atleast we can rest assured that the spirit of fear or that ugly feeling of anxiety does not come from God. We can assert that the spirit of fear is created by satan. Beloved, when satan creates anxiety in your life, he does so for one reason: to weaken your faith and leave you in a position of fear. When he achieves this, he has succeeded in messing with your mind and once your mind is messed up, you are ruined.
Protect your mind, it's your powerhouse. I know that there are things in your life that will naturally create some level of stress, it's important to understand that the crippling fear associated with anxiety only comes from one place. The Spirit of God Almighty that lives inside of us does not create anxiety. Instead, He creates power, love, and self-control.
You need to develop mental toughness to confront this emotion, crush it completely and be free. Anxiety can cause you to lose sight of the power that you have through Christ, it can cause you to lash out at others, showing a less than loving display to them, and can often lead to a loss of self-control and self-confidence.
When the devil wants to create anxiety in your life, remind him that your body is a temple of the Holy Spirit, and that's the only Spirit welcome within you and your entire life.
I want you to know today that anxiety doesn't actually produce anything good. When you are anxious about a situation, something or an issue in life, the anxiety doesn't do anything to make things better. Instead, you're faced with the same problem or situation, if not worse. And you will no longer be in the best possible position or sound mind to deal with it.
I am letting you know today that you are not helpless and you are not hopeless. You can deal with anxiety and regain your freedom.
"Anxiety's like a rocking chair. It gives you something to do, but it doesn't get you very far." "Anxiety is a thin stream of fear trickling through the mind. If encouraged, it cuts a channel into which all other thoughts are drained."
PRAYER FOR YOU:
Heavenly Father, please help me to deal with the anxiety in my own life. I know that it doesn't come from You and that all it does is cause me to lose sight of what You have for me. I know that I can overcome this through You. In Jesus Christ Mighty Name, Amen.
By: Dr. Sandra Duru
#PROFMGBEKE