Cristiano Ronaldo Revives Manchester United's Top 4 Hopes As Arsenal, Tottenham Lose.
Manchester United of England needed a sensational Cristiano Ronaldo hat-trick to rescue them as they made heavy work of dispatching bottom of the table club Norwich FC.
After having raced to a 2-goal lead in the first 32 minutes in the Premier League game played at United's Old Trafford Stadium today, the Red Devils shockingly fell apart for the next 20 minutes on either side of the halftime whistle.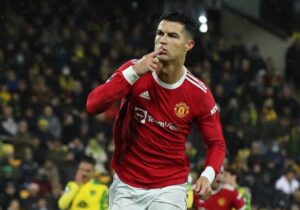 Norwich practically waltzed through the center of the United midfield, which had only Paul Pogba as the holding midfielder, and two quick goals from them on either side of the break saw parity restored in the match to the shock of every Red Devil fan.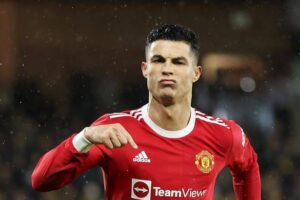 First was in the 46th minute when The Canaries cut through United's midfield and defense way easier than a hot knife cuts through butter, and Timo Pukki found way too much space to lay up a lovely weighted cross which Dowell headed past a helpless David De Gea.
United went into the break with their 2-goal advantage cut down to one, but even that one would disappear almost immediately after the restart. With just seven minutes into the second half, Norwich again tore through the Red Devils' midfield, and a perfectly placed through ball saw Pukki one-V-one with De Gea. This time around, he did not miss as he drew Norwich level in front of a stunned Old Trafford crowd.
The last day of the day belonged to the 37-year-old Portuguese football icon, though, as Ronaldo secured all three points for United with a thunderous freekick from over 25 yards out that flew past a diving Tim Krul in the Norwich post in the 76th minute.
Following the shocking losses of Tottenham and Arsenal, too, in their matches against Brighton Hove & Albion and Southampton, respectively, here is one key thing we've learned from these matches today.
(1) It Is Never Over For You Until You're Dead And Buried: A lot of people had written Manchester United off in the race for the last Champions League spot after their dismal performances in a previous couple of weeks, but it is now evident that they are still very much in the running for the spot.
Don't ever allow yourself to be overwhelmed by any odds you're up against, and never let your head drop because of current setbacks too. If you keep on fighting, there are still several possibilities ahead of you that you can profit from if you don't quit.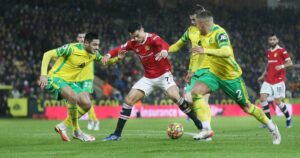 (2) You Are Only As Old As You Feel You Are: At 37 years and two months, Ronaldo bagged his 50th club hat trick today, and he also showed that age is only a number indeed.
Many of his contemporaries have retired from active football and are already coaching, but CR7, as he's famously called, is still making and breaking records at the highest level of European club football.
You are the only one who has the ability and power to put a lid on your life. Anything is possible if you never give up on yourself.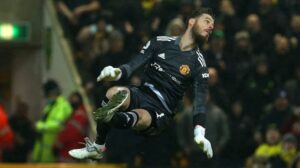 Never give up, no matter the challenges or the situation you find yourself in.
By: Dr. Sandra C. Duru