Cristiano Ronaldo Faces Possible 6-Months Jail Term As Fan's Mother Rejects His Apology!
Portugal and Manchester United's iconic striker Cristiano Ronaldo is currently being investigated by the Merseyside Police in England on charges of common assault and battery following his altercation with a young Everton FC fan.
A visibly frustrated and injured Ronaldo is shown in this video (the video has no audio) limping towards the Manchester United dressing room after their one-nil defeat to Everton at Goodison Park, Merseyside, England, on Saturday, April 9, 2022.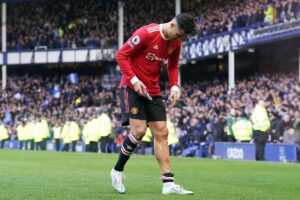 Getting to where a cross-section of the home fans was gathered and allegedly jeering and taunting the United players as they left the field, a furious Ronaldo lashed out at 14-year-old Jacob Harding and slapped his phone out of his hand, and continued storming off into the dressing room.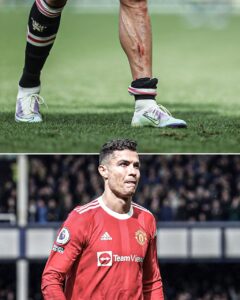 According to reports, the Portuguese star's action caused some bruising on the boy's hand, pain to the inside of his thumb, and his phone was badly damaged. Jacob reportedly suffers from Dyspraxia and Autism, which makes him struggle with basic motor skills like fastening his zips or holding a pen.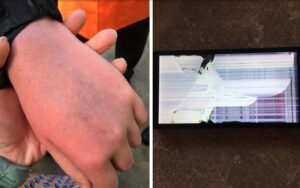 In a statement released by the Merseyside Police spokesperson, the department confirmed that the incident did happen and is now looking into it. "As players were leaving the pitch at 2.30 pm, it was reported that a boy was assaulted by one of the away team," the statement reads.
Ronaldo did take to his Instagram page to offer an apology yesterday, Sunday, April 10, 2022, with this post: "It's never easy to deal with emotions in difficult moments. Nevertheless, we always have to be respectful, patient and set the example for all the youngsters. I would like to apologize for my outburst and, if possible, I would like to invite this supporter to watch a game at Old Trafford as a sign of fair play and sportsmanship."
However, in a turn of recent events, the police have announced that they are investigating the matter and may be looking to press charges after the boy's mother, Sarah Kelly, firmly refused the star player's apology, which she labelled as "shocking and offensive."
According to Sarah, Jacob could not sleep the night after the incident. She is very upset that Ronaldo hadn't deemed it fit to reach out to her son personally instead of posting his apology on social media.

"The apology or lack of apology was what angered me even more. I thought, 'How rude – you are telling everybody you have apologized, and you haven't.' Okay, you have put it out on social media, but you should be apologizing to my son.
Ronaldo had several hours to ponder on it. He should have found out our contact details and spoken to us privately before releasing that statement. I would have been happy with that.
If someone did that to you in the street, they would be arrested and questioned. He's a father himself, and I'm sure if he was a normal person who took his son to a game on a Saturday afternoon and that happened, he would be quite upset and shocked as well," Sarah said.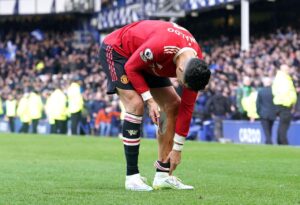 Ronaldo also faces possible sanctions from the Football Association after they also confirmed that they're looking into the matter. A charge of common assault carries a maximum sentence of 6 months in prison and a fine. However, if the offender is a first-time offender, they are more likely to get off with only a fine and no jail term.
It remains to be seen what the outcome of this investigation will be, but as always, a vital lesson stands out for us all here:
No matter how aggrieved and frustrated you are, never lash out or speak in anger. There is always a 99.9999% chance that you will regret your actions and words later.
It doesn't matter whether you are a superstar celebrity athlete like Ronaldo or just an average person living your life anywhere. Learn to keep your temper in check, and you will be saved from a lot of avoidable hassles such as Ronaldo and Manchester United now have to deal with.
A na-eji uche eme ihe!
By: Dr. Sandra C. Duru
#PROFMGBEKE