Congratulations To Helen Paul, Hubby, As They Bag Double Honors In The USA
Famous Nigerian comedienne and actress Professor Helen Paul and her husband, Dr. Femi Bamisile, recently took to social media to share the exciting news of her promotion and hubby's doctorate at the Heart International University in the United States of America.
In a double swoop for the family, Helen was recently promoted to head the Arts, Music, and Entertainment department of the institution, as Femi also completed his doctorate at the same university.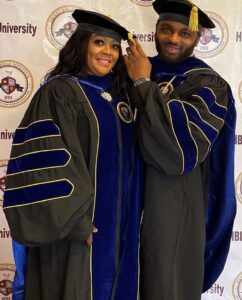 Sharing her joy on her Instagram page, Professor Helen Paul said: "Congratulations to us, my love. You graduated as a Doctor of Law, and I was promoted too. Professor Helen Paul, now the new H.O.D Department of Arts, Music and Entertainment, Heart International University, USA. Thank you for all the sleepless nights. Thank you for sacrificing for us."
Also commenting on a video from her induction, Helen added: "Congratulations to all of us at Heart University. I am now officially Professor Paul Helen. The ceremony was a beautiful one indeed. My sincere gratitude to my Boss and the University Chancellor. Dornett Mcintosh Ph.D.
Thank you, my senior Professor Cox, our faculty head, and all HBIU staff in general. Will never forget to say a big thank you to my Atlanta Dean of programming. Yemisi Dunmoye Ph.D @yemidun #honor #grace #new #space #achievement."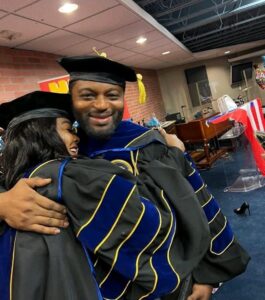 You may recall that the famous entertainer had completed a Ph.D. in Theatre Arts from the University of Lagos, Nigeria, before relocating to the US with her husband and their three children, where she began her postdoctoral study in 2020.
After everything she had previously achieved, especially as a TV Host, comedienne, and actor in Nigeria, one would have thought that she had reached her peak, and there was no topping all that.
Helen, however, has shown everyone that you are the only limitation to all you can achieve and all you are capable of in life!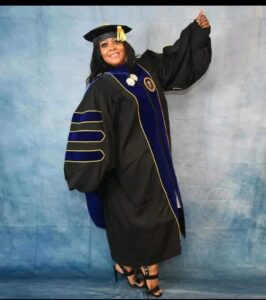 You were created and endowed with limitless potential and abilities. Don't ever settle for less in your quest to be all God Has created you to be and even more.
Congratulations to this beautiful family. May God continue to bless and take you higher; Amen.